From a Maryland Jockey Club
The gate opened and a few strides later, Mrs. Frank P. Wright's Lady Sabelia was gone, speeding away to front running victory in the $100,000 Willa On The Move Stakes for fillies and mares.
Horacio Karamanos kept after the daughter of Majestic Warrior to remain in front at every pole. She completed the six furlong distance over the slopping surface in 1:10.42 and won by 7-3/4 lengths. Disco Barbie was up for second, while Disco Chick finished a very close third.
Lady Sabelia was the 6-5 post time favorite. Since finishing third in the Willa On The Move last year, she had started four times, winning three, including the Red Cross Stakes at Monmouth Park in June. Karamanos has been her regular rider, all for trainer Robin Graham.
"She won very easily today," said Karamanos. "I know she has speed but I didn't think she would show the kind she had today. She broke sharp and two strides out of the gate she was just cruising. I put her off the rail and we were out by ourselves. I tried to find a good place on the track, hit her a couple of times at the top of the stretch and she just drew away. This was very, very easy."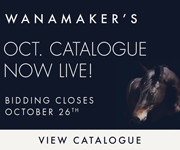 "We weren't even worried about going to the lead," said Graham. "We just wanted to get off the rail some. We thought she had enough speed. Horacio did it well. This horse has had some problems with an eye. She runs with a bubble cup but we've been treating her and it hasn't been a problem. We're looking at a race at the beginning of January."
Lady Sabelia paid $4.40.
[adortate group="7″]