The Racing Biz has been tracking claiming activity in the mid-Atlantic region and reporting on it weekly for the last several months, in our Claimbox report.  We continue that, along with our Midlantic Claiming 7 — the trainers who have been busiest over the prior 30 days, ending in this case on June 10, 2014.

Patricia Farro remained atop the Midlantic Claiming 7 list of the trainers who have claimed the most horses in the mid-Atlantic region over the preceding 30 days.  Meanwhile, the number and value of horses claimed in the region in the last week both fell versus the prior week.
Farro has claimed 14 horses in the 30 days period ending June 10, four more than her nearest competitor, Wayne Potts.  In addition, both the total value of those claims ($194,000) and their average value ($13,857) both were tops among the Claiming 7.  Farro claimed five horses in the week ending June 10 to extend her advantage over Potts.Tim Kreiser's claims  had the second-highest gross value, $87,500, while Michael Pino's seven claims had the second-highest average value ($12,357).
Three trainers — Kreiser, Juan Vazquez, and John Locke — entered the list this week after not having been a part of it the prior week.  They replaced David Jacobson, Kelly Breen, and Kieron Magee.
David Jacobson, who claimed six horses in the region during the month, led all trainers in losing horses at the claimbox: he had 11 claimed away from him, one more than did Farro.  Jacobson thus had a net loss of five horses in the month, the highest in the region.  On the other hand, three trainers — Vazquez, Peter Kazamias, and Kelly Breen — all had net gains of five horses.

[table id=60 /]
For the week…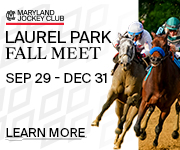 Claiming activity dipped during the week.
Overall, 62 horses were claimed in the region last week.  That was just a small drop from the 65 claimed the prior week.  However, the total value of those horses dropped by 23 percent, to $630,750.  Their average value fell by 19 percent, to $10,173.
Two tracks — Parx Racing and Monmouth Park — saw 13 horses claimed, while Penn National and Pimilco each saw 12.  The total value of the claims at Parx was $214,000, by far the region's highest, as was that track's average ($16,462).  At the low end of the scale were Delaware, with five claims, and Charles Town with seven.
The claimbox report covers claiming activity at Pimlico, Parx Racing, Penn National, Charles Town, Monmouth Park, and Delaware Park.
Weekly Dollar Value of Horses Changing Hands