From a Delaware Park release
Susan Knoll's locally-stabled Blue Violet will be seeking her first career stake victory when she meets seven rivals in the $150,000 Grade III Obeah Stakes at Delaware Park this Saturday.  The mile and an eighth affair for fillies and mares has an approximate post time of 3:57 pm.
The race, named after the 1969 and 1970 winner of the Delaware Handicap and the dam of the Hall of Fame filly Go for Wand, who were both locally-owned by legendary Christiana Stables, is the local prep race for the filly and mare summer classic – the Grade I Delaware Handicap slated for July 12.
In her most recent outing, Blue Violet finished second in the mile-and-a-sixteenth $50,000 Winter Melody Stakes at DelawarePark on May 21. Previously, the 4-year-old daughter of Curlin won a mile-and-a-sixteenth allowance at Pimlico on April 17, but was disqualified and placed fifth for interfering with a rival. In her only other outing this year, the Kentucky-bred, conditioned by J. Larry Jones, posted a 2 ¾-length triumph in a mile-and-seventy-yard Fair Grounds allowance on January 23. She has a career record of two wins, three seconds, and a third from 12 starts with earnings of $103,951.
Her dam, Gasia, had a successful racing career with a record of six wins from 18 starts with earnings of $434,621.  In 2006, she won the $150,000 Susan's Girl Stakes at DelawarePark before finishing third in the Grade II Delaware Oaks.  In 2007, she ran sixth in the Obeah Stakes.  J. Larry Jones, who also trained Gasia, won the Obeah Stakes in 2011 with eventual Horse of the Year Havre De Grace.

"All is well with Blue Violet," Jones said from his DelawarePark barn this morning. "She came out of the Winter Melody in good condition and we are expecting her to run well in the Obeah Stakes. We have always thought highly of this filly and we look forward to the race on Saturday."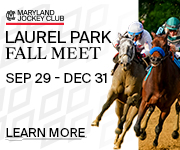 Jones conditioned Hard Spun to a second-place finish in the Breeders' Cup Classic to the eventual 2007 Horse of the Year Curlin – the sire of Blue Violet. Curlin and Hard Spun met five times in 2007 and Jones now sees many of Curlin's characteristics in his daughter, Blue Violet.
"Curlin was awesome," Jones said. "Hard Spun and Curlin had a great rivalry which made for a fun and exciting year. Curlin used to run all day and the more distance you gave him, the better he performed, similar to Blue Violet. I am expecting her to get better the longer she goes. I also trained her mommy Gasia and I see a lot of similarities with her as well. Those were two horses I knew very well, so I really enjoy having the opportunity to train the daughter."
A strong effort in the Obeah Stakes could earn Blue Violet a spot in the Grade I Delaware Handicap on July 12.
"That is the ultimate goal for Blue Violet and if she runs well enough that is where she will run next," said Jones, who won the Delaware Handicap in 2005 with Island Sand. "We would very much like to win another Delaware Handicap. The Del 'Cap is a main reason why we started coming to Delaware Park way back when and it sure would be nice to win another."
Blue Violet must handle a tough set of fillies and mares before any tickets are punched for the $750,000 Delaware Handicap.
Chasing Tail Stable's Gamay Noir will be bringing a lifetime record of four wins and five thirds from 16 starts with earnings of $211,866. In her latest, the 4-year-old daughter of Harlan's Holiday placed third in the Grade III Sixty Sails Handicap at Hawthorne Racecourse on April 15. Previously, the Kentucky-bred and her trainer, Martin Wolfson, posted an upset victory in the Grade III Rampart at Gulfstream Park on March 29, enjoying a 'filly or mare to Delaware' success. In the past, Wolfson conditioned Miss Singhsix to a victory in the Obeah Stakes before she placed second to Life at Ten in the Delaware Handicap in 2010 and saddled Icon Project to second-place finish to Swift Temper in the Del 'Cap in 2009.
MeB Racing Stables and Brooklyn Boyz Stables Flash Forward holds a career record of three wins, four seconds, and three thirds from 16 starts with earnings of $255,290. In her last race, the 4-year-old daughter of Curlin finished third in the one mile Cat Cay Stakes at Aqueduct on April 6. Previously, the Kentucky-bred, conditioned by Dominick Schettino, finished second in the mile-and-a-sixteenth Grade II Top Flight Handicap at Aqueduct on March 1.