The Racing Biz has been tracking claiming activity in the mid-Atlantic region and reporting on it weekly for the last several months, in our Claimbox report.  We continue that, along with our Midlantic Claiming 7 — the trainers who have been busiest over the prior 30 days, ending in this case on June 3, 2014.

With Delaware and Monmouth now in full swing, claiming activity in the mid-Atlantic region has been vigorous in recent weeks, with numerous new names appearing on the Midlantic Claiming 7 — those trainers who have claimed the largest number of horses in the last 30 days.  [table id=58 /]
Notably, four other trainers — Timothy Kreiser, Philip Aristone, Kimberly Graci, and John Locke — also claimed six horses, but, because the value of their claims was smaller, do not appear on the list.
On the flip side of the ledger, Patricia Farro also led all trainers in having horses claimed away.  She both claimed 10 horses and lost 10 by the claimbox, leaving her with a net of zero.  David Jacobson and and Wayne Potts lost eight horses each to be second in that category.
In terms of net gain, trainer Kelly Breen's seven claims were offset by just two horses claimed away, giving him the region's highest net gain, of five.  Kimberly Graci and Jamie Ness were right behind with net gains of four horses each.  Meanwhile, four trainers — Michael Trombetta, Gregory Sacco, Robert Reid, and Marcus Vitali — all had net losses of four horses, tops in the region.
For the week…

For the second straight week, and the third time in four weeks, the dollar value of claimed horses in the mid-Atlantic exceeded $800,000.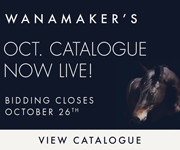 Overall, 65 horses were claimed in the mid-Atlantic region with a combined value of $822,250.  Those totals meant that the average claim in the region was worth $12,650 — the highest weekly average since The Racing Biz began compiling records in June 2013.
Monmouth, Pimlico and Parx Racing were the region's busiest tracks, each with 15 horses claimed during the week.  It was at Monmouth, however, where those claims had the highest value, of $257,000 (average: $17,133).  Penn National was the only other track in the region with double-digit claims during the week, as 11 horses changed hands via the claimbox there.  There were seven claims at Charles Town and just two at Delaware Park.
The claimbox report covers claiming activity at Pimlico, Parx Racing, Penn National, Charles Town, Monmouth Park, and Delaware Park.
Weekly Dollar Value of Horses Changing Hands