[boxify cols_use ="3″ cols ="6″ position ="right" box_spacing ="5″ padding ="3″ background_color ="gray" background_opacity ="10″ border_width ="1″ border_color ="blue" border_style ="solid" height ="300″
]

MARYLAND HANDICAPPING SERIES LEG 3 RESULTS
Bobby Zen – $73.60
Delmas Hardy – $56.40
George Pepis – $53.60
Anthony Tolino – $52.60
Patrick Lupinacci – $51.00
Lou Monaco – $50.80
Richard Warnick – $48.60
Sherwin Siddons – $44.00
Ryan Flaherty – $44.00
Jon Shonk – $43.60[/boxify]
Bobby Zen started strong and never really cooled off en route to winning Leg 3 of the Maryland Handicapping Series on Preakness day with a bankroll of $73.60.
Overall, Zen cashed on nine of the 11 contest races and finished $17.20 ahead of second-place finisher Delmas Hardy.  In the free contest, participants chose one horse in each of 11 races on the Pimlico card, starting with the Deputed Testamony Starter Handicap and ending with the Preakness itself.  They received a mythical $2 win-place wager on that horse and were credited with the horse's payout in that race.
Hardy was second with a total of $56.40.  George Pepis, with a total of $53.60, headed a group of eight contestants within $10 of each other.
Bobby Zen earns a Maryland Million swag bag with his win.
Every participant in Saturday's contest is automatically entered in a Grand Prize drawing for a VIP Package to this year's Maryland Million and other prizes.  In addition, those who finished in the top five of the tournament — Zen, Hardy, Pepis, Anthony Tolino, and Patrick Lupinacci — receive a second entry in that drawing.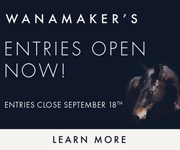 The next Leg of the Maryland Handicapping Series will take place Saturday, June 7, which is Belmont Stakes day and also closing day at Pimlico.  Stay tuned for more details!