From a Maryland Jockey Club release
The Maryland Jockey Club today announced that legendary hip-hop artist Nas and DJ's Frank Walker and Glenn Morrison will perform on the main stage at 2014 Preakness InfieldFest on Saturday, May 17 at Pimlico Race Course.
With 11 Grammy nominations, seven platinum albums and Top 5 rankings on MTV's 10 Greatest MCs and The Source's Top 50 Lyricists of All Time, Nas is one of the top rappers in music history. His debut album, "Illmatic", released in 1994, received universal acclaim from both critics and the hip-hop community. The 20th anniversary reissue of the album, which features a bonus disc containing rare remixes, demos and freestyles, has already climbed back to #1 on the charts. Nas has six number 1 albums on the Billboard 200, tying him with Eminem and Kanye West for second all-time among rappers. Additional information can be found at http://www.nasirjones.com/.
"Nas' credibility and appeal as a superstar artist speaks to a broad range of devoted and loyal fans," said Maryland Jockey Club president Tom Chuckas. "As he marks the 20th anniversary of Illmatic, one of hip-hop's greatest albums, Nas continues to captivate audiences with his unique and personal style. We are thrilled to welcome him to InfieldFest."

Walker and Morrison will open the main stage with a burst of music's most rapidly growing genre, EDM.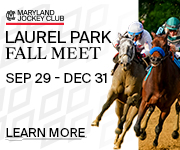 Morrison is the archetype of the modern DJ/producer. He is signed to Sony Records and Universal Music Group and has produced and/or remixed for legendary bands and acts such as Queen, Seal, the Pet Shop Boys, New Order, Cher, Moby and Imagine Dragons. The latest single from the multi-talented Morrison, 'Goodbye' has been certified platinum and was #1 on the Billboard Charts for 12 weeks in a row, as well as peaking at #2 on the iTunes dance chart.  Additional information can be found at http://www.glennmorrison.com/.
In less than two years, Walker has become one of electronic dance music's most exciting new talents. He is part of the new breed of musicians learning how to write and produce his own material that is a welcomed compliment to the ever-changing world of dance music. Walker's eclectic mix of arena style house music and affinity for melody, together with a good ear for what works on the dance floor, deliver a true musical artistry. Additional information can be found at http://www.frankwalkermusic.com.
"We saw last year just how much our fans loved EDM with Afrojack's performance," added Chuckas. "It is a good fit for our InfieldFest party and Morrison and Walker are two of its fastest rising stars."
Grammy winner Lorde will headline the main stage in the public infield at Preakness InfieldFest. Switchfoot, Eli Young Band, Sundy Best and Go Go Gadjet will perform on the Jägermeister stage.
Infield tickets are $60, with a MUG Club package of $80 through April. Prices increase to $70 (Infield Ticket) and $90 (MUG Club) on Thursday, May 1. Seating information and ticket reservations are available at www.preakness.com. Tickets can be bought by calling the Preakness sales office (877-206-8042) or by logging onto http://www.ticketfly.com/event/380219-preakness-infieldfest-baltimore/.
Counting Crows, The Fray and Annie Bosko will provide entertainment at Pimlico on Black-Eyed Susan Day Friday, May 16. Additional information can be found at www.blackeyedsusanday.com.
Renowned independent promotion and production company, I.M.P., of 9:30 Club and Merriweather Post Pavilion fame booked and will produce the main stage concerts on both days. Additional information can be found on http://www.930.com/.
The Preakness Concert Series kicks off with The Bridge performing at Rams Head Live! in Baltimore's Inner Harbor Saturday, May 10. Tickets are $25 and are available at http://www.ramsheadlive.com/event/543891.
Blonde Marketing, an independent event management and production company, booked The Bridge and has also booked and produced the Jägermeister stage bands and activities since its inception in 2009.
The annual running of the Preakness Stakes (G1) is an American institution. First contested in 1873, it is one of thoroughbred horse racing's most valued Grade 1 stakes races. Now one of the largest single-day sporting events in the United States, "The People's Race…The People's Party" has hosted up to 121,309 for the pivotal middle jewel of thoroughbred racing's Triple Crown.