by Frank Vespe
As good as Saturday's Pimlico stakes were, the truth of the matter is that they were merely appetizers.  The main courses will be delivered to Baltimore on the third weekend in May.
Which isn't to say that there wasn't drama — or emotion — aplenty.
Indeed, both the Henry S. Clark — a turf test for older runners that serves as a prep race for the Grade 2 Dixie — and the Federico Tesio, the state's last Preakness prep, served up results sure to please fans looking for some emotional wallop to go with their racing.

In the Henry S. Clark, the bettors didn't have much use for Maryland-bred Hamp, racing in the colors of Sagamore Farm, sending him off at more than 8-1.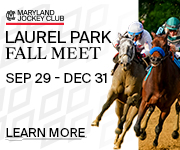 Maybe that's because they hadn't seen his last race, in which he was virtually stopped on the turn for home before finding space and rallying to be a close-up third in a race which had already produced two next-out winners.
Or maybe it's because they didn't know Hamp's story.
Hamp, a homebred Sky Mesa gelding out of the Red Ransom mare Vienna Affair, was named to honor Bill Hampton, an Under Armour executive who died suddenly on his way to the airport after attending the 2011 ESPYs.   Under Armour founder Kevin Plank, who owns Sagamore, at that time called Hampton "one of the most beloved people on our brand."
"It's something very sentimental for us and for the whole Under Armour family, not only Sagamore," said Hamp's trainer, Ignacio "Nacho" Correas.  "He always has been a special horse for us."
The four year-old has gradually been improving — not surprising since Saturday represented just his 16th career start, his fourth win.
"Essentially, we gave him that [last] race thinking about this one," said Correas after Hamp, under jockey Javier Santiago, had tipped outside and rallied late to wear down Roadhog by a head, with Nutello a half-length farther back in third.
"He came back here, he was training good, so, we thought, 'You know, we give it a shot in the Clark thinking about the Dixie,'" added Correas.
"If he is capable of winning this race, we might take a shot in the Dixie," he concluded with a laugh.  "I don't know if we're going to take a shot in the Dixie but we won this one, so that's really nice."
One race later, another sentimental fave, Kid Cruz, bided his time behind a dawdling pace before exploding through the lane to win by 3 1/2 lengths.  Despite having missed the Grade 1 Wood Memorial with minor injuries, Kid Cruz's late kick seemed as explosive as ever; he completed the final 5/16 in less than 31 seconds under Julian Pimentel while pulling away from the field.
And for Steven Brandt, who with his partner Rick Boylan comprises Vina del Mar Thoroughbreds, co-owners of Kid Cruz, the win moved him one step farther on an emotional journey that seemed, well, unlikely not so very long ago.
Brandt's mother had passed away not long before Kid Cruz's last race, the Private Terms at Laurel.  When he had told her that they were considering nominating the horse — a horse they'd claimed for $50,000 in November — to the Triple Crown, her forceful response caught him off guard.
"My mom said to me, 'You're going to be in it, and you're going to win,'" Brandt recalled.
Brandt brought his mother's funeral service program to the Private Terms.  When asked, following the Tesio, whether he had done so again, he readily pulled it out of his jacket pocket.
"I took it with me," he explained.  "She sat on the table the whole time."
A combination of circumstances means that Kid Cruz, trained by Linda Rice, won't be in Louisville on the first Saturday in May.  But there's a good chance he'll enter the Preakness starting gate.
Brandt's mother's prediction, and the journey itself, are taking on lives of their own.
"It certainly is taking on additional meaning," he said in the winner's circle on Saturday.  "And, you know, we'll just see how far it can go."
"I'm not predicting" that they'll go to the Preakness, Brandt said.
But if they do?
"Mom'll be there," he said.