by Jeff Nations
Joey Yurish had one of those dream nights at Hollywood Casino at Charles Town Races on Saturday.
The Martinsburg, WV, resident came out to the track with his father, P.J., to catch a glimpse at a few of Thoroughbred racing's superstars, horses like Game on Dude, Moreno, and Clubhouse Ride, and jockeys including Hall of Famers Mike Smith and  Kent Desormeaux.
Last year, Yurish and his dad met Game on Dude's co-owner Joe Torre – a member of the National Baseball Hall of Fame as manager of the New York Yankees and, before that, an accomplished player with the Braves, Cardinals, and Mets.  Torre didn't make it to Charles Town on Saturday, but the Yurishes did help Clubhouse Ride jockey Tyler Baze find his way to the jockeys' room at Charles Town, got his autograph at the end of the night in their racing programs, and saw plenty of great race horses.

Joey Yurish also had a winning ticket suitable for framing, had he not cashed it of course – he correctly picked 26-1 long shot Imperative and jockey Desormeaux to pull off the upset in the $1.5 million, Grade 2 Charles Town Classic, the headline event during Saturday night's 14-race card.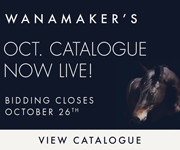 "He beat him earlier in the year, and that's one thing my grandfather always taught me – never bet on the speed, bet on the horse to come in later," Yurish said of Imperative. "And I bet the jockeys, too."
The sixth running of the Charles Town Classic brought out the crowd, as casual race fans joined the regulars to see one of the track's showcase events. Decent weather – for a change, after two years of rain on Classic night – probably helped draw more race fans, but the talent on the track was the deciding factor for many.
That's what inspired Nancy Specht of Bunker Hill, WV, to make the short trip to Charles Town. Specht usually makes it out for the big nights at the track, and had extra incentive this year – she wanted to see how local star Lucy's Bob Boy might stack up against the likes of Game on Dude.
"I love Lucy's Bob Boy's sire, Flatter, and saw him at Claiborne," Specht said. "But Dude, Mike Smith … what's not to love about something like this?  Fabulous horses … It's so, so cool that Charles Town has such a venue and the opportunity to host on this small track.
"Who would've ever thought 10 years ago that this race track would sponsor this caliber of racing?"
Erich Zimny, Charles Town's Vice President of Racing Operations, considers Charles Town's signature events like the Charles Town Classic and the West Virginia Breeders' Classics in the fall as potential gateway opportunities to draw new fans to the sport.
"Sure, it's huge, especially when you're a casual fan who might be on the fringe of being a fan," Zimny said. "There are going to be names you know in the program. That might get you out, when otherwise it wouldn't. There's no way to get people into the sport better than introducing them to horses at the highest level, and that's what we're trying to do with this night."
Lucy's Bob Boy, who briefly ran with front-runners Game on Dude and Moreno before fading and eventually easing off under jockey Arnaldo Bocachica, did provide an added element of local interest: a Charles Town-based underdog taking on the big-time horses.
"They may not be turning in to see Lucy's Bob; they may be turning in to see Game on Dude, but we're trying to familiarize them with a lot of the local names, the local riders, trainers," Zimny said. "We see these as nights that we can kind of push the local talent that they'll find on a day-to-day basis."
Martinsburg's Jim Hughes, who also correctly picked Imperative during an interview before the Charles Town Classic, is another semi-regular who makes it out to the track about once a month. On Saturday night, he was expecting an even bigger crowd than he encountered at Charles Town.
"I'm kind of surprised, but I guess it's such a dying sport.  But I figured they'd have more people out here for this. The parking lot looked crowded, but it doesn't really look that crowded," Hughes said.
For Hughes, coming out to see a top-ranked horse like Game on Dude was enough of a draw – this year, anyway. But Hughes expressed the common sentiment among Charles Town fans and horsemen that the track still does not do enough to promote the sport, through national-caliber cards like Saturday – Hughes half-jokingly suggested that Zenyatta would have drawn his entire family to the track – to simple things like publicizing the nightly racing results at the track.
"I grew up in Maryland, so I was around those tracks like Bowie and Laurel," Hughes said. "We used to come up here in the 1970s, and the '70s was still better than it was in the early '90s when you're talking about $2,500 purses."
To Zimny, high-caliber racing like Saturday's card is a formula that will continue to garner interest at both the local and national levels for Charles Town.
"I think if you look at the crowd, that speaks volumes," Zimny said. "I mean, there's people lined up four or five deep along the stairs leading up to the grandstand just to get a look at the horses in the paddock. That just goes to show you that when you have quality horses and you put on a show like this, people will still come out."
Yurish, who's been coming to Charles Town since he was a youngster, is one who always plans to come back.
"My dad and I have been coming out since I was three years old," Yurish said. "It's just been in our blood and in our family for a very long time. We try to come down at least once a month, and it's always a good time when we come down here.
"We were told two years ago when they brought the (table games) in, that they were going to lengthen the track and try to get bigger races in here. Obviously, that would draw a crowd and I think that would be great for Charles Town," he added.  "It's a beautiful town, it's got a lot of historical value to it, and I think it's waiting for something big to happen to it."
(Featured image of the Webb Snyder Charles Town Dash by Coady Photography.)