by Frank Vespe
On Thursday night, trainer King Leatherbury strode to the podium at the Maryland Horse Breeders Association annual dinner to accept the Maryland-bred Horse of the Year award bestowed upon Ben's Cat, the eight year-old Parker's Storm Cat gelding he bred, owns, and trains.
And then, with a series of Henny Youngman-esque one-liners, he brought the house down.
On Saturday, he strode into the winner's circle to celebrate Ben's Cat once again.  The horse had just won Pimlico's Mister Diz Stakes, five furlongs on the grass for Maryland-breds, for the fifth consecutive year — a mark unlikely to be surpassed — coasting to a nearly-two length win over Sonny Inspired.

This time, though, the trainer, who has described his age as "eighty-damn years old," was in a more reflective mood.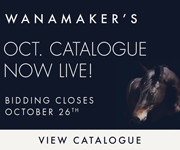 "One of my problems is, I take too much for granted," Leatherbury said.  "This horse is a super horse, and I hope I really appreciate him like I should.  He's so special."
Special,  indeed.  Ben's Cat has now won 25 of 38 career starts, including 20 stakes, and earned more than $1.9 million.
What's more, Ben's Cat's breeding has Leatherbury's influence stamped all over it.  He bred, owned, and trained Ben's dam, the stakes-placed Twofox.  And he trained Twofox's sire, the multiple graded winner Thirty Eight Paces, and Thirty Eight Paces' dam, Thirty Paces.  Leatherbury's involvement with the family stretches back to at least the 1970s.
Leatherbury has maintained this spring that Ben's Cat was still as good as ever — possibly even better.
Now, after an easy-as-you-please win in which the horse never felt the rider's stick, it was easy to see what he meant.
"When it was time to go he just took off," explained jockey Julian Pimentel, whose productive partnership with Ben's Cat has yielded a dozen added-money triumphs.  "It was a good gallop for him,"  he added with a laugh.
[pullquote]This horse is a super horse, and I hope I really appreciate him like I should.  He's so special." —
King Leatherbury
[/pullquote]
For Leatherbury, one reason might be Ben's attitude.
"This year he's come up more like a tiger than before," said Leatherbury.  "When he first started, he wasn't like Ah Day (another successful Leatherbury trainee), who acted like he was going to explode all the time.  This horse was just mild and meek, but this year he's started to show some fire in him."
For Pimentel, it might be even simpler than that.  With nearly 40 races under his belt, Ben's Cat is now a consummate professional: no more fooling around, no more silly mistakes.
"I just let him do his thing," Pimentel said.  "Just let him break, and wherever he's comfortable, he'll be.  He knows what to do; I just sit on him."
Either way, Leatherbury, in the autumn of a career which merits but thus far has not received Hall of Fame recognition, is striving to keep in focus his horse's singular talent, the remarkable ride on which he's taken trainer, riders, and, increasingly, fans.
"I go through this my whole life, and sometimes I wonder if I really appreciate it like I should," he added in a winner's circle that no one seemed especially eager to vacate.  "I look back on things and think, 'Man, I should have appreciated that more.'
"Like Port Conway Lane… there was a horse I think back on, he won 54 races, and did I really appreciate that horse at the time?  I look back on him now and think, 'Damn, that was quite a feat.'"
Port Conway Lane became a fan favorite in his 242-race career, and a crowd gathered at Laurel to salute him when he was retired, in 1983.
And now, decades later, Leatherbury is back with another fan favorite, another magic carpet ride, another chance to appreciate the gifts that some horses, special horses, bestow.
Leatherbury watched as the eight year-old gelding, as good now as he's ever been, was led away.  "It's amazing," he said.