In the third installment of our new weekly feature, it's Gabby Gaudet's best longshots and exotic plays for Saturday!  Good luck to all!
PICK FOUR

Laurel Park has a 50-cent Pick Three beginning in race 7.  Post time for the 7 is 4:18.
Gabby's Selections

Race 7 – 1, 6, 7
Race 8 – 2, 3, 4
Race 9 – 3, 6, 7
Race 10 – 2, 8, 9, 13
Wager cost: $54
Gabby says….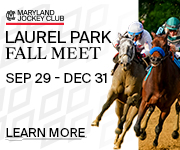 "Race 7 is a first level allowance turf sprint, and like a lot of turf sprints, there are a lot of ways to go here.  I like #1 Nikki B. Bad, for trainer Jamie Ness and Jevian Toledo.  They have been winning races together, and class-wise, she belongs here.  She's been extremely improved since they put her on the turf… I think #6 Really Right has much more to offer than we've seen so far.  They haven't tried sprinting her on the turf until today, but her only previous sprint, on the dirt, she won.  She gets blinkers on today, and her breeding, especially on the sire side, suggests she'll like the turf… You don't throw Dale Capuano horses out in these turf sprints, so you have to include #7 Wildcat Queen.  She's run well against similar, it's the first off the claim for her, and if you can get 6-1, don't pass that up.
"Race 8 is a  maiden special weight sprint with several making their first start.  I picked #4 Tizgale in her debut, and she ran third.  There was so much hype around this filly when she debuted; they thought she was really going to be something.  She ran really greenly in that race — she was all over the place.  I like the fact that they gave her time between races and that they've put the blinkers on her.  Trainer Ignacio Correas really improves horses from their first race to their second… I think #2 Access to the Moon could be something.  She's been working well in the mornings, and that August 24 work — fastest of 55 at the four furlong distance — was really good.  Her dam was a stakes winner sprinting on the dirt, and trainer Larry Murray puts horses where they belong.  The rail won't help today, but we'll see if she can overcome it… #3 Heir Worthy is a full brother to Warrior's Reward, who won the Grade 1 Carter, and I don't think you can look past that in a maiden race…
"In the ninth, a first-level allowance sprint on the dirt, I think you have to throw in #3 Ek Haseena.  She's very consistent and has been running against some good horses, so, class-wise, she's there.  I'm not sure if this is her ideal distance, but I thought her last race was good, and this is her second off a pretty long layoff… #6 Chief's Prize may sit a good trip from the six-hole.  She had a really troubled trip last out and got banged around, but I don't think that was indicative of her talent.  I think she's going to fire here… #7 A and Out has really impressed me in her last two starts after being off for over a year.  She's shown good speed and should fit here.  The concerns are that in that last race, she ran third behind Cabo Time, who didn't run very well here yesterday, and also that I think there's some other early speed here for her to contend with…
"The 10th — a third allowance going one mile on the turf — is a really good race.  I think #2 Hakama could sit a good trip right off the pace.  That's how horses have been winning on this turf course… I like #8 Fan Base on top.  I'm a little confused by his recent form; he'd shown good speed earlier in his career, but in his last few, he's shown none at all.  I think he may sit closer to the pace than in recent races, and without much other speed here, may find things to  his liking…  If his form transfers from the dirt to the turf, #9 Bowman's Beast will win here… The biggest thing for #13 State of Play to overcome is the long layoff, from April 2012.  Class-wise, he should be there.  The 13-hole is never good, and he may need the race, but he's too much of a player class-wise to leave off the ticket."
LONGSHOT PLAYS
Her longshot play today, from race 7, is #6 Really Right (12-1).  The horse won at first asking and has been keeping good company.  Her one turf try came in the Grade 3 Virginia Oaks, where she saw very different fillies than the ones she'll tackle here.  She subsequently ran a good third in allowance company at Saratoga, and today, after a poor effort at Delaware, gets blinkers and a cutback in distance.  She's a strong candidate to hit the board, Gabby believes.  "She has a lot to prove," Gaudet says, "but if she goes off at 12-1, that would be great."
Good luck!
(Featured image, of Ben's Cat, by Laurie Asseo.)