from a Maryland Jockey Club release
Steve & Debbie Jackson's Deco Rocks only had two horses beaten at the top of the stretch, but after a relentless drive, got up in time to win today's $47,000 allowance feature at Laurel Park at odds of 67-1.
The daughter of Rockport Harbor was ridden by apprentice Victor Carrasco for trainer Flint Stites. She was dismissed in the wagering today after a last place finish at Charles Town in the Potomac Handicap last time out. The 5-year-old mare had not won since July 1, 2011 but did have eight in the money finishes in 15 starts since that score before the Potomac.
"She has been a hard luck horse. In her last start she was stuck on the rail and had no chance," Stites said. "She had not won in awhile but had plenty of on the board finishes. There was plenty of speed early in the race and Victor did a good job of getting her outside and she ran them down."
Deco Rocks completed the 5-1/2 furlong distance in 1:03.42 and paid $136.40. The daughter of Rockport Harbor topped a $788 exacta and $1,880.60 trifecta.

Classy Coco, who won the 2012 Jim McKay Maryland Million Lassie, finished second, three-quarters of a length back. She is expected to compete in the Maryland Million here on Oct. 19.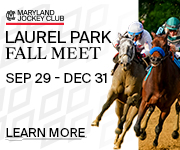 (Photo by Jim McCue, Maryland Jockey Club.)