by Teresa Genaro
By all accounts, the pun in Miss Behaviour's name is not an apt one.
"Over in the barn this morning," said one of her owners, Cal MacWilliam, in the winner's circle at Belmont Park last Sunday, "she was absolutely calm, lying down, sleeping."
The same could not be said of MacWilliam, his partner Neil Teitelbaum, and their wives, but they had good reason to celebrate.  Their two-year-old, Pennsylvania-bred daughter of Jump Start out of the Successful Appeal mare Successful Romance had just won the Grade II Matron Stakes to keep her perfect record intact.

Not that winner's circle appearances are a novelty to MacWilliam, who was raised on a horse farm and is the third generation in racing in his family. His grandfather had Thoroughbred horses and his father Quarter Horses; uncles were involved with both Thoroughbreds and standardbreds.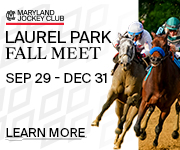 MacWilliam at first departed from the family business.  An economist at the World Bank, he was not, he said, in a position to own horses earlier in his career, but several years ago, working in Washington D.C. with his children having grown up, he decided it was time to get back in the business.  And the casino-revenue-infused Pennsylvania program, he acknowledged, appealed to the economist in him.
"I live in Maryland," he said, "about 45 minutes outside of Pennsylvania. It was a logical place to go."
But first he went to Keeneland, in November 2009, purchasing the six-year-old Successful Romance, a stakes-placed New Jersey-bred who earned just shy of $100,000; he paid $40,000 for her. She was in foal to Afleet Alex with a filly that made it to the races, though not particularly successfully; she was claimed from MacWilliam and Teitelbaum before she ever won a race and has one win in nine starts.
In 2010, MacWilliam bred Successful Romance to Jump Start, second that year on the Pennsylvania sire list.
"We were looking a physical match that would give her more size," he said, explaining the decision to send her to Jump Start. "The mare is kind of a sprinting, Quarter Horse type, and we figured she needed a little size and scale and leg under her."
Miss Behaviour—the spelling comes from MacWilliam's and Teitelbaum's Canadian roots—debuted at Parx in July, winning first out, then crushed the field in the Sorority Stakes at Monmouth by more than eight lengths.
Still, trainer Phil Schoenthal wasn't sure exactly what kind of filly he was bringing up to Belmont from his base at the Bowie Training Center to try to win a graded stakes race.
"You can't help but have a little David and Goliath feeling," he admitted. "You look down the shedrow, you see Pletcher, you see Zito, you see Dutrow—the guys you grow up watching on TV. Here I am with my modestly bred filly, and they've got horses that cost $300,000.
[pullquote]"You can't help but have a little David and Goliath feeling… but thank goodness they actually run the race instead of handing out the money at the entry box." —
trainer Phil Schoenthal
[/pullquote]
"You struggle to feel like you belong a little bit, but thank goodness they actually run the race instead of handing out the money at the entry box."
Because when the race was over, it was Schoenthal, MacWilliam, Teitelbaum, and Miss Behaviour getting the purse money, while Pletcher's $300,000 filly had to settle for second. Oddly, Schoenthal's first job on the racetrack had been in Pletcher's barn, first at Keeneland and then at Belmont.
"My wife took a picture of us in the paddock," Schoenthal said. "And afterward, he congratulated me and was very gracious; he appeared to be sincerely happy for me."
The Matron victory is Schoenthal's first in a graded stakes, in a career that started in 2003. He no longer questions his filly's talent; less certain is what her future is.
She's catalogued for the November sale at Fasig-Tipton.  MacWilliam isn't certain that she will go through the ring, but he is unequivocal that she won't run in the Breeders' Cup.
"We think she can go two turns," he said, "and she's shown she can rate, but trying her for the first time at two turns at that level is just not right."
And given that she might go to auction, Schoenthal sees little point in running her in a small stakes closer to home.
MacWilliam said he wanted to buy a few mares, but he never did end up buying any others. Successful Romance is his only broodmare, and Miss Behaviour is his only horse in training. She has a Ghostzapper half sibling, and Successful Romance is in foal to Langfuhr. MacWilliam is enthusiastic about the youngsters' future, and heartened at their presence in the face of the prospect of selling Miss Behaviour.  He discusses the latter with both regret and pragmatism.
"It's absolutely sad," he said, to think about selling her. "We've been out to visit her almost every week, and we've watched her grow up. She's our baby."
"But," he continued. "It's probably the right thing to do. And we know she'll go somewhere where she'll be very well taken care of."
Schoenthal feels a similar connection to her. "Since day 1," he said, "she's been uber-classy. She's been calm and relaxed, and anything you ask her to do, she does the first time."
She's also a barn favorite, particularly with his five-year-old daughter.
"She'll go in the stall with the filly," he said, "and give her kisses and carrots. The filly loves kids and she loves people; she might as well be a Shetland pony. I put my daughter up on her."
She's a pleasure to train. She learns quickly. She's friendly, and she's lovable, and she's undefeated. Ain't Miss Behaviour, indeed.
(Featured image by NYRA Adam Coglianese.)