by Nick Hahn
Even before the conclusion of Colonial's meet on July 13, many racing officials were assessing the figures looking to improve the 2014 meet. I am not a CPA, nor do I track financials on a daily basis during the meet — I'm too busy handicapping — but in the meet's aftermath, I found a few numbers that were meaningful to me.  Herewith, my 10-to-1 Colonial countdown… and, by the way, let's hope the number of racing days never makes this list.
10 The number of starters in the Virginia Derby. With no clear dominant three year old turf horse this summer, the Virginia Derby was up for grabs. This year's Derby competitors should be a fun group to follow coming out of Providence Forge. Virginia Derby winner War Dancer appears to be headed to the $1 million Travers on Saratoga's dirt; Charming Kitten and Rydilluc are aiming at the $200,000 Racing Hall of Fame on the same venue's grass; and Jack Milton and Draw Too are eying the $500,000 Secretariat Stakes at Arlington Park.  At one time the Virginia Derby purse was more than double that of any other three-year old turf stakes. Now at $500,000, it's even with the Penn Mile. Word to the wise: Don't shrink the purse any more.
9 Million dollars and counting, the amount of pari-mutuel tax revenue directly generated for New Kent County by Colonial Downs since the track started taking wagers in 1996. Not factored in that figure are other revenue streams, such as property tax revenue. Yet it remains an underutilized revenue source, one that would multiply with the addition of hotels, taverns and restaurants. More commercial development would help both New Kent County's bottom line and Colonial's racing atmosphere. Because of its location, it will be difficult to make any racing schedule work without added amenities that Colonial has lacked in the 17 years since the track was built.
8.78 – The average number of starters per race, up nearly 5% from 8.38 last summer.  The relatively high number of starters per race has always worked to Colonial's benefit, and this increase is good news.  The lower lever racing on the turf creates rare opportunities for many Thoroughbreds, shown by the numerous locations where they last raced. Handicappers nationally keep an eye on Colonial as a result of this figure.

7 Fewer race days this year than in 2012.  Scheduled for 25, Colonial Downs lost a day of racing due early in the meet to a power outage, one of many during the meet. The Racing Office slated an extra race per day to account for the lost day, so many race goers studied for the more common nine races per card.  At one time, Colonial Downs ran as many as 45 days, and during a 5-year window from 2005 to 2009 the track offered at least 40 days of live racing.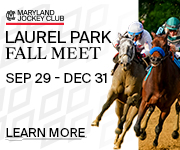 6 The age of London Lane, the gelding that won the $300,000 Colonial Turf Cup with Horacio Karamanos aboard Howard Bender's homebred, trained by Larry Murray. The same combination — Karamanos up for Murray and the Benders — won the 2003 Da Hoss stakes with Special K's legendary ride aboard Tam's Terms (click here for that story).  Colonial Turf Cup attendance (2,777) and handle (1,360,958) didn't impress, however, and now with a reduced purse and open to older horses, the race appears to get lost on the national racing scene, unable to contend with richer events like the United Nations and the Manhattan.  The purse is too small to attract the top older horses nationally and too large for a regional stake. Hint: Colonial would benefit from a three year-old turf stake early in the meet as a local prep for the Virginia Derby.
597,632 – The average daily handle, certainly a disappointment from the windfall years Colonial experienced after switching from the fall to the summer. From 2005 to 2008, Colonial offered at least 40 days of racing with an average daily handle over a $1 million per day. During that period, Colonial raced during the day, with Mondays and Tuesday during the late afternoon a popular venue for handicappers worldwide. Night racing, especially with the lack of hospitality services nearby, hasn't proven to be successful at increasing handle. Colonial faces challenges in scheduling — the readiness of the turf course and the heat chief among them.  But if Colonial's remote physical location is a drag on attendance and live handle, it certainly must be readily available — and time-slotted effectively — on your TV remote control.
4 The number of racing days per week preferred by most horsemen in an unscientific poll. If the number of racing days is going to limited, squeezing them into a shorter meet limits the number of starts, a big issue especially for smaller barns. Stretching out the number of weeks would at least allow horses on the grounds to get an extra start and certainly would attract more equine residents to lodge on the backstretch during the meet.  That might further increase field size.
3 The number of horses with a hat trick of wins in the meet: Bert B Don, Coturnix and Boltin' Out. All three won all their Colonial starts this summer. Both Bert B Don and Boltin' Out have had their win streaks thwarted at Monmouth since the Colonial concluded, and Coturnix has not yet appeared in the entries.  With his win in the Punch Line, Boltin' Out earned horse of the meet honors.
2 – The number of breakdowns during the meet, one of Colonial's best seasons. Unfortunately there was one on closing day or the number would have been even lower.  Track superintendent J. D. Thomas and his crew more than earned their paychecks this season.  Caught with a 4"+ deluge the day before the meet and constant rain throughout the meet, Team Thomas kept the turf course in great shape all meet long, a large factor in keeping breakdowns to a minimum. Only in the last week with a five-stake, 12-race card looming, was racing finally forced to the dirt.
1 – The Grade that still eludes the Virginia Derby. The Jockey Club, especially after this year's renewal needs to take a closer look at making Colonial's signature race a Grade I. Kitten's Joy, Paddy O'Prado, English Channel, Gio Ponti, Go Between make a great case among its winners while Kip Deville, Artie Schiller, Court Vision and Senor Swinger are among a long list of thwarted participants. Grade I passes the sniff test.
(For a more business-oriented review of Colonial's season numbers, check out Virginia Horseracing News, here.)