Adapted from an NTRA press release
For the first time, Laurel Park has earned full accreditation from the National Thoroughbred Racing Association's (NTRA) Safety and Integrity Alliance, that organization announced today.  At the same time, it said that it had re-accredited Pimlico Race Course, both decisions coming following a complete review of all racing operations at the two Maryland Jockey Club (MJC) facilities.
The accreditation of Laurel Park followed a lengthy certification process that began with the track's completion of a 48-page written application and continued as Laurel hosted several meetings with Alliance officials. An initial on-site review in January included inspections of all facets of the racing facility, and interviews with track executives, racetrack personnel, jockeys, owners, trainers, stewards and fans. The inspection team was comprised of Mary Scollay, DVM; Mike Kilpack of the Organization of Racetrack Investigators (ORI); racing official Richard Lewis; and Mike Ziegler, Executive Director of the NTRA Safety and Integrity Alliance.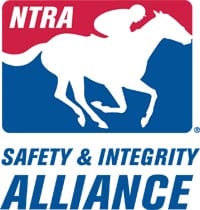 An additional on-site inspection of Laurel—conducted without advance notice—took place on March 20-21.  During this follow-up inspection, revised racing protocols at Laurel were confirmed as being in compliance with the NTRA Safety and Integrity Alliance Code of Standards.
The re-accreditation of Pimlico involved a similar process as that of Laurel Park—with an inspection team made up of Ron Jensen, DVM; Mike Kilpack of the Organization of Racetrack Investigators (ORI); racing official Richard Lewis; and Mike Ziegler, Executive Director of the NTRA Safety and Integrity Alliance.
"Laurel Park is pleased to be an accredited member of the NTRA Safety and Integrity Alliance for the first time," said Tom Chuckas, President of the Maryland Jockey Club. "Pimlico's re-accreditation is also extremely important to us as we strive to improve all safety operations at our racing facilities. We worked hard with the Maryland Racing Commission to improve standards and thank them for their assistance."
"We have worked closely with Laurel Park and Pimlico, its horsemen and the Maryland Racing Commission throughout this process at both Maryland Jockey Club facilities," said Ziegler. "In order to achieve accreditation, the MJC and the Maryland Racing Commission have instituted significant improvements in a number of areas that positively impact the health and safety of both its human and equine athletes. These areas include pre-race exam protocols, track surface maintenance data collection, the post-mortem program, increased reporting to the Equine Injury Database, vet's list protocols, out-of-competition testing and the expected incorporation of the Uniform National Trainers Test into the current Maryland trainers test. With respect to medication rules, the MJC, the Maryland horsemen, and the Maryland Racing Commission are among the nation's leaders in the mission to strengthen and standardize industry medication rules and penalties. The MJC also maintains a first-rate, in-house human healthcare program that is well funded by a mandatory $25 per start fee."
"The Maryland Jockey Club and the Maryland Racing Commission are to be congratulated for working together to achieve accreditation and meet or exceed industry standards," said Mary Scollay, DVM, the Equine Medical Director of the Kentucky Horse Racing Commission and an NTRA Safety and Integrity Alliance veterinarian inspector.
Alan Foreman, Chairman and CEO of the Thoroughbred Horsemen's Association and General Counsel to the Maryland Thoroughbred Horsemen's Association, added, "The management and staff at the two MJC tracks have committed considerable time, effort and resources to achieve this accreditation from the NTRA Safety and Integrity Alliance.  The track and the Maryland Racing Commission will also go beyond Alliance requirements by bringing in outside expertise to ensure that all racing surfaces at Laurel and Pimlico are conducive to the safest racing possible."
Laurel Park is now the 26th racing facility to receive full accreditation, joining Churchill Downs, Keeneland, Belmont Park, Delaware Park, Hollywood Park, Monmouth Park, Arlington Park, Saratoga Race Course, Calder Race Course, Turfway Park, the Del Mar Thoroughbred Club, Oak Tree at Santa Anita, Fair Grounds, Aqueduct Racetrack, Golden Gate Fields, Woodbine, Pimlico, Canterbury Park, Sunland Park, Finger Lakes Casino and Racetrack, Suffolk Downs, Santa Anita Park, Gulfstream Park, Kentucky Downs and Fairplex Park.
The Alliance, formed in October 2008 with the goal of establishing national uniform standards in the areas of safety and integrity, includes 55 racetracks in North America and every major national horsemen's organization. Alliance certification standards cover six broad areas: injury reporting and prevention; creating a safer racing environment; aftercare and transition of retired racehorses; uniform medication, testing and penalties; safety research; and wagering security. Within those six categories, specific standards focus on areas including:
Systematic reporting of equine injuries
Aftercare of racehorses
Pre- and post-race veterinary examinations
Post-mortem examinations
Health and safety of jockeys
Riding crops and their use
Horse shoes and hoof care
Safety research
Safety equipment for jockeys and horse handlers
Exogenous Anabolic Steroids
Alkalinizing agents (TCO2)
On-track emergency medical care for humans and equines
Out-of-competition testing
Freezing and retrospective testing of post race samples
Continuing education
Security assessment and training
Totalisator technology and "stop wagering" protocols
Wagering incident investigation
The NTRA Safety and Integrity Alliance is a standing organization whose purpose is to establish standards and practices to promote safety and integrity in horseracing and to secure their implementation. Information on the Alliance, including the Alliance Code of Standards, can be found at www.NTRAalliance.com.