Alan Foreman: "An inflection point in our industry"
The Biz

October 31, 2023
In this Off to the Races conversation, we catch up with Alan Foreman regarding the future of Maryland racing.
Foreman is the general counsel to the Maryland Thoroughbred Horsemen's Association and represents that group on the state-created Maryland Racetrack Operating Authority. The latter group has been tasked by the state legislature with analyzing operating models for Thoroughbred racing around the country and recommending one it thinks would best for Maryland. In addition, it hopes to jumpstart the long-stalled project to renew Maryland's thoroughbred racing facilities.
The interview first aired on Off to the Races-Maryland on October 28. You can listen to the full interview above. The transcript below has been edited for brevity and clarity.

FRANK VESPE: Three years ago, to much acclaim, the track, horsemen, and Baltimore City announced a plan to completely remake Maryland racing's physical facilities. Now we're onto the next thing with the Maryland Racetrack Operating Authority. What happened?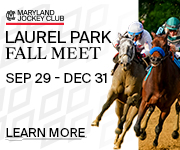 ALAN FOREMAN:
I don't think anybody would disagree that we are at an inflection point in our industry. It's one of the most significant points in the history of Maryland racing. We thought that we were going going to be in the midst of a massive redevelopment plan that was going to consolidate thoroughbred racing at a new redeveloped Laurel Race Course with a redevelop Pimlico that would be a commercial development, but would have a new clubhouse and new course and new design for Pimlico that could accommodate the Preakness. And we now know, four or five years later, that that plan is completely stalled. And one of the reasons that is stalled, is that we've learned that, through the experts who have come in and studied through the Maryland Stadium Authority, that Laurel it needs to be completely torn down and rebuilt from the bottom up. I'm talking frontside, backside, racecourses. There's really nothing about Laurel – as nice as some people may think it is – that is salvageable. It needs to be completely redone and the cost to do Laurel, as estimated by the Maryland Stadium Authority, is almost double what was anticipated… 
There was a second problem and that is that Belinda Stronach, who owns the property was going to retain her ownership interest in the property and take back a minimum 30-year lease to conduct racing because there was a promise that racing would be conducted for the life of the bonds that would be issued to finance the entire project at Laurel and Pimlico. And there is a quirk in the federal tax law that taxes the owner of private property that are rebuilt or improved with public dollars at capital gains tax rates, and you were looking at a very significant capital gains tax given the what it would cost to do Laurel and you had to superimpose that on top of the almost double the cost of Laurel. So it became very clear that Laurel was probably not going to survive this project. 
FRANK VESPE: Now there's discussion of a new ownership model altogether, of a nonprofit arrangement with perhaps public ownership of the tracks. Tell us about that.
ALAN FOREMAN:
At the same time [all of the above was going on], the 10-year agreement that has governed Maryland racing expired at the end of '22. The horsemen and breeders have been subsidizing the first racing stroke neck operation to the tune of about $8.3 million a year. And the 1/ST Racing organization [which owns the tracks] last November requested a substantial increase in the subsidies, and the horsemen and breeders both balked. That's given what everybody knows is the issues with management, the condition of the racing surfaces, the lack of marketing, and a general discontent with the overall operation of Maryland racing. And so there was a suggestion made not this summer, but the past summer as the [state] legislature was starting to suggest that if this project didn't get jumpstarted, they were going to withdraw the funding. And there was a suggestion, actually made by the Stronach Group, about the horsemen and breeders looking at a model where the horsemen would take over Laurel and perhaps operate it as a not-for-profit; there are some models in the industry. And they would retain Pimlico.
And we made clear that if we were going to go down that road, that it would not be acceptable for us to take Laurel and all the expenses and the losses that they incur and give them the crown jewel of Maryland racing. And so collectively, we embarked on an analysis to determine what a not-for-profit model might look like and what the future of Maryland might look like, if there wasn't a private operator. I think the third element people need to understand is we will not have [alternative]  gaming at our racetracks, unlike our neighboring states, and so the likelihood of a private operator wanting to acquire and operate these tracks on a year-round basis is slim… The notion of a not-for-profit model is what the Authority is studying right now.
CHECK OUT THE LATEST OFF TO THE RACES RADIO!
FRANK VESPE: You mentioned other examples of nonprofit models in the industry. Can you expand on that?
ALAN FOREMAN:
Probably the best example of those models is Del Mar. In Del Mar the state owns the land; there is an Authority similar to what we have established, although with probably less power, that oversees the property. There is an operating entity called the Del Mar Thoroughbred Club, and they operate two meets, albeit boutique meets. But it's a model that works very successfully.
The better model may be the New York Racing Association, which is the operating entity for the New York area tracks Saratoga, Belmont, and Aqueduct. They are operated by the operating entity, the New York Racing Association, but the land is owned by the state. And they operate under a franchise agreement, and they operate very successfully. NYRA actually is quite profitable right now. And NYRA is operating on all four cylinders, and they're about to embark on a massive redevelopment program. So we have looked.
FRANK VESPE: When 1/ST Racing made its presentation to the Authority, what did it call for?
ALAN FOREMAN: If you're going to look at the future of Maryland racing, you have an operator who is claiming substantial financial losses and can't make it as is and wants substantial money from the industry. In the 1/ST Racing presentation to the Authority, they said, 'We want to cut substantially, cut Maryland racing almost in half. Probably two boutique meets of 40 days each. They want to increase the purse structure to a minimum of $600,000 a day. And they want to shift the revenues from the horsemen/breeder side, the industry side to give them a greater share of revenue.
And the question is, can we continue to sustain [higher subsidies], given what appears to be, I think, a general consensus about management oversight of the tracks, marketing, condition of the facilities, condition of the racecourses, is that all sustainable? And so in the presentation that the horsemen and breeders gave they, among their recommendations for what the future could look like, brought to the fore this notion of a not-for-profit model, which would require obviously an agreement and negotiations with 1/ST Racing. Even to implement that model going forward, as the redevelopment plan starts to crystallize… we're going to have to continue racing at Laurel for at least a period of four years while the construction of obviously Pimlico but even a training center moves forward. So there are a lot of complicated issues here… And I think that my own personal view is, I think we could do a very good job of ensuring year-round live racing here. It's going to look different, and interests, people or groups that are committed to Maryland racing, looking out for what's the best interest of Maryland racing and protecting Maryland racing, rather than worrying about the bottom line of reading for their own interests.
FRANK VESPE: If the horsemen's proposal and 1/ST Racing's proposal represent the two poles of opinion, how does the Racetrack Operating Authority parse that? How do they pick one versus the other?
ALAN FOREMAN:
We are a public body and have not discussed it. But, you know, what is the best option for Maryland racing? And how do you make that happen?
If you go to the 1/ST Racing proposal, you're essentially looking at two boutique meets. What does that mean for year-round stabling in Maryland? What does that mean for the Maryland horsemen who have their livelihood, their families, their businesses here, tied to racing, and you're running two boutique meats? Is that sustainable? Their proposal would increase daily purchases to $600,000 or more: are you inviting the top tier of racing, those outfits from New York and California and elsewhere to send strings of horses to Maryland to grab the larger purses? And does larger purses mean better racing and larger field sizes? Is that what's best for Maryland racing? And then at the same time shifting revenue that was dedicated by the Legislature to the industry and shifting it to the track operator who has a far smaller interest in racing and a footprint, Is that realistic? And will they do that? And I think the answer is probably not.
On the other hand, how will a not-for-profit model work? How do you cover your losses if you sustain losses? I mean, I think that a not-for-profit has the better opportunity to decide what the racing calendar would look like, but do it in a way that protects and preserves year-round racing and the people who support the business here. And also, I think we want a program that recognizes who we are in the industry, where we are best positioned… We have our horsemen here running for more money than they've ever run before. Our field sizes are in the upper tier of field sizes across the country. Yeah, there are things that we need to do to improve racing here. But you know, the question is, who can better do it, a private operator looking at the bottom line or a not-for-profit, and I think that's the discussion that the Authority needs to have. And I would hope that 1/ST Racing and the Stronach group understands that dynamic… 
FRANK VESPE: Whatever option the Authority chooses, money is going to be a big issue, and the Stadium Authority has estimated the projects are more than $100 million over budget. If the state somehow has to acquire property from 1/ST Racing, that problem gets worse. So where does the money come from?
ALAN FOREMAN:
I think probably the big gorilla in the room is identifying a location for a training center, and we've looked at a number of properties, it's it's not easy, and we've looked for over a year, and what it would cost to build the training center on that property, because that's going to set the value of the project. And if you assume that it's going to be in excess of the $375 million, depending upon what negotiated agreement with the Stronach group is made, there may be the opportunity to capture some monies that are either dedicated to racing or related to racing, that could help to fund the shortfall. Or we will have to take steps on our own,. whether it's adjusting the racing schedule, adjusting purses, there are ways to do it, to cover the delta.
So, you know, I'm optimistic that we are going to get there. Once we can identify what the additional costs are going to be, we can then study how we can make up that shortfall. I think the larger question is going to be can a not-for-profit operate at a breakeven. And if not at breakeven, what are the anticipated annual losses, and how do you cover that shortfall? But there are a lot of very sophisticated questions there. The challenge right now is that we don't have to solve that problem yet, we probably can't. But what we are required to do is by December 1, provide a report to the General Assembly on where we are in the process. And we have to identify to them two potential sites for a training center, and where that training center will be built… I suspect that somewhere going into November, that sometime during the month of November at a public meeting, everyone will hear the recommendations coming from the experts who are working on this and starting the decision-making that the Authority has to make… 
FRANK VESPE: If what the Authority recommends requires additional legislation, is your expectation that legislation may move through the General Assembly in the session that begins in January?
ALAN FOREMAN:
If there is legislation necessary to advance this project, that would be the time to do it. But the legislature is not going to advance any further monies or take any other steps unless they are satisfied that this project is moving forward and moving forward expeditiously. Part of the problem that we have is that the [original] plan was proposed… four years ago, almost five years ago, and it's stalled. It's completely stalled. And I think that we all have a collective sense that if we don't move quickly now and we don't get this project started in 2024, with a plan that the General Assembly sees is going to move forward, it would not surprise me if they just decided to strip the funding and just shut it down.
FRANK VESPE: There's no agreement between the horsemen and the racetrack to keep racing past December 31 of this year. Do you see that as an issue? Or is that going to get taken care of?
ALAN FOREMAN:
I hope not. I mean, you know, we've got 60 days to get this done. I think there's an expectation at the Racing Commission that they're going to see a schedule for 2024 [at the October 31 meeting]. Historically, what the track does with the horsemen is apply for racing days for the entire year. And then on a meet-by-meet basis, the track then files its request for approvals. We certainly need to get this done, I would hope, by the first of December, if we're going to have an extension, and I believe we will, because you've got to get the condition books printed, you've got to start preparing for racing on January 1, you can't do it at the last minute. And so I think it's helpful to the negotiations, that the Authority is in place. That was not the case last year. So I think that that is very helpful to the process.
We don't know what the expectations are of 1/ST Racing. And we certainly know what our expectations are on the horseman/breeder side. And we're going to do everything that we can to maintain at least status quo. As we go forward, the economics for the horsemen and breeders to continue to pay additional monies to subsidize the operation, under the current circumstances, it's very difficult. So we'll see over the next few weeks, but again, I'm optimistic. I don't think that it's in the best interests of 1/ST Racing [nor does it] want to see racing abandoned on the first of the year. The Authority is not going to allow that to happen. And the horsemen and breeders, certainly our constituents don't want to see it happen. I really don't like these six-month extensions because it's a hesitation-hesitation-hesitation, and doesn't give a lot of confidence for people buying horses in Maryland or owners wanting to race in Maryland, or even trainers wanting to stay here, with this uncertainty. So we have to solve the uncertainties.
LATEST NEWS