Mares bred figs continue steady decline
Frank Vespe

October 30, 2023
The Jockey Club's report of mares bred, which was released October 27, falls in the "new news that's old news" category. For the eighth consecutive year, the number of mares bred nationally declined versus the prior year.
Nationwide, 26,597 mares were covered by 867 stallions. The number of mares bred was down a shade over 2% from the 27,163 bred in 2022, while the number of stallions dipped by 6.3% from the prior year.
The Jockey Club estimates that an additional 2,500 to 3,000 mares will ultimately be reported as bred during 2023, so the released numbers represent a snapshot – but one that's a pretty accurate barometer.
Since 2013, the number of stallions nationally has dropped by an astonishing 49%, while the number of mares bred has dropped 22%. Those numbers particularly reflect the consolidation of stallion books – in 2013, one stallion bred more than 200 mares, while in 2023 14 did so – and the decline in regional markets.

In 2023, Kentucky and New York – the two richest and most stable racing markets in the country – accounted for more than two-thirds of all mares bred in the country and showed modest 2.1% growth. All other breeding states saw the number of mares bred fall by a combined 9.9%.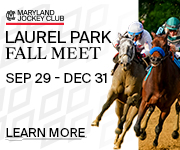 That reality hit particularly hard in the Mid-Atlantic, which saw the number of mares bred drop by nearly 11 percent, to 1,313. That represented a decline of nearly 37% from 2019, when 1,844 mares were bred in Maryland, Pennsylvania, New Jersey, Virginia, and West Virginia.
Maryland was especially hard-hit in 2023. Though its 566 mares bred were easily most in the region, that number represented a 23.6% decrease from 2022, when 741 Maryland mares were bred.
"That's a huge drop for us," David Wade, Northview Stallion Station general manager, said of Maryland's figures. "To see that we're down 23% is just a huge drop for us to be able to kind of comprehend and figure out."
CHECK OUT THE LATEST OFF TO THE RACES RADIO!
Pennsylvania, traditionally the region's second biggest breeding state, saw its number of mares bred fall by 8.8% to 363. That left it even with West Virginia, which saw its numbers jump by 19% to 363.
From their heights in the last five years, Maryland is down just shy of 30%, while West Virginia is down 3.7%. Pennsylvania's number of mares bred is down over 50%.
"A lot of all of this goes back to government, and Pennsylvania lost a lot of breeders four or five years ago, when the monies were withheld for the state-bred fund," Wade said. "Months and months and months went by where no money was being sent out to the breeders, and some of them sold their stock and went out of business. And every year, it seems like there are threats to raid that fund.'
Indeed, Northview previously had a stallion farm in Pennsylvania but closed it a few years back and relocated those stallions to Maryland.
In the end, breeding is a long-range business, with the time from a mare being bred to a foal racing being at minimum three years and often longer than that. It requires a level of stability and certainty that's currently in short supply in the Mid-Atlantic. Maryland's situation, amply covered here and elsewhere, is wildly unsettled, with the condition of the racetracks – and even who will operate racing – a matter of seemingly daily debate.
Despite plenty of money, Pennsylvania has its own problems, typified, Wade said, by concerns about whether that money will remain safe in the years to come. He even pointed to concerns among some breeders about competitors to Fasig-Tipton Midlantic's fall yearling sale in Timonium, which is to some degree pressed by sales before and after including Fasig's own Kentucky fall yearling sale three weeks after the local event.
"It's just all a matter of trying to get some confidence back in our breeders to show them that Maryland is the place to breed and Maryland's the place to foal your horse," Wade said.
2023 MARES BRED
| | | |
| --- | --- | --- |
| State | Mares bred | Stallions |
| MD | 566 | 25 |
| NJ | 1 | 1 |
| PA | 363 | 19 |
| VA | 20 | 4 |
| WV | 363 | 29 |
Source: The Jockey Club
LATEST NEWS