Delaware Park picks and analysis: October 4, 2023
Joe Parisi

October 4, 2023
Live racing at Delaware Park kicks off May 24 and runs through late October.
Once again this year, we will have Delaware Park picks and analysis for every day of live racing at the venerable track. Today's card features eight races, and first post is 12:30 EDT.
Today's carryovers: None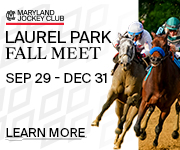 Race #1 Picks: 9-5-3-2
In this $6250 maiden claiming race at one mile and 70 yards, we are going with #9 Unxpected Tiger (10-1), who is taking a class drop today. He did show some early speed with $16,000 claimers in last, and considering today's competition a flash of speed might be enough to win. #5 Practicallymine (6-1) has been showing early speed and fading against $10,000 claimers. Maybe he will be able to hang on to the lead at this class level. #3 Sun of Silver (6-1) had the lead last time out but got collared late. He figures to be in the mix again today.
Race #2 Picks: 3-4-6-2
In this $16,000 N2L claiming race at six furlongs, #3 The Great Gazoo (7-2) is dropping down to $16,000 claimers after running at $28,000. He has been showing speed and fits well with this group of horses. #4 Fun At the Fort (4-1) has been showing speed at Monmouth. He will be making his second start after his maiden victory and should improve. #6 Hexagon (6-1) seems to be improving. If he can return to the form he had at Gulfstream, he will be competitive today.
Race #3 Picks: 9-14-12-7
This race has been taken off the turf and will be run at one mile on the main track.
CHECK OUT THE LATEST OFF TO THE RACES RADIO!
Race #4 Picks: 8-5-2-3
In this optional claiming/starter allowance race at one mile and 70 yards, #8 Great Faces (7-2) won in his first start for John Rigattieri. If he can repeat the effort, he should win again today. Rigattieri has won at 37% in 49 tries when going for two straight. #5 Ahsad (8-1) has been in excellentform, winning three of his last four. He figures to finish with the leaders again and looks like a contender. #2 American Patrol (3-1) is a new gelding that was running against better horses earlier this year. If he can run back the speed figures he was running before the break, he will be formidable against this group.
Race #5 Picks: 9-6-10-8
In this optional claiming/starter allowance race at 5 ½ furlongs, there Is so much early speed that we are going to go with a horse that can win off the pace. #9 Even Thunder (15-1) is a nine-year-old who is winless this year, but had three wins in 2022. He just missed two back when he closed to miss by a nose. We think this race will set up well for him. #6 Wild Behavior (8-1) is a speed burner who had two good races at Delaware this year. He will be fighting for the lead and looks like a contender. #10 Bazoo (8-1) will press the pace and if the frontrunners falter he will be in a position to win. One to consider.
Joe's Notes
Among jockeys Raul Mena and Daniel Centeno won four each last week to lead the colony. With a month to go in the meet, Jaime Rodriguez has 57 wins to lead all riders, with Kevin Gomez and Centeno his nearest pursuers…
Trainers Jamie Ness, Jose Ramirez, and Michael Gorham won three apiece last week. Gorham now has 20 wins, good for third behind Ness and Brittany Russell..
Race #6 Picks: 4-3-8-5
In this optional claiming/starter allowance race at one mile and 70 yards, #4 Bobby G (7-2) was competitive against better horses at Laurel before racing at Saratoga. Now coming to Delaware where he might find the competition a little weaker. He has a good shot with his field. #3 Ain't Wasting Time (9-2) was overmatched in a first level allowance in last. Now moving back to a level where he can compete for a win. He looks very competitive in this spot. #8 It's Sizzling Time (6-1) won going away at Timonium in last and fits with these. He could surprise today.
Race #7 Picks: 1-4-2-3
In this $38,000 first-level allowance race for fillies and mares at one mile and 70 yards, #1 It's Her Time (5-2) has been competing in state-bred stakes races at Canterbury and looks like a competitor today for a high-percentage trainer. This filly will look to grab an early lead and hold the others off in the stretch. #4 Makemebelieve (8-1) will be making her second start for McLean Stevenson and we think there will be improvement. #2 My Maggie Moo (7-2) beat several others entered in this race last time out and fits well with this group.
Race #8 Picks: 7-6-3-5
In this $6250 claiming race for fillies and mares at 5 ½ furlongs, #7 Lunita (9-5) has been running well here all summer long. If she repeats her last, she should be able to best this field. #6 Chem Major (3-1) almost won last time and may have found the claiming level where she can be competitive. One to consider. #3 Child Proof (3-1) is another horse that is dropping and looks like she is in a good position for a good performance.
LATEST NEWS