Nyquist colt tops Fasig-Tipton yearling sale
Frank Vespe

October 3, 2023
A Nyquist colt led a dozen horses to top $100,000 at the just-completed Fasig-Tipton Midlantic fall yearling sale, but the sale as a whole saw declines in average and median price while the buyback rate ticked up.
The Nyquist colt, a Maryland-bred consigned by Becky Davis, Inc. as agent, brought a winning bid of $205,000 from Thorostock LLC and Seth Morris Thoroughbreds. Sold as Hip 160, he is out of the winning Not for Love mare How My Heart Works and is a half-brother to the multiple stakes winner and Grade 3-placed Monday Morning Qb, winner of the 2021 Maryland Million Classic.
The same partners, Thorostock and Seth Morris, also bought Hip 376, the sale's second most expensive horse. Also a Maryland-bred, he is a Street Sense colt out of the stakes-winning Jump Start mare Victory Rally. Consigned by Northview Stallion Station (David Wade) as agent, he brought a top bid of $175,000.
Northview also consigned the sale's third-most expensive hip as Maryland-breds swept the event's top three spots. That filly, by Vekoma, brought a winning bid of $170,000 from Golden Lion Racing. She is out Domestic Dispute mare Undisputed Legend and is a half-sister to near-millionaire Whereshetoldmetogo, a 17-time winner.
The event as a whole generated nearly $7.1 million in total sales, with 290 hips fetching an average price of $24,420. The median was $12,000, and the buyback rate was a shade over 21%, with 78 horses not finding new homes.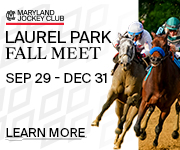 The sale was considerably smaller than last year's, which Fasig-Tipton President and CEO Boyd Browning attributed to the company's unusually large New York-bred yearling sale earlier this year, which saw 300 horses go through the ring versus 233 a year ago. The gross sales at last year's Midlantic yearling sale topped $10.2 million at an average of about $26,600, meaning the average this year declined about eight percent. The median last year was $15,000, while the buyback rate was about 17%.
"It was a solid marketplace, and the results were fairly consistent comparable to prior years," Browning said. "We've seen some indication throughout the last 12 to 18 months of a little weakening in the regional markets. And I think that was evident."
One likely reason for that is uncertainly in Maryland over what precisely the future of the state's racing industry will be. A recent statement by Maryland Jockey Club parent company 1/ST Racing that it would prefer a significantly reduced racing schedule here, coupled with the troubled condition of the racetracks, have jangled nerves. At today's sale, several horsemen acknowledged feeling more cautious than in years past.
"I think there was reduced participation among the Maryland trainers this year than we've seen in the past, which is understandable," Browning said. "When there's uncertainty, it will create a cautious environment rather than a bullish environment."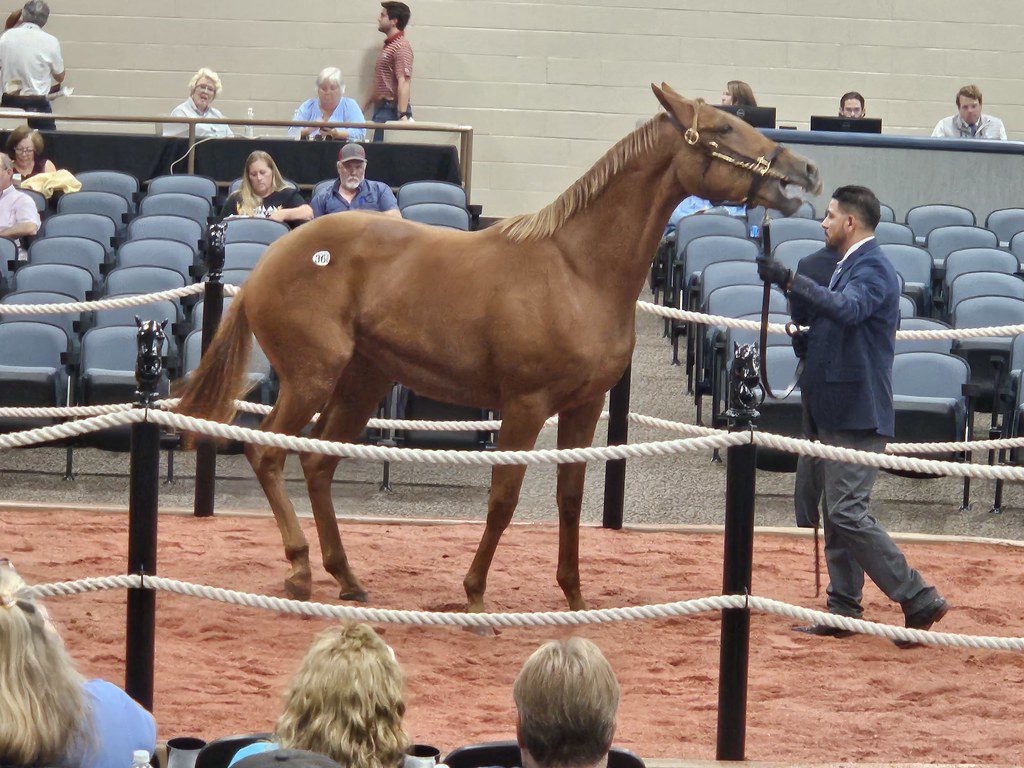 Another issue Browning cited was the lack of regional firepower in the stallion industry. While a number of local stallions can get a good runner, since the passing of Not for Love in 2016, none has made the sort of national splash he did; and he was part of a long run of top Maryland sires who could not only get runners but also get sales horses.
"We all still are hoping and looking for the emergence of a couple of really top-notch, national-type stallions out of the Maryland market," Browning said. "We haven't really replaced the Allen's Prospects and the Two Punches and the Citidancers and the Not for Loves that were such a mainstay and so consistent in the marketplace."
Still, Browning said he was overall pleased with a sale he described as "good commerce," even in the face of high interest rates, stubborn inflation, and political uncertainty. Indeed, as the sale was going on, the US House of Representatives voted to oust speaker Kevin McCarthy (R-CA); yet people kept bidding, with four of the top five to sell coming in the last hundred hips.
"It defies logic, but it also shows you the love and the passion and desire, how much people love the game," he said. "It's a lifestyle. We all love it."
CHECK OUT THE LATEST OFF TO THE RACES RADIO!
LATEST NEWS