Track condition now part of Equine Injury Database
The Biz

September 20, 2023
A link to an analysis of racing fatalities based on surface and track conditions for 2021 and 2022 has been added to the Equine Injury Database (EID) webpage. Additional statistics will be added to the EID webpage as they become available.
The Equine Injury Database, conceived at the Grayson-Jockey Club Research Foundation's first Welfare and Safety of the Racehorse Summit, was launched by The Jockey Club in July 2008 and seeks to identify the frequencies, types, and outcomes of racing injuries using a standardized format that generates valid statistics, identifies markers for horses at increased risk of injury, and serves as a data source for research directed at improving safety and preventing injuries.
Overall, the rate of fatal injury for Thoroughbred racing has declined from 2 per 1,000 starts in 2009, the first year for which statistics are available, to 1.25 per 1,000 starts in 2022. That 37.5% decline is among the most positive stories in a sport in need of them.
The new data differentiates not only between turf and dirt — as has been the case all along — but also among the different conditions, ranging from fast to sloppy for dirt and firm to yielding for turf. The study analyzed "all horse starts" in races during 2021 and 2022, with "fatalities" defined as runners who died as a result of musculoskeletal injuries within three days of the race in which the injury was suffered.

"For the two years of data studied – 2021 and 2022 – there were no statistically-significant differences in incidence of fatality found to be associated with track condition on either Dirt or Turf surface types," the study's authors, Dr. Euan Bennet and Prof. Tim Parkin wrote in conclusion.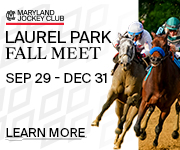 CHECK OUT THE LATEST OFF TO THE RACES RADIO!
LATEST NEWS