Delaware Park picks and analysis: September 20, 2023
Joe Parisi

September 20, 2023
Live racing at Delaware Park kicks off May 24 and runs through late October.
Once again this year, we will have Delaware Park picks and analysis for every day of live racing at the venerable track. Today's card features eight races, and first post is 12:30 EDT.
Today's carryovers: Early Pick 5: $15,281; Late Pick 5: $7,370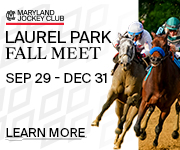 Race #1 Picks: 2-3-5-6
In this $16,000 maiden claiming race for two-year-old fillies at 5 ½ furlongs, #2 Dark Dutchess (4-1) showed brief speed before fading in her debut race. Trainer Anthony Pecoraro's horses have won at 35% in 17 races for a $3.34 ROI when making their second maiden start. #3 Molly Malone (2-1) is a first-time starter whohas a nice workout line, including two five-furlong works. She was purchased for $15,000 at the Fasig-Tipton yearling sale and may be ready to run today. #5 Intolerant (6-1) is another first-time starter. Debut maiden claimers have won at 27% in 15 attempts for Andrew Simoff.
Race #2 Picks: 7-1-2-4
In this $7500 claiming race N2L at one mile, #7 Define (9-2) was trying to get on the turf and did not run well when he finally did. Now he's moving back to the dirt and taking a class drop. He did show some speed in a race taken off the turf in July and the class drop should help him today. #1 First to Last (9-2) struggled after his maiden victory until he dropped down at a $5000 claimer in last. He ran well in that race posting a 52 speed figure, and if he can repeat that effort he will be in the mix. #2 Keranos (2-1) will be making his first start for Pedro Nazario after getting claimed and struggling in that race. He ran well with better horses earlier in the summer.
Race #3 Picks: 9-6-4-7 (Dirt Picks: 6-10-8-9)
In this $25,000 maiden optional claiming race at 7 ½ furlongs on the turf, #9 High Stakes (4-1) was running on the synthetic surface at Gulfstream before Keri Brion took over the training duties and tried a maiden turf sprint at Colonial Downs. He's now taking off the blinkers and stretching out in a maiden optional claiming race. If he likes the new conditions, he could surprise today. #6 Ray's Gone Astray (6-1) has been running in short sprints but looked like he wouldn't mind a little more distance in his last outing. He may be closing late and passing tiring horses. #4 Inbound (3-1) is moving down from maiden special races to maiden optional claiming. He is a deep closer and had good speed figures in Kentucky last year.
CHECK OUT THE LATEST OFF TO THE RACES RADIO!
Race #4 Picks: 4-3-6-7
In this $12,500 claiming race at one mile, #4 Oliver (5-2) struggled at Timonium in his first start off the bench for Brittany Russell. That was against better company, and he is moving down the class ladder today. We think he will prevail. #3 Conspiracy Fact (8-1) just missed last time while being claimed by Juan Arriagada. He had some good races over the summer and fits well with this group. #6 Seiche (9-2) is taking a class drop and is in for a tag for the first time in a long time. He has the speed figures to compete with this group.
Race #5 Picks: 8-2-6-3
In this $6250 claiming race at six furlongs, #8 Hop and Scotch (8-1) rallied mildly in his first race under Jose Ramirez. He has run some good races this summer and is adding blinkers today. If he can improve off his last effort, he has a good chance for the top spot today. #2 Princely God (7-2) ran a 71 speed figure when he drew off to leave the maiden ranks. He got an unchallenged lead in that race, which is not likely today, but he still looks good enough to compete with these. #6 Awkward Pause (10-1) was running pretty well at Tampa and is now coming back from a four-month break. If he can repeat the Tampa races, he will be in the mix.
Joe's Notes
Seven of the eight winners on the Saturday card were 4-1 or higher…
Leading rider Jaime Rodriguez won with eight of 12 mounts last week, while leading trainer Jamie Ness went 9-for-20…
Race #6 Picks: 4-7-2-8 (Dirt Picks: 1-5-6-3)
In this optional claiming/starter allowance race for fillies and mares at 7 ½ furlongs on the turf, #4 Una Luna (6-1) won her last race here with a good late kick. Earlier in the year she was running well at Gulfstream. Anthony Pecoraro has won at 32% in 25 stars for a $2.46 ROI with horses that have won their last start. This eight-year-old still has some ability, and we have her on top today. #7 Raise Your Game (4-1) seemed to like this distance back in July when she ran fourth in a key race where the top three finishers went on to win their next race. A repeat of that race and she will be in the mix again today. #2 High Vibes (3-1) won a turf race here in June against better horses and figures to be a contender again today.
Race #7 Picks: 4-2-3-1
In this allowance/optional claiming race for two-year-old fillies at six furlongs, #4 D'lightful Summer (9-5) closed to win her debut maiden race and then stretched out and ran evenly in the Sorority Stakes at Monmouth. Now returning to sprinting and appears to have a slight edge over this pretty strong field. #2 Gee Wiz (6-1) had fast early fractions when she drew off to win her maiden debut. If she is unchallenged early, she could build an insurmountable lead. #3 Catalina Cruzin (5-2) has been away since June when she won her debut but has been working consistently and fits well here.
Race #8 Picks: 3-7-6-1
In this $5000 claiming race for fillies and mares at six furlongs, #3 Del Rey Dolly (8-1) will be making her first start for Jose D'Angelo and only her second start of the year. This horse was running well at Gulfstream last year, and if she can regain even half that form, she will be a contender today. #7 Prospera (5-1) is running at the lowest class level in some time and her speed figures say she will be in the mix today. #6 Moon Me Again (6-1) is often in the mix but has not been able to win lately. She will be with the leaders again today.
LATEST NEWS