BackTracks: The memorable journey of Afleet Alex
"I was actually in Houston for the Super Bowl with a couple buddies. And I said, I'm really caught up in the Smarty Jones phenomenon," he shared recently. "I said, 'I'd like to put a partnership together,' and my roommate and good friend. Joe Lerro was there, and he said, 'Sure, I'm in for a piece' and kind of started to put a partnership together and that's how it started."
First, though, they would need a trainer to help them find that horse and hopefully get their new stable to the races. Zacney met Tim Ritchey, who calls Delaware Park home, through a mutual friend and got his first experience at buying a horse in short order. In May 2004, Ritchey had his eye on one particular colt at the Fasig-Tipton Mid-Atlantic Two-Year-Olds in Training Sale at Timonium. He was Hip 559, a bay colt by Northern Afleet out of the Hawkster mare Maggy Hawk.
"He just was a very athletic horse. When he breezed, he didn't go very fast. He went at a good pace. I think he was 22 and two," Ritchey remembered. "It was the way he did it, you know, had a real rhythmic stride and a nice stretch to them in a gallop. Very strong around the turn, you know, and I caught him in the 3/8 and 35, which was very good. So, he actually picked up speed… and then when I looked at him after the next day, he just had a good mind. Walked out of his stall, stood up very square, looking me right in the eye. He was very calm, cool, and collected and had a real good walk to him. Just a very athletic-looking individual"
The colt was already a fighter after a rocky start to life: his dam could not produce enough milk so his breeder John Silvertand bottle-fed him for twelve days until a nursemare could be found.
Now at two, that Northern Afleet colt impressed Ritchey and the Cash Is King group enough to pay $75,000 for him.
Named for his sire and for the plethora of kids named Alex among the Cash Is King partners, Afleet Alex debuted six weeks later at the trainer's homebase and won that 5½-furlong maiden special weight by 11¼ lengths. Nearly three weeks later, he did it again, a twelve-length romp over an outclassed field of two-year-olds. A star was born.
Ritchey shipped his precocious colt to Saratoga for the Spa's historic juvenile races, targeting the Sanford and the Hopeful Stakes. Afleet Alex sailed easily through the Sanford, racing unhurried through the first part of the six furlongs and then powering to the lead around the turn to win by 5¼ lengths. At this point, three wins in three starts, Afleet Alex was taking the Cash Is King partners, still new to the game, to heights they only dreamed of and prompting questions they needed to consider.
CHECK OUT THE LATEST OFF TO THE RACES RADIO!
"Suddenly, we have people calling about this horse," Zacney remembered. "[Ritchey asked] You guys have any intentions of selling? Absolutely not. We're having way too much fun and there's never a thought to sell."
His next start in the Hopeful, though, would be a decided contrast from his first four races. Over a muddy track, Rose patiently sat fifth as Afleet Alex battled the wet conditions early on. Going wide around the turn, Afleet Alex went into the stretch in the middle of the track, away from the flying mud to cut steadily into Devils Disciple's lead, passing him in the final yards to win by a neck and earning his first Grade 1 victory. It was a tight win, the first time that Afleet Alex had been tested.
"The Hopeful seemed to be slightly different. So he didn't get the best of trips. At one point, he looked like he wasn't gonna win. Jeremy was more into riding him hard and not paying attention to where he was going and he let him drift out," Ritchey remembered. "He was so far out. He really didn't even see the horse inside him, but once he got him down towards that horse inside him and then, he just made a big surge right by him at the wire. It showed his heart, his determination, and his will to win to me. And that's, that's what the good ones have."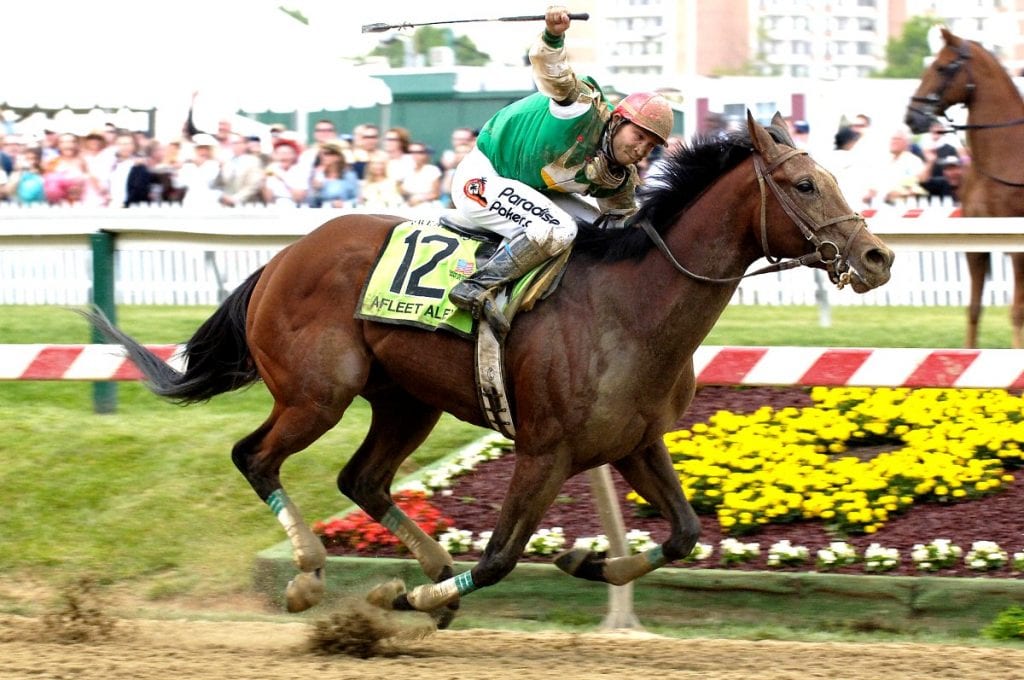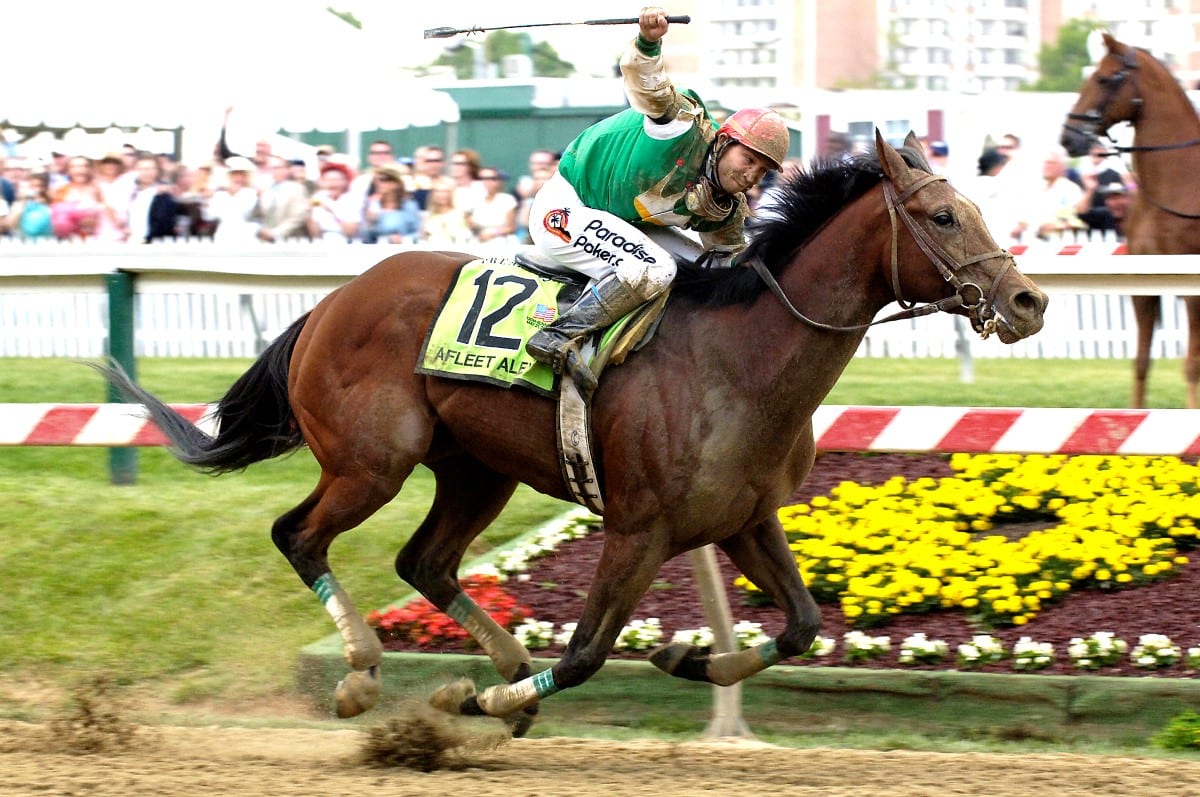 Afleet Alex tried for a second Grade 1 in the Champagne Stakes at Belmont Park six weeks later but was unable to make up enough ground in the stretch to catch Proud Accolade in time. It was his first defeat in five starts, but Afleet Alex had more than earned his way into the Breeders' Cup Juvenile three weeks later at Lone Star Park.
In a field of eight, the son of Northern Afleet broke from post seven, bobbling at the start and veering into two others before righting himself. Last after the first quarter, Afleet Alex slowly made his way through traffic, going wide down the backstretch and around the far turn to loom in third entering the stretch. He took the lead with a quarter of a mile to go, but could not hold off the English horse Wilko, who caught him in the final strides to win by three-quarters of a length.
"That one probably stung quite a bit because that was another close one, too. Yeah, I still watch that race once a while. I'm like in, I can't believe Wilko came back and beat us, but he did, we got second," Zacney remembered. "We had the cameras on us that entire race. NBC was waiting for a big eruption never happened. So we're a little disappointed."
During Afleet Alex's two-year-old season, as he notched four wins in six starts, another Alex became a part of the story. A young girl battling cancer, Alexandra Scott, had started selling lemonade to raise money for pediatric cancer research. The partners started giving a portion of Afleet Alex's winnings to the charity that arose from her efforts, Alex's Lemonade Stand. Though Alex herself passed away that August, Afleet Alex helped bring the world's attention to her efforts.
He may have fallen short in his final two races in 2004, but Afleet Alex, the memory of young Alex Scott riding with him, showed that he would be one to watch in 2005.
Great on the Biggest Stages
The five owners of Cash Is King and trainer Tim Ritchey took the Arkansas route for their trip to Louisville and the first Saturday in May. Starting with a win in the Mountain Valley Stakes at Oaklawn Park, Afleet Alex next tried the Rebel Stakes, a prep for the Arkansas Derby, finishing sixth. It was a surprising performance, but one with a good explanation, according to Ritchey.
"I tend to scope [my horses] a couple of days before just to make sure their airway is fine.
We did with him, he was great, no problem at all," the trainer remembered. "But when he ran as bad as he did, I knew something was not right. So I went immediately back to the barn, and just cooling out, he had a bunch of gunk coming out of his nose. So, we stuck a scope in, and it was nasty-looking stuff. Obviously in that 48 hours, he picked up some kind of a bug that went to his lungs."
After a round of antibiotics, the son of Northern Afleet recovered in time for the Arkansas Derby nearly a month later. He sat midpack through the first six furlongs, made a big move on the far turn, and swept into the stretch in command, extending his winning margin to eight lengths.
[WATCH: Afleet Alex wins the Preakness]
The win set Afleet Alex up for the Run for the Roses, entering the gate as second choice behind Bellamy Road. Three weeks after his Arkansas Derby win, the the colt finished third by a length, behind longshots Giacomo and Closing Argument.
"We were all very optimistic about the Derby, but when you have that many horses in a race like the Derby, you've got to get a good trip and that makes the difference between winning and losing a lot of time," Ritchey remembered. "[Afleet Alex] didn't have the best of trips. He was banged around a little bit on the backside. He ended up actually having to go to the route down towards the rail, which was the worst part of the track."
Two weeks later, at Pimlico Race Course in Baltimore, Afleet Alex was back and ready to roll. The full field of fourteen included the surprising Giacomo; Wilko, who had passed the colt late to win the Breeders' Cup Juvenile; and Closing Argument, looking to improve on his second place in Louisville. But none of them mattered as much as a dark bay colt named Scrappy T, who had won the Withers April 30.
With Afleet Alex stoking up a strong outside run, Scrappy T, reacting to the lefthanded whip from jockey Ramon Dominguez, veered to the right and into a near-disastrous run-in with Afleet Alex. Holding on to the colt's mane, Jeremy Rose somehow kept his seat, righted himself and the colt, and was on the lead within a handful of strides. At the wire, he was nearly five lengths ahead of the full field, going from his knees to the winner's circle in seconds.
For the Cash Is King folks watching the race from the Pimlico grandstand, their perspective on the race did not immediately alert them to that memorable stumble.
"Even with glasses on, I could not see a whole lot, but I knew there was something going on because you heard the oohs and aahs," Zacney shared. "At the top of the stretch, I just saw Jeremy hit him once or twice and then he takes off again and gets to the wire. I don't see the replay again until 45 minutes, an hour after the race, and then I'm realizing how bad it was and it was just special. Once again Jeremy did a great job staying on Afleet Alex. Once again, his [Afleet Alex's] athleticism paid off."
Afleet Alex would follow up that remarkable win with a commanding seven-length victory in the Belmont Stakes. His wins doubled as he brought more attention to Alex's Lemonade Stand and the legacy of Alexandra Scott. It was a fairy tale for five Pennsylvania owners, one Delaware trainer, and a Mid-Atlantic rider who kept his cool and his seat at a pivotal moment.
A Horse to Remember
The Belmont win was the last the sport would see of Afleet Alex. An ankle injury sidelined the colt for the rest of 2005 and then a more serious injury, likely caused by a bone bruise suffered in the Preakness. He retired with a record of 12-8-2-1, his lone out-of-the-money finish in the Rebel Stakes. For the next phase, Afleet Alex entered stud at Gainesway Farm. He was pensioned last year and remains there, where fans can visit him on one of the farm's tours. For Zacney and Ritchey, Afleet Alex is a beloved member of their families, a horse that both never tire of talking about nearly two decades later.
For Zacney, the success Cash Is King had with their first horse inspires him to keep working to find the next Afleet Alex, chasing that Derby dream, while also appreciating what that first horse brought to their lives, the memories of that time as meaningful today as they were in 2004-2005.
"Sharing the ride, the twelve months with so many people. that was the one thing that I wanted to do by bringing in partners. We always had a nice little contingency around us. It was a special 12 months and I can't thank Tim enough. Just so many good stories. People still come up to me, twenty years later, and say Afleet Alex. 'I remember this race and I remember this racetrack and I remember that and I remember Alex's Lemonade Stand.'"
For his trainer, Afleet Alex was pure athlete, a horse who thrived on the work.
"You see a lot of horses go through those races [the Triple Crown] and end up losing the shine on their coat, lose a little bit of weight, and you can notice a difference," Ritchey shared. "I swear, he gained weight and muscle all through that. He just kept getting fitter and fitter and healthier and healthier. He was such a special horse. I would have loved to see him run as a four-year-old because I think on the turf, he would have been outstanding."
As a sire, he counts among his top progeny Grade 1 winners like Materiality, 2015 Florida Derby winner; Breeders' Cup Juvenile and Jim Dandy winner Texas Red; and Hopeful Stakes winner Dublin. As a broodmare sire, he counts Sir Winston, also a Belmont Stakes winner, and Santa Anita Derby winner Practical Move among his best.
Nearly two decades after that iconic Preakness Stakes moment, Afleet Alex remains a fan favorite, the grit of this determined colt seared into the hearts of all who watched him that day in Baltimore.
SOURCES
PRINT SOURCES
"Afleet Alex Claims Arkansas Derby," Baxter Bulletin, April 18, 2005.
"Afleet Alex Handed First Setback in Champagne," News Journal (Wilmington, DE), October 10, 2004.
"Afleet Alex Takes to Saratoga Track," Lexington Herald-Leader, July 30, 2004.
"Ailing Afleet Alex Retired," Daily Reporter, December 2, 2005.
Demling, Jody, "Afleet Alex Is Back in the Mix," Louisville Courier-Journal, April 17, 2005.
"For Ritchie [sic], Something Super," Hartford Courant, May 22, 2005.
Ireland, Jack, "Giaco-Who?" News Journal (Wilmington, DE), May 8, 2005.
Jerardi, Dick, "Local Colt is a Favorite in Juvenile," Philadelphia Daily News, October 30, 2004.
Joseph, Dave, "'Afleet' of Foot," Hartford Courant, May 22, 2005.
Keyser, Tom, "Breeder Follows Afleet Alex's Run," Baltimore Sun, October 27, 2004.
Rosenblatt, Richard, "Despite Scary Ride, Afleet Alex Beats Field," Ventura County Star, May
22, 2005.
Springstead, Will. "Afleet Alex 2-for-2 at the Spa," Post-Star, August 22, 2004.
Thompson, Trae, "Afleet Alex Falls Short in Comeback, Takes 2nd in Juvenile," Fort Worth Star Telegram, October 31, 2004.
Thomspon, Trae, "Roger, Wilko," Fort Worth Star Telegram, October 31, 2004.
Wall, Maryjean, "Breeder Pins His Hopes on Afleet Alex," Lexington Herald-Leader, October 26, 2004.
LATEST NEWS