Catching up with… Trevor McCarthy
Frank Vespe

September 16, 2023
Jockey Trevor McCarthy grew up in the Mid-Atlantic and cut his riding teeth here, riding in Maryland, Delaware, and Virginia. He was the leading rider at Colonial Downs in 2019 and 2020 and returned to the New Kent, VA track last weekend to win two stakes, including the Virginia Oaks.
Now based in New York, he will return to Delaware Saturday to ride intriguing contender Tawny Port in the $200,000 Cape Henlopen. We caught up with McCarthy on Off to the Races Radio to discuss his recent stakes wins, his upcoming mount, life as a jockey and dad, and the recent riding success of his wife Katie Davis McCarthy. The following transcript of that conversation is edited for brevity and clarity.
The Racing Biz: You were the leading rider at Colonial Downs in 2019 and during the Covid-shortened 2020 season. But you had never won either the Virginia Oaks or the Virginia Derby. How did it feel to break through with a win in the Virginia Oaks on Thirty Thou Kelvin?
Trevor McCarthy: It was great to get back down to New Kent, Virginia and kind of some of my old stomping grounds of the Mid-Atlantic and to have great success that night for great connections. It was really a special night.
That was really cool [to win the Oaks]. Just a filly that I thought would be forward. And surprisingly, she wound up to be on the lead. The horse inside of us, the five-horse, was really the speed of the race, and she seemed to act up pretty well in the gate didn't get off great. And my filly… had been training really, really good as [trainer John Terranova] had told me, and she warmed up really well, and she left there with a great break. When they break so good like that, it's always a great sign. She got in a super-great rhythm throughout the race, and for her to be game to hang on to win by ahead was pretty cool.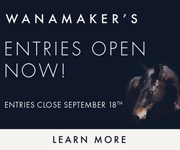 The Racing Biz: Let's move ahead to this coming weekend where you're going to be in a place that you know even better than New Kent, and that's heading back home to Delaware to ride Tawny Port in the Cape Henlopen stakes. Are you looking forward to the chance to get back home?
Trevor McCarthy: Absolutely. Delaware was where I was raised, and my father was leading rider there for many years. I never got a leading rider title there, but I was always kind of shipping in there on the off days at Laurel at the time. And I think I might have placed in the top three one meet and always seem to be hitting the board all the time and always had a great percentage there. Fortunately enough, I was able to ride for Jamie Ness for a long time, and I got to go there on the off days and ride for Jamie, who's always leading trainer at Delaware. So to get back home and to see all my friends, it'll be great to be there. I'm just really looking forward to it and really looking forward to riding Tawny Port.
The Racing Biz: Tawny Port is really an interesting horse, a multiple Grade 3 winner on the main track, he ran really a very credible seventh in the Kentucky Derby last year. Now he's taking a new new step in his career on the grass a couple of times. You haven't ridden him yet in the afternoon, but you have been on him in the mornings. What can you tell us about him?
Trevor McCarthy: He was a really cool horse to work in the morning. He's a little on the lazy side. He's very one-paced. So you know, really in his races, especially in his last race, he's always forward, and he likes to tick along a little bit. If you get him in a good rhythm, he seems to really just keep staying and keep staying and keep finding more. I found that out the other day during his work. He was a little lazy at the start. Christophe [Clement] had him on the front end, and he had another horse covered up behind him, and they joined up for the last quarter of a mile at the top of the stretch. When he had somebody in his eye push him along, he just kept coming and coming and coming. And then his gallop out seemed to be very strong… It seems like he's got a big cruising speed, and he can kind of throw some good fractions out there…He's kind of one that you've got to keep pedaling on; he's a little bit of a bicycle.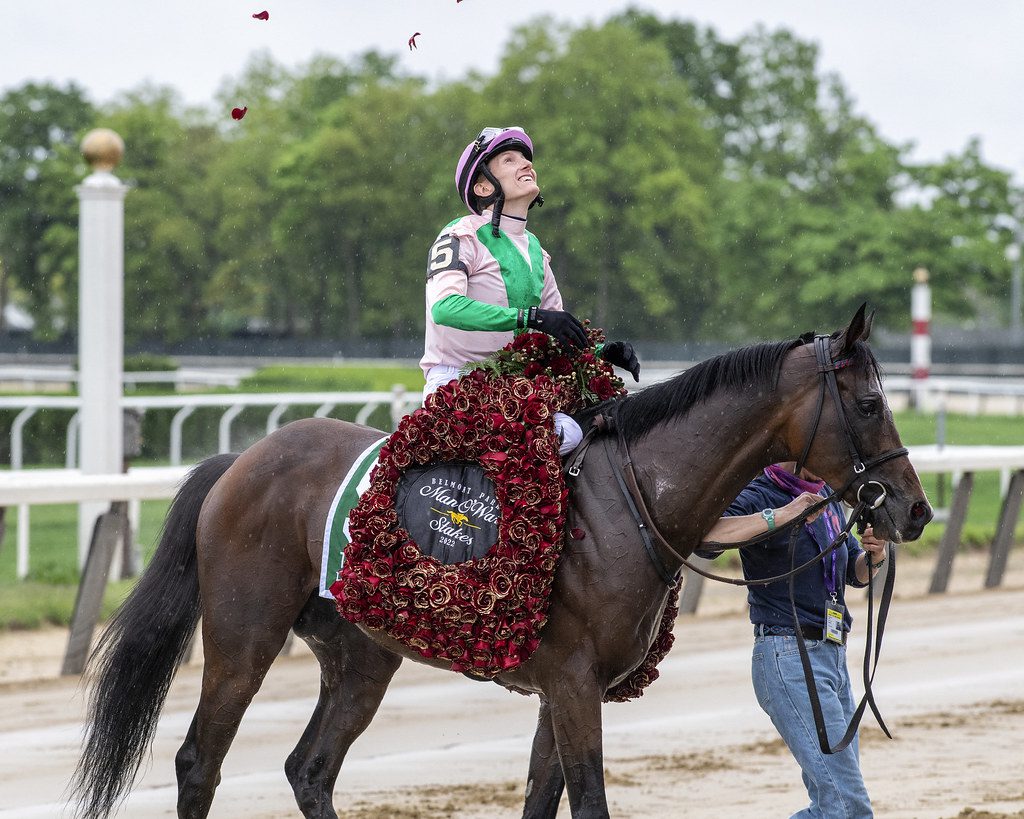 The Racing Biz: How did you come to get this mount?
Trevor McCarthy: You know, I've had a great relationship over the last couple of years with Christophe Clement, and he's been riding me out of town a little bit, shipping me around for some stakes this year. I rode the Virginia Derby for him the other day and had a great trip with that horse and he asked me if I was interested in going to ride Tawny Port in the Cape Henlopen. He looks really great on paper and hopefully he looks even better on race day. And if we can win the Cape Henlopen, that would be super-cool.
The Racing Biz: Now you're a dad, and your daughter Riley is going to be two in a couple months. Obviously, being a parent changes everything in some sense. But I'm curious as to how it impacts, if at all, your approach to riding?
Trevor McCarthy: She's really changed my whole life and changed my whole perspective on riding. I kind of made the transition into New York because of her, knowing that I was going to have a child. I had just gotten married, and I wanted to kind of find a place where I didn't have to travel as much and I didn't have to ride so many days a week. In the Mid-Atlantic, it just seemed like I was always so busy riding six, seven days a week, riding day and night. I needed to find a place where I could do well, make decent money and be able to kind of, you know, juggle that family life and riding career at the same time. Being here in New York, I did fairly well, and then I went out to California to try that before she was born, to see if I could maybe have a chance to take off there and that didn't work. So I came back here and kind of redeemed myself that winter and hooked up with a new agent Joe Migliore. We finished second in the standings at the Aqueduct winter meet, and that was when she was born.
She was my biggest motivation. And you know, I have great motivation from [wife and fellow jockey Katie Davis], as well. And we're making a great team and, you know, it's like, you know, really, our daughter Riley has just changed our lives to where we're able to work hard for four days out of the week. And then the other three days, we spend as much time with her as possible and do as much hands-on things with her. We have great support from families that help watch her, and we have the Anna House on the backside here, they have a daycare on Belmont's backside, so when we're working in the morning, we can drop her off at daycare. So really, we really have great surroundings here in New York for us, and it just seems to really work well.
The Racing Biz: Just a couple of years removed from being sort of unable to ride much there because of the rule that required spouses to be on a coupled entry, and having to get that rule changed, I imagine it was pretty cool for you guys to see Katie win a bunch of races up at Saratoga this past meet.
Trevor McCarthy: I think it's really even cooler for Katie. I mean, she's been the one with the tough end of the stick through the coupling rule. And then, you know, not that she didn't want to be pregnant to have a baby – absolutely, she did – but, you know, it's tough to get back to riding after a pregnancy… She went to Saratoga, she got really lucky right off the bat and kind of her attitude, and her motivation and her drive, and everything kind of was put in the right spot and great things happened for her and just gave her even more confidence. And she was just driving and driving off that confidence, and she showed people that she had the ability that was always there. And for her to have such a great Saratoga meet. I was so happy for her because she was so deserving of that. And now she has shown people that she is capable and shown people who she is as a really as a person but [also] as a rider, as well and I just couldn't be more happy for her.
CHECK OUT THE LATEST OFF TO THE RACES RADIO!
LATEST NEWS