Delaware: Catching up with… Vince Halliday
Mike Valiante

July 20, 2023
There did not appear to be anything special about the first race at Delaware Park on July 13. It was a six-furlong, lower-level maiden claimer, one race at one of the 15 thoroughbred tracks running that day in North America.
But for two people, jockey Vince Halliday and his wife Stephanie Pastore, that race was a culmination of a 728-day struggle that commenced with a horrific riding incident that occurred at Delaware Park in 2021. The injuries he suffered included, according to a website launched then, "two brain bleeds, fractured scapula, multiple thoracic fractures (including a compression fracture of the T7), fractured C4, fractured elbow, and many more."
Vince's original goal was to return to working out horses and riding in 2022. But 2022 turned to 2023, and it was not until the July 13 maiden claimer, aboard a Kelly Deiter-trained first-time starter named Disco Devil, that Halliday actually returned to the races. We caught up with Vince and Stephanie.
Q: Were you unusually excited or nervous before the race?
Vince: I didn't ride horses this morning because it was a walk day, but I did go to the barn and so the day began like a normal workday for me. Then when I returned home, I felt a little nervous. So I got on the equicizer, did my normal daily workout before I returned to the track and I felt more at ease.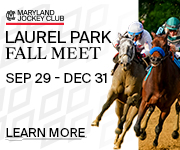 Stephanie: I actually don't even have the words to describe it. Just how far he has come. His perseverance and his mental fortitude are just awe-inspiring.
Q: What caused you to change your plans and wait until this year to return?
Vince: What happened was all the fractures healed good, but the muscle damage took longer to heal. When you are on a horse and you don't have total flexibility, the horses can sense that. My lower back was the last thing to come around, and I would say that I am at about 94% of my ability and getting stronger all the time.
CHECK OUT THE LATEST OFF TO THE RACES RADIO!
Q: Stephanie, how were you able to handle the whole struggle during the recovery period?
Stephanie: Actually I just put all my emotions aside and told myself I just had to do whatever it took to get him back to where he needed to be. The whole thing did not really hit me until he was doing fine. I had a lot of anxiety, but I have moved past that and feel I am in a good spot emotionally.
Q: Are you more concerned about the risk of injury following this trauma?
Vince: I am concerned about some riders who are not aware of what is going on around them. I've had jockeys come in five paths on me. In my homeland, Ireland, jockeys run for higher fees and they are more schooled. Back home the riders will tell you the next time you screw up we are going to give you a slap.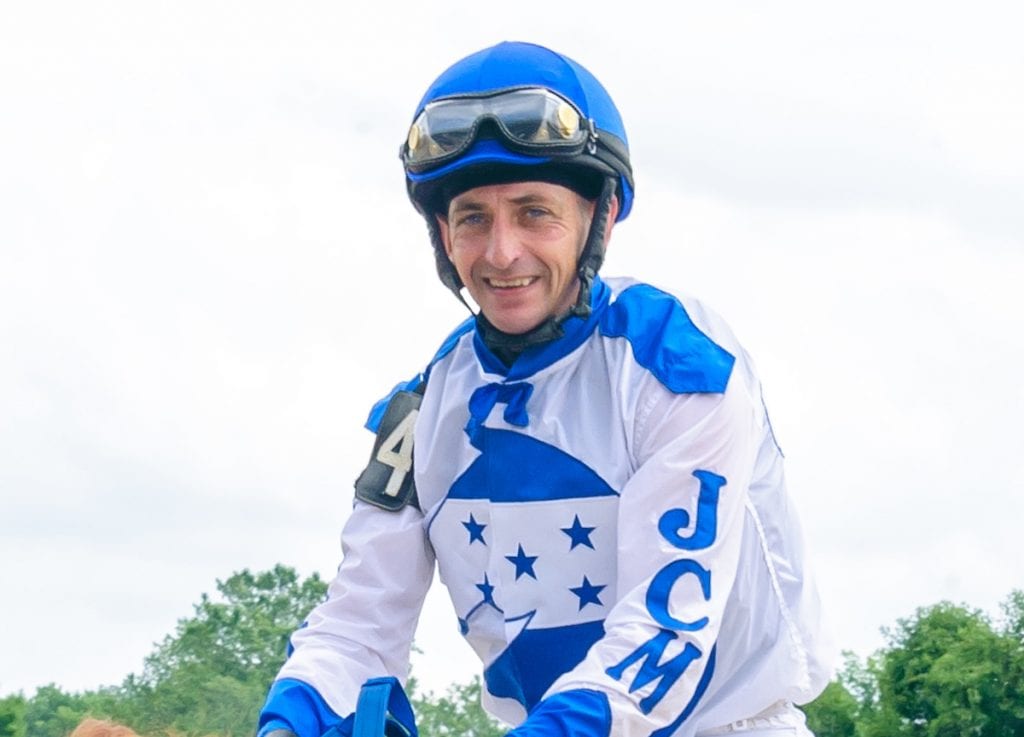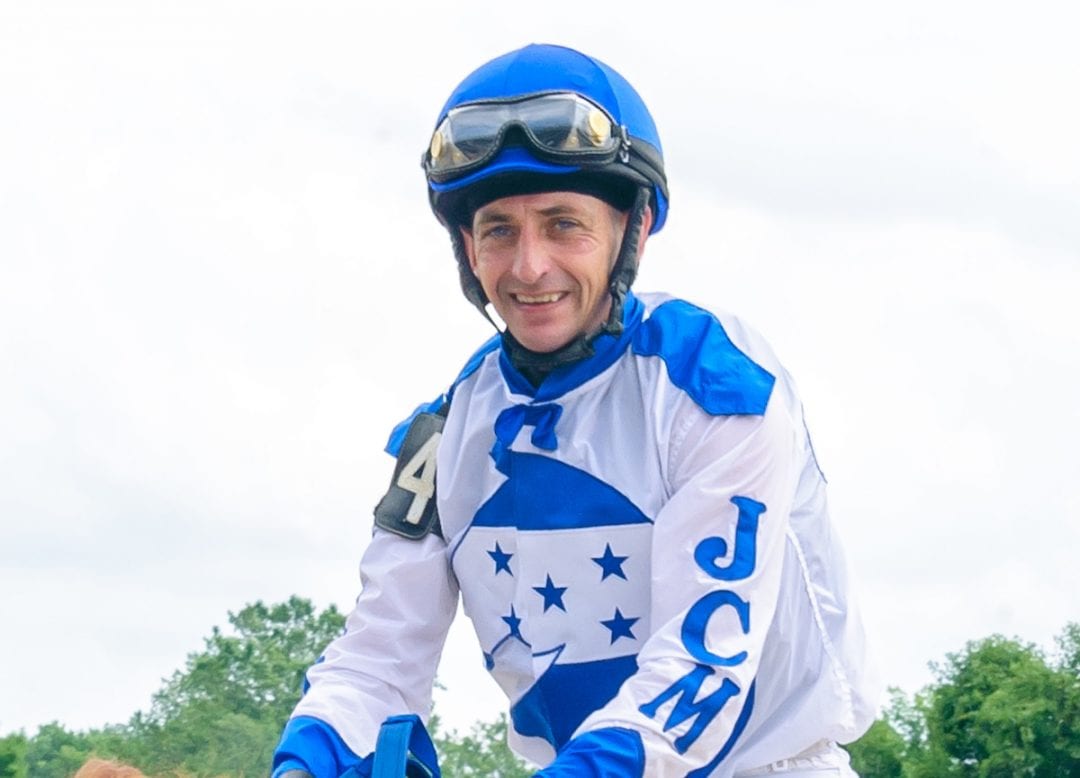 Q: Stephanie, when you married a jockey were you aware of the dynamics of racing?
Stephanie: No, when I met Vince I did not know much about the game, but I have learned a lot and I love it.
Q: Has your relationship been strengthened by this ordeal?
Stephanie: Yes!
Vince: I am more aware of what she is thinking about. If the roles were reversed and if I was her caregiver, I would have been a nervous wreck.
In addition to Stephanie, Vince has had a great support system. His Irish colleagues warned him to take his time before returning. He received excellent medical care. On the day of his comeback a group of friends came to watch the race.
The race itself mirrored his saga. His mount, Disco Devil, a first-time starter, had to overcome a huge early deficit, but Vince didn't quit and rode hard to ultimately challenge for show before settling for fourth.
His plan for the short-term is to work five to eight horses out every morning and continue his drive to be 100%. He does not use an agent, so he will hope to pick up occasional rides for owners he knows and on horses with whom he develops a rapport in the morning works. Disco Devil was claimed from the race, so he may not get to ride him back.
Vince has ridden for 27 years and been married to Stephanie for 11 years. For them, as for many in racing, it's more than a job.
"I knew very early in life I could not work in an office," Vince said. "If I was a caged bird, I'd be no good, but if I am out flying around, then I am happy. I guess that is the Irish side of me."
NEWS AND NOTES
Jockey Ruben Silvera had 3 wins and 2 placings from his 6 mounts on Saturday July 15th. One of the wins came in the $150,000 Kent Stakes aboard Really Good for Michael Maker. For the week Silvera had 4 victories from 10 mounts…
Jaime Rodriguez was 5-for-10 for the week, giving him 21 wins for the year. Rodriguez trails Daniel Centeno by two wins for the overall lead. He is currently the leading jockey at the Laurel Park summer meet as he continues his quest to lead two different colonies while splitting his time between the two circuits. He said he has no plans currently to spend any significant time at Colonial, which should enable him to pick up additional local mounts as many of the other mid-Atlantic jockeys will be riding regularly at the Virginia oval…
Jamie Ness leads Brittany Russell, 19 wins to 12, in the trainer standings. He has almost twice as many starters as she does at Delaware. Although he currently is 0-for-6 with two-year-olds, I don't anticipate that trend will continue. In 2022 he won at a 15% clip with his two-year olds at Delaware so although they may not be his forte he should get wins as the younger horses come back for subsequent starts…
Several trainers with smaller barns have been winning at good clips. Those include Gary Capuano, who is 6-for-15 (40%), and McLean Robertson (5-for-10, 50%). Robertson is currently provisionally suspended under HISA rules after he had a horse test positive for a banned substance. Both Victor Barboza Jr. and Christopher Seale are 3 for 7 (43%)…
Early in the meet, times on the dirt racing strip were unusually and markedly slow. The track surface was replaced in April following an inspection of the base. Although still not a fast strip by any means, times have come closer to historical norms as the meet has progressed and usage and watering/rain have helped to tighten the surface. Most importantly the dirt track has generally played fairly throughout most of the season. The early year bias towards speed on the turf has also subsided as the year progressed.
There have not been as many Parx or Monmouth shippers to-date when compared to the previous two seasons. There will not be any racing at Parx from July 27 through August 20, so this is your annual reminder that shippers from Parx traditionally do very well at Delaware. Ditto Monmouth shippers, but it appears we may have to wait until the dirt meet ends there on September 10th before we see a larger influx from the JerseySshore track…
There were 98 participants in the first NHC tournament that was held on July 15 at Delaware. The two top finishers were Eric Wing who turned his $300 bankroll into $2,137 and Brendan Fay, who finished with $2,103. Both earned berths to the annual national contest to be held early next year in Las Vegas. A second local tournament will be held at Delaware on Owner's Day, September 9…
Delaware Park will hold an Autism Awareness Day on Wednesday July 26…
LATEST NEWS