Bob Baffert suspension extended by Churchill Downs
Frank Vespe

July 4, 2023
Churchill Downs Inc. (CDI) isn't too pleased with trainer Bob Baffert. The company on Monday announced it would extend the trainer's suspension, originally slated to end this year, through at least the end of 2024.
Baffert is prohibited from entering horses at tracks owned by CDI. While there are several of these, only one – Churchill Downs itself – matters to Baffert, who is based at California's Santa Anita Park, owned by 1/ST Racing. Baffert has won a half-dozen runnings of the Kentucky Derby, North America's most prestigious race.
In its statement, the company cited not additional rules violations but a more general lack of remorse. "Mr. Baffert continues to peddle a false narrative concerning the failed drug test of Medina Spirit at the 147th Kentucky Derby from which his horse was disqualified by the Kentucky Horse Racing Commission in accordance with Kentucky law and regulations," the company wrote.
The initial suspension came following Medina Spirit's betamethasone positive following the 2021 Derby, in which he was first across the wire. That was Baffert's third positive test following a Grade 1 race in a little over a year; one of the other two came in Churchill's second-biggest race, the Grade 1 Kentucky Oaks for three-year-old fillies, the prior year.

"A trainer who is unwilling to accept responsibility for multiple drug test failures in our highest-profile races cannot be trusted to avoid future misconduct," CDI added.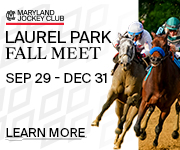 In the days after Medina Spirit's positive test, Baffert tried out a number of different explanations – remember his calling it a "cancel culture kind of a thing"? – before determining that the drug may have entered the horse's system via the application of a skin ointment that contains a type of betamethasone.
CHECK OUT THE LATEST OFF TO THE RACES RADIO!
That led to some creative lawyering about the ultimately irrelevant question of the differences between betamethasone acetate and betamethasone valerate – which CDI styled a "false narrative" — and, in fact, the legal cases continue. So, two years later, the outcome of the '21 Derby remains in dispute.
In a statement posted to his official Twitter account, Baffert professed disbelief.
"I am at a loss to understand Churchill Downs' latest action to suspend me," the statement read, adding, "I have been open, honest and forthcoming about these events."
The 2024 running of the Derby is the 150th Run for the Roses, and one likely result of this decision will be to keep the relative merits of Baffert and the company with which he is sparring top of mind in the racing world. Baffert has had numerous positives and other issues in his career – not least among them the fatal breakdown of Havanameltdown at Pimlico hours before his trainee National Treasure won this year's Preakness. Meanwhile, at Churchill this spring, 12 horses, including two on Derby day, died in the first month of the meet, prompting the company to move racing to Ellis Park.
LATEST NEWS