BackTracks: Missy's Mirage "got the job done"
Constructing a Legacy
Michael Stavola had an idea for his bulldozer. The New Jersey dairy farmer had purchased this earthmover to clear off more land for expanding his operation. He then got the idea to take that bulldozer and offer excavation services for others needing cellars dug or property cleared. From there, Stavola built Trap Rock Industries, a construction company that became one of the Northeast's biggest suppliers of asphalt and crushed stone. The money he earned from Trap Rock and the dairy farm allowed him to build Middletown Stables near Colts Neck, where first Michael and later his sons William and son Joseph raised Thoroughbreds.
At Middletown, the Stavolas were looking for one thing: "'to have one great horse,'" as daughter Cynthia shared in 1987. To that end, the family purchased horses like Great Lady M, the dam of Horse of the Year and Hall of Famer Lady's Secret, for $2.7 million. Among the broodmare band that the Stavolas cultivated was the unraced Riva Ridge mare First Mirage, whom they purchased for $51,000. In search of that great horse, they sent First Mirage to Kentucky and Gainesway Farm, where she visited Stop the Music.
Foaled in 1970, Stop the Music had the misfortune of being born the same year as not one but two immortals: Secretariat and Forego. He won the Champagne Stakes after Secretariat's disqualification and then won the Dwyer and finished second in the Travers at age three.
As a sire, he was another son of Hail to Reason at stud, standing at Gainesway Farm, but did not find the same success as Halo, sire of Sunday Silence. The Stavolas nevertheless selected him as a good match for First Mirage, who foaled a gray daughter on February 24, 1988 at their Colts Neck farm. She arrived at trainer H. Allan Jerkens' barn with the name Missy's Mirage and flashed signs of her potential early.
"She wanted to train hard"
Jimmy Jerkens was his father's assistant trainer in the early 1990s when the Stavolas were a part of the Chief's stable of owners. Missy's Mirage was "kind of small, but put together nice," he remembered in an interview, "She was friendly. She wanted to train hard. She wanted to overtrain sometimes."
The filly won her first start at Belmont Park with ease under an apprentice rider also destined for big things, Johnny Velazquez.
Jerkens remembered the race well: "She won so easy. She didn't break that good, I remember, and then she weaved through traffic. She won easy. And we knew even though it was a 75 [$75,000 maiden claiming race], the way she did it, we knew we had something there."
She followed that up with a second win by sixteen lengths against other two-year-old fillies at Philadelphia Park. The filly then finished third in her first stakes try, beaten by Devilish Touch, who had two stakes wins in her three starts already. Missy's Mirage rounded her juvenile season with a second-place finish behind stablemate Christina Czarina in the filly division of the New Jersey Futurity at the Meadowlands.
"The damnedest thing"
At three, the filly stepped it up with six wins in fourteen starts, including her first graded stakes victory in the Grade 3 Columbia Stakes at Pimlico.
"She had more success running against the older horses than against the straight three-year-olds [that year]. It was the damnedest thing," Jerkens recalled. "I think she won a couple of stakes as a three-year-old beating older horses, but when she was in a straight three-year-old race, she couldn't win it, like the Prioress."
In the Prioress at Belmont, Missy's Mirage was second to Zama Hummer. That year she also ran into the likes of Hall of Famer Safely Kept and 1991 champion older mare Queena in her other graded stakes tries. In all, her three-year-old season saw her win or finish second in six graded stakes, capping off the year with a win in the Grade 2 First Flight at Aqueduct, where she was 6½ lengths in front at the wire.
"When I asked her to go at the top of the stretch, she took off," jockey Eddie Maple said after the race. That performance gave Jerkens and the Stavolas a preview of what the filly's four-year old season would look like.
[VIDEO: Watch Missy's Mirage win the Shuvee]
Mostly a sprinter early in her career, Missy's Mirage was poised to tackle longer races – and achieve bigger things – at four.
Missy's Mirage started 1992 in February with a win in the listed Correction Handicap en route to logging five wins in eight starts that year, including back-to-back Grade 1 wins in the Shuvee and the Hempstead Handicaps.
Stretched out to 1 1/16 miles in the Shuvee, the filly led from the word go, playing "catch me if you can" while setting down sharp early fractions. In the lane, Harbour Club and then Versailles Treaty ranged up, the three battling to the wire. With Harbour Club on the rail and Versailles Treaty to her outside, Missy's Mirage held on to the lead, fighting back each time her challengers tried to gain an advantage. She was a nose in front at the wire and survived a claim of foul by jockey Julie Krone, who alleged that the gray filly had pinned Harbour Club against the rail.
In the Hempstead three weeks later, she again zipped to an early lead over the field of six others, including Harbour Club and Versailles Treaty, and repelled a mid-race bid from Harbour Club. Missy's Mirage went on to score the victory with ease, winning by three lengths.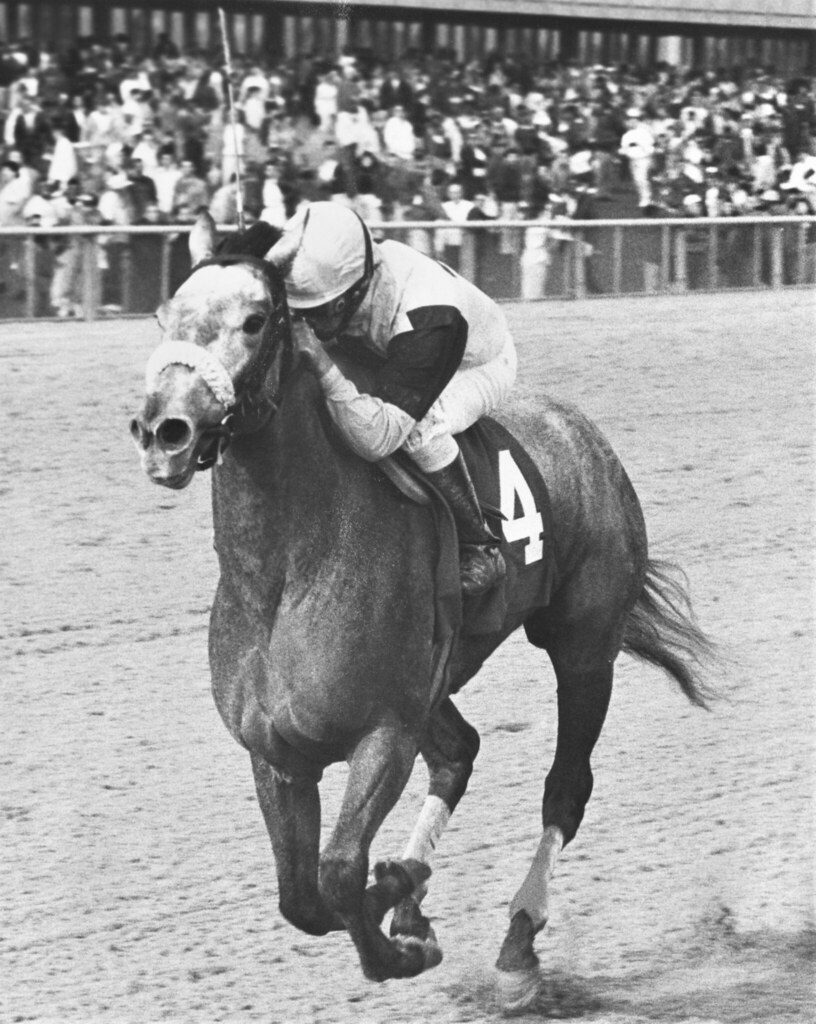 Allan Jerkens was happy that the gray filly was able to win her longest race yet, 1⅛ miles, with no trouble: "Surprised, yes," the trainer said. "But when they let her get away to an easy lead, I knew she'd be tough."
After the Hempstead, Missy's Mirage tried open company in the Alydar Stakes, but could do no better than fourth. She finished out her four-year-old season with a win in the Gay Matelda and a second in the First Flight. Coming up behind her was her half-sister Classy Mirage, two years younger, a daughter of Storm Bird, who'd joined the Jerkens barn for the Stavolas and also recorded multiple graded stakes wins.
"One of the very best"
At five, Missy's Mirage won her first start in the Correction Handicap and then finished second behind Lady D'Accord in the Bed o' Roses. A nagging ligament injury caused strain on one of her knees so Jerkens backed off and gave the mare time to recover. The Stavolas opted to retire her and sold her to Richard Santulli's Jayeff B Stables, the listed breeder for all of her foals. Of the nine foals she produced, Missy's Mirage's best was Apprehender, a stakes winner who raced primarily at Prairie Meadows and Oaklawn Park.
Missy's Mirage passed away in October 2020 at Three Chimneys Farm in Kentucky, where she spent her final years after broodmare career was done. She was inducted into the New Jersey Thoroughbred Hall of Fame in 2013. The Stavolas eventually transitioned from racing horses to racing cars, their NASCAR team winning the Daytona 500 and the Talladega 500.
As for the Jerkens, son Jimmy remembered his father's fondness for Missy's Mirage: "My father loved her. She was one of all the horses he's had in his long career. And he always mentioned her as one of the very best.
"He said he always had a soft spot for those horses that got the job done. When the rest of the barn was kind of in a lull, they always rose to the occasion and made you feel good. And she was one that he really had a soft spot in his heart for."
Sources
PRINT SOURCES
"Belmont Yesterday," Newsday, September 13, 1990.
Braue, Marilee Loboda, "Stavolas' Enterprises Alive, Well," Asbury Park Press, July 12, 1987.
Cavanagh, Tom, "'Missy' Survives Duel, Foul Claim to Take Shuvee," New York Daily News, May 10, 1992.
"Dignitas Takes Illinois Derby," Louisville Courier-Journal, May 10, 1992.
Farrell, Mike, "Christina Czarina Romps in New Jersey Futurity," Record [Bergen, NJ], December 2, 1990.
"Joseph M. 'Mickey' Stavola," Asbury Park Press, October 3, 2001.
"Missy's Mirage Nabs Hempstead; Metamorphose Captures Gamely," Louisville Courier-Journal, June 1, 1992.
"Montubio, Missy's Mirage Win $100,000 Co-Features at Aqueduct," Louisville Courier-Journal, November 3, 1991.
Moran, Paul, "'Missy' Is No Mirage," Newsday, June 1, 1992.
Paseka, Kurt, "Pendleton Ridge Could Be 'Victorious,'" New York Daily News, September 13, 1990.
"Perfect Belmont Ending," New York Daily News, October 30, 1990. "Philadelphia Park Charts." Philadelphia Inquirer, October 12, 1990.
LATEST NEWS