BackTracks: Star de Naskra "really something"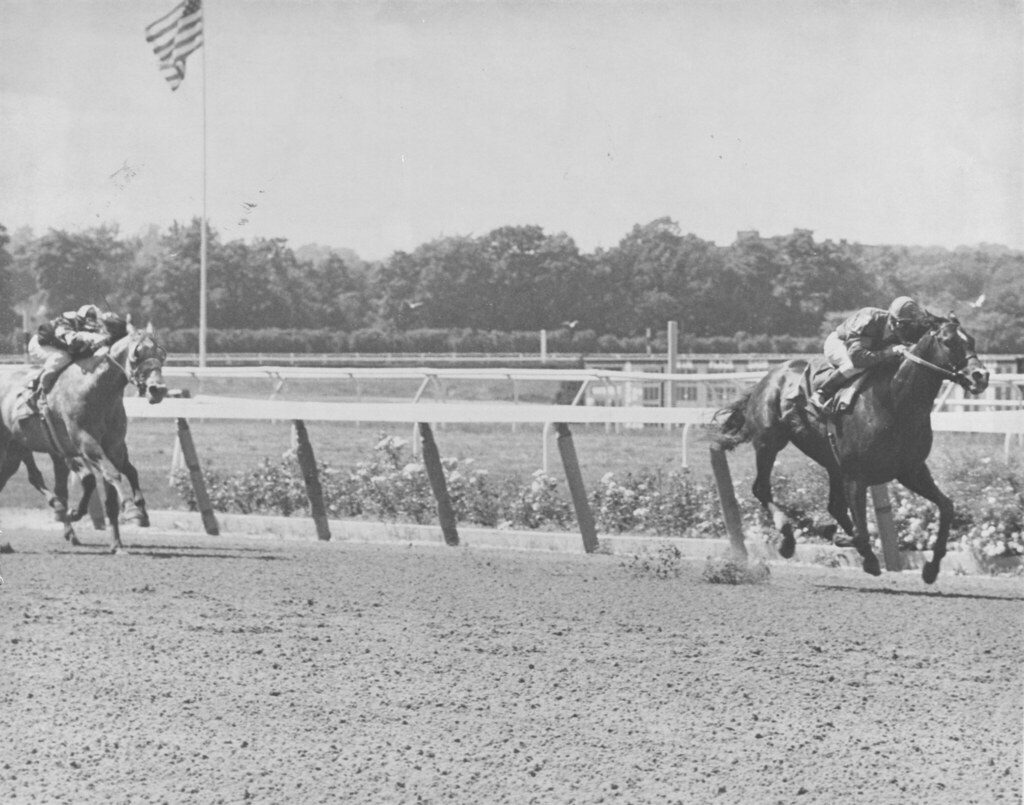 LOCAL BOY MADE GOOD
Carlyle "Jiggs" Lancaster had made his money in the law, but his heart belonged to horses. A successful attorney who once served as Prince George County's top prosecutor, Lancaster was the son of Bowie Race Track's physician, accompanying his father to the racetrack and to farms like Belair Stud, where the elder Lancaster would treat employees of the Woodward family's estate.
His flourishing law practice enabled him to buy Horsepen Hill Farm, where he bred and raised Thoroughbreds. He started with one mare, Melody Box, and soon expanded; at any given time, he would have eight to twelve horses in his breeding and racing stables. In 1970, Lancaster purchased a mare named Candle Star from Pimlico's co-owner Ben Cohen.
Candle Star was unraced, but her pedigree boasted names like Double Jay, damsire of the great John Henry, and Conniver, the Vanderbilt-bred mare who raced against the likes of Stymie and Gallorette in a career that earned her a spot in the Maryland Thoroughbred Hall of Fame.
Per recommendation of Maryland horseman Fred Colwill, Lancaster then paired Candle Star with Naskra, fourth in the 1970 Kentucky Derby and third in the Belmont Stakes, a good racehorse with a stellar pedigree. Naskra's sire Nasram was a stakes winner in England and France, and his grandsire Nasrullah produced superstars like Bold Ruler and Nashua. Naskra's dam Iskra also produced champion Wajima, the 1975 Travers winner.
The result was a lovely dark bay colt with a star and a snip on his nose, solidly built with ample potential. The Lancasters named him Star de Naskra. He wowed from the start, winning his first two starts at his home base of Bowie Race Track. He finished second in his first stakes try, in the Playpen at Bowie, before trying the Dover Stakes at Delaware Park. There, he finally broke through, giving Lancaster his first stakes victory in his 20 years as a breeder.
Star de Naskra added wins in the Timonium Futurity and the Marlboro Nursery and a third behind Affirmed and Alydar in the Laurel Futurity, then a prominent fixture for two-year-olds. The colt injured his knee in his last start of the year, which effectively knocked him off the Kentucky Derby trail.
Lancaster's colt would not follow Affirmed and Alydar into the Triple Crown classics, but Star de Naskra's best was still yet to come.
TACKLING THE BEST
Trainer Dick Ferris started his colt in the Hirsch Jacobs at Pimlico in late March 1978, where Star de Naskra finished second, an effort the trainer said let him know his colt "was all right." The colt followed that with a victory in the Penn Treaty Stakes, which would turn out to be his only stakes win at three.
Lancaster nominated his Maryland-bred for their hometown classic, the Preakness Stakes, but Star de Naskra would not see the starting gate at Pimlico. Instead, he would try the Withers, the Peter Pan, the Ohio Derby, and the American Derby, finishing in the money in all of them. But another stakes win eluded him until early in his four-year-old year.
Star de Naskra started 1979 with an out-of-the-money finish back home in the Resolution Handicap before reeling off wins in an allowance race, the Bold Ruler, and then confronting Alydar in the Carter.
Shortening up to seven furlongs, Alydar closed fast, but Star de Naskra had the jump on him and enough momentum to hold off the Calumet star by a neck. Ferris shipped his charge west to Nebraska's Ak-Sar-Ben for the Cornhusker Handicap. The son of Naskra stretched his speed out to nine furlongs and overpowered the field of eleven others to win by 8½ lengths.
His next stop was the Whitney at Saratoga, a nine-furlong Grade 2 event. In the field were C. V. Whitney's State Dinner, Text, and Cox's Ridge. Star de Naskra led at every call, taking the Whitney by three-quarters of a length, in what turned out to be Carlyle Lancaster's most treasured race for his star homebred.
The son of Naskra next faced a deep field in the Marlboro Cup, finishing sixth behind the victorious Spectacular Bid, and then fourth behind General Assembly in the Vosburgh at Aqueduct in late October. Star de Naskra wrenched an ankle in the Vosburgh, prompting Lancaster to retire him sooner than anticipated.
"He could have raced again, perhaps in two or three weeks," his owner said, "but he was going to be retired this fall anyway, so we decided to get on with it."
In his four-year-old season, Star de Naskra started ten times, winning six while beating horses like Alydar, Cox's Ridge, and more. His performances were enough to earn him the Eclipse for Champion Sprinter, beating out General Assembly, Travers winner and son of Secretariat.
Additionally, the Maryland-bred earned the state's Horse of the Year and Champion Older Male honors as well. In 2022 he entered the Maryland Thoroughbred Hall of Fame along with another Eclipse-winning sprinter, Smoke Glacken.
Champion's pedigree goes on
William duPont had purchased a half-interest in Star de Naskra prior to the Cornhusker and brought the son of Naskra to his Pillar Stud in Lexington for his stallion career. Star de Naskra also stood at Spendthrift and then Darby Dan Farm, siring a total of 763 foals in his time at stud, with 509 winners and forty-eight stakes winners. The best of these included Carr de Naskra, the last Virginia Kraft Payson's Travers champion, and Sewickley, back-to-back winner of the Vosburgh.
Cheryl Lancaster, Carlyle's daughter who grew up on Horsepen Hill Farm with Candle Star and Star de Naskra, remembered the Eclipse champion as "a very sweet, gentle horse," even as he stood grazing after his victory in the Whitney. When she visited him at Pillar Stud, "I went right up to him and petted him and he put his nose out.
"He was a very nice horse."
In more ways than one.
STAR DE NASKRA MARYLAND THOROUGHBRED HALL OF FAME INDUCTION VIDEO
Video edited on Kapwing
Sources
PRINT SOURCES
Austin, Dale, "Quadratic Beats Favorite, Wins Playpen Stakes," Baltimore Sun, July 17, 1977.
Comerford, Ed, "Nasty Naskra: A Derby Hopeful?" Newsday, February 28, 1970.
Courtney, Gene, "Star de Naskra Is an Easy Winner in the Penn Treaty at Keystone," Philadelphia Inquirer, April 9, 1978.
Ettlin, David Michael, "Ben Cohen Dies, Co-Owned Pimlico," Baltimore Sun, March 23, 1994.
Feldner, Karl, "Lancaster Gets His First Stakes 'Star,'" News Journal (Wilmington, DE), August 22, 1977.
Gaffer, Wes, "Amy Pulls Fast One to Foil Star de Naskra," Daily News (New York, NY), June 21, 1979.
Gordon, Mark, "Favored Star de Naskra Wins Cornhusker Handicap," Lincoln Star, July 15, 1979.
Lee, Don, "Star de Naskra Romps to 8½-Length Victory," Omaha World-Herald, July 15, 1979.
Metiver, Don, "Star de Naskra a Major Leaguer," Post Star, August 6, 1979.
Peddicord, Russ, "Derby Hopeful's Trainer Thinks Living in a Hearse Is Just Fine," Evening Sun, February 22, 1978.
Peddicord, Russ, "'Star' Has Run His Last Race," Evening Sun, November 2, 1979.
Peddicord, Russ, "Star de Naskra Still Exhibiting His Class," Evening Sun, August 8, 1970.
Sisti, Tony, "Alydar a Runnerup Again; This Time to Star de Naskra," Newsday, May 6, 1979.
"Star de Naskra Edges Cox's Ridge in Whitney; Coastal Triumphs," Lexington Leader, August 5, 1979.
Tamton, Bill, "'Mental Case' Naskra Settled for Preakness," Evening Sun, May 14, 1970.
LATEST NEWS