BackTracks: The kingly Henry of Navarre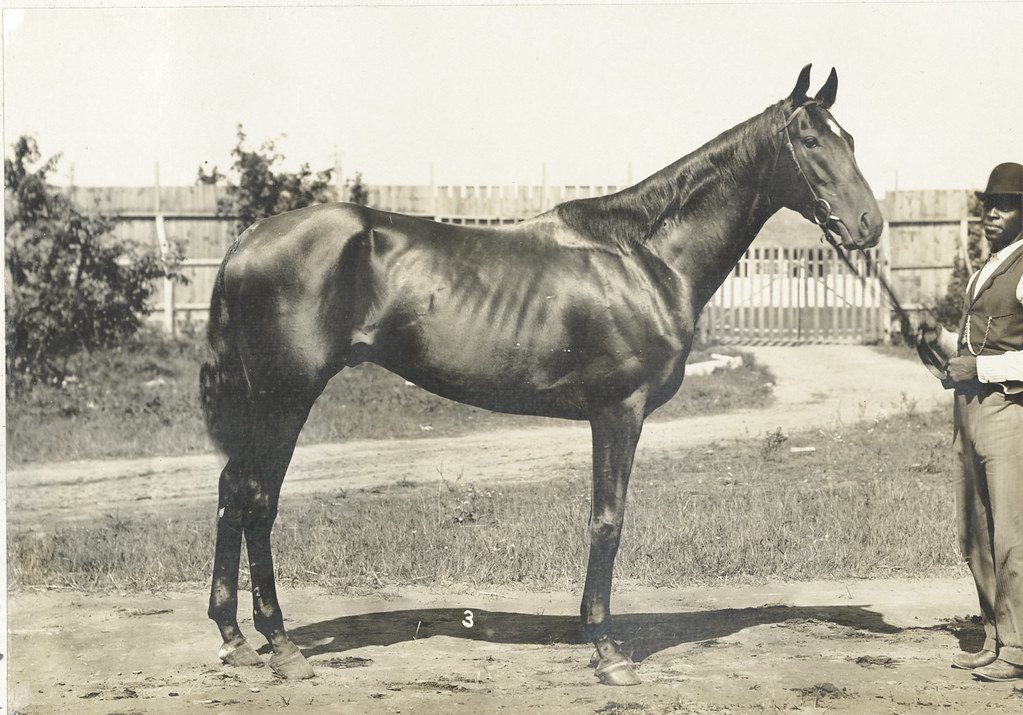 Lucien Osborne Appleby came to New York to work as a banker and then dabbled in other economic pursuits, especially those connected to Thoroughbreds. He partnered with David C. Johnson, a fellow sportsman, in both racing and gambling; the two shared a string of racehorses, including Forester, winner of the 1882 Belmont Stakes, and casinos in both New York City and Saratoga Springs.
Appleby was one of the investors in the second iteration of Monmouth Park in the 1890s and backed a short-lived racetrack in Linden, New Jersey. His greatest impact on racing came not from his investments in the sport's infrastructure, however, but from the bloodstock he produced at his Silver Brook Stud in Little Silver.
There, Appleby stood 1884 Preakness Stakes winner Knight of Ellerslie. Bred by Richard J. Hancock at his Ellerslie Stud in Virgubua, the colt was a son of Eolus, a multiple stakes winner and Ellerslie's foundation stallion. After Knight of Ellerslie ran second in the Belmont Stakes, Appleby and Johnson purchased him for $10,000, but he only raced once for his new owners before an injury forced his retirement. Appleby opted to pair him with his broodmare Moss Rose, a former racer for the partnership, and produced the colt who would become Henry of Navarre.
Chestnut with a patch of white in the center of his forehead, the colt was a hot commodity at the Monmouth Park yearling sale, where trainer Byron McClelland of Kentucky paid $3,000 for him. The son of a trainer, McClelland got his start in the sport conditioning horses for owners like H. Price McGrath and then used his winnings to buy horses to race in his own colors and then resell. In the last decade of the 19th century, McClelland found many of his biggest successes, winning the 1895 Kentucky Derby with Halma, a horse he owned, and the 1896 Preakness at Gravesend with Margrave, a horse he trained for August Belmont.
Before those two came Henry of Navarre, whose only peer was another Hall of Fame immortal.
Dealing with Domino
At age two, Henry of Navarre won six of ten starts in a season dominated by the great Domino, owned by stockbroker and sportsman James R. Keene. Henry of Navarre took the Breeder's Stakes at Lexington in only his second start and later won the Dash and Goldenrod Stakes at Coney Island. Meanwhile, Keene's speedy "Black Whirlwind" won all nine of his starts in 1893, including the Great American, Hyde Park, and Futurity Stakes. At year's end, Domino was considered the better of two, but Henry of Navarre would soon have his day in the sun.
At three, Domino's speed made him dominant at distances under a mile, but beyond that, he was not as effective. That season, anything over a mile was the purview of McClelland's colt: that year, Henry of Navarre was nearly flawless. He won a nine-furlong Belmont Stakes at Morris Park; finished fifth in the Suburban Handicap at Sheepshead Bay, the last of two out-of-the-money finishes in his entire racing career; and then reeled off nine victories in a row, including the Travers Stakes.
In his three-year-old season, he won 13 of 20 races, finishing second or third in six others, including one particularly memorable confrontation that led to a match race.
In the one-mile Withers Stakes at Morris Park, Henry of Navarre and Nahma were leading the short field of five, with Domino and jockey Fred Taral looking for racing room. If Taral took the colt to the outside, he would lose valuable ground, but neither of the front-runners seemed to oblige Domino's need for racing room. As they entered the stretch, Taral shouted at his fellow riders, pleading for a way through, when jockey Snapper Garrison on Henry of Navarre inexplicably moved outward, opening a gap for Domino. Nahma fell back as Domino picked up his pace in the race's final yards, gaining on the McClelland colt. At the wire, Keene's colt was a head in front of Henry of Navarre.
The two would meet again for a match race at Gravesend in September 1894. Twenty-five thousand turned out to watch the two battle it out over nine furlongs. Fred Taral took his customary place on Domino while Samuel Doggett was tapped to ride Henry of Navarre for this much-anticipated contest.
From the word go, Domino was a length in front, with the McClelland colt biding his time behind him. On the lead, Taral was able to rate Domino, who pulled at the reins waiting for a chance to show off his speed. With a half-mile to go, Doggett prompted Henry of Navarre to challenge, hooking up with his rival. They stay head-to-head around the far turn and into the stretch, neither giving way through those final furlongs.
Anytime one would gain a slight advantage, the other would fight back. They hit the wire at the same time, Doggett confident that he had eked out the win and Taral predicting a dead heat. Without the benefit of a photo-finish camera, the decision was left up to the judges, who called the match race a dead heat.
The two would meet again a few weeks later, in a special race before anotehr big crowd at Morris Park. Then, Henry of Navarre got the better of both Domino and another good three-year-old, Clifford. Domino exited the race with an injury; Henry of Navarre exited with the three-year-old championship.
Following that contest, Clifford's trainer, John W. Rogers, opined, "He had Domino take him to the lead – and there's no faster one – and when he had shaken off Domino, Clifford came at him; but he shook Clifford off, too. Any horse that can shake off two horses such as they, in separate attempts, must be a racehorse of the first water."
Serving His Country
The following year, McClelland's colt won eight of his ten starts including the Manhattan and Oriental Handicaps. His record prompted interest from the legendary breeder and owner August Belmont, who purchased him from McClelland for $35,000. At age five in 1896, he won his only two starts before Belmont retired him after he exited the Suburban Handicap with an injury. He stood at Nursery Stud in Kentucky before Belmont sent all of his bloodstock to his farm in France when the Hart-Agnew anti-gambling laws led to a cessation of racing in New York for nearly two years.
By 1911, the looming threat of war in Europe led France to start commandeering horses for their military, which prompted Belmont to send his horses back to America. After the Civil War left the American military short of horses for its mounted cavalry, the federal government had started exploring ways to increase the available horses for its armed forces through the Remount Service. Belmont donated Henry of Navarre and five other stallions to the effort, which made Thoroughbred stallions available to anyone for a minimal fee. The Belmont and Travers winner died six years later after siring a few stakes winners and an unknown number of horses for the American military.
This New Jersey bred logged a record of 29 wins in 42 starts, his prowess on the racetrack earning him spots in the National Museum of Racing and Hall of Fame and the New Jersey Hall of Fame. He might not have been as dominant as his rival Domino in the breeding shed, but his memorable confrontations with that great were enough to earn him a spot in the sport's eternal memory. Henry of Navarre goes down as an example of what Mid-Atlantic breeding meant in that last decade of the 19th century, when these legends were flesh and bone.
Sources
• https://www.racingmuseum.org/hall-of-fame/horse/domino-ky
• https://www.racingmuseum.org/hall-of-fame/horse/henry-navarre-nj
• https://www.racingmuseum.org/hall-of-fame/horse/roseben-ky
• http://www.americanclassicpedigrees.com/halma.html
• http://www.americanclassicpedigrees.com/domino.html
• https://en.wikipedia.org/wiki/Forester_(horse)
• https://en.wikipedia.org/wiki/Roseben
• https://en.wikipedia.org/wiki/Monmouth_Park_Racetrack https://en.wikipedia.org/wiki/Halma_(horse)
• https://en.wikipedia.org/wiki/Margrave_(American_horse)
• https://en.wikipedia.org/wiki/Domino_(horse)
• https://en.wikipedia.org/wiki/Byron_McClelland
• https://en.wikipedia.org/wiki/James_R._Keene
• https://en.wikipedia.org/wiki/Knight_of_Ellerslie
• https://en.wikipedia.org/wiki/Henry_of_Navarre_(horse)
• https://www.bloodlines.net/TB/Bios/HenryOfNavarre.htm
• https://www.tbheritage.com/Portraits/Domino.html
• https://www.tbheritage.com/Portraits/HenryofNavarre.html
• https://timesmachine.nytimes.com/timesmachine/1897/06/12/117904780.html?pageNumber=4
• https://fmitchell07.wordpress.com/2020/06/19/henry-of-navarre-won-the-last-nine-furlong-belmont-in-1894-proved-top-class-at-longer-distances-too/
• https://www.facebook.com/laprevoyante/photos/a.417858391965786/1164370960647855/?type=3
• https://www.njbreds.com/hall-of-fame/hof-12.shtm
• https://www.findagrave.com/memorial/32855146/lucien-o-appleby
• https://paulickreport.com/features/bloodlines/bloodlines-henry-of-navarres-nine-furlong-belmont-stakes/
• https://www.middleburglife.com/war-horses-remembered/
• https://www.atlasobscura.com/places/front-royal-quartermaster-remount-depot
• https://www.bloodhorse.com/horse-racing/articles/126563/new-jersey-bred-hall-of-fame-created
PRINT SOURCES
"'Davy' Johnson, Dead Turfman, Had a Remarkable Career," Brooklyn Daily Eagle, June 30, 1911.
"Domino's Dead Heat," New York Tribune, September 16, 1894.
"Domino to the Fore," Chicago Tribune, June 13, 1894.
"Domino Won the Withers," New York Times, June 13, 1894.
"Famous Turfman Dead," Courier News, October 7, 1910.
"Lucien Appleby Dead," Brooklyn Citizen, October 6, 1910.
"Lucien O. Appleby Dead," Boston Globe, October 5, 1910.
"Noted Racing Man Dead," Daily Record, October 7, 1910.
"A Superb Dead Heat," The Sun (New York, NY), September 16, 1894.
LATEST NEWS