BackTracks: Big tough Twixt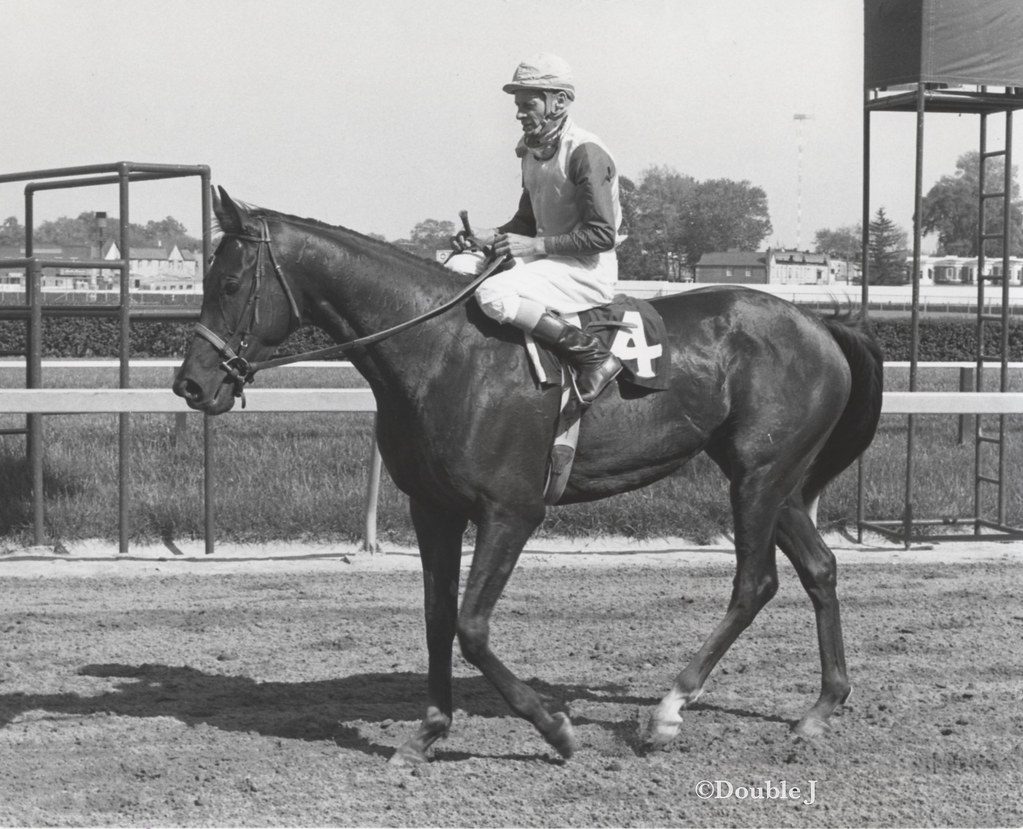 Maryland native John B. Merryman cut his teeth in the equine world on foxhunting, point-to-point races, and horse shows as a teenager. His father Louis co-founded the Maryland Horse Breeders Association, and John, who won the My Lady's Manor timber race, became the second generation to ride in the Maryland Hunt Cup, riding in both the 1940 and 1941 editions before joining the Navy in 1942. After serving as a Marine Corps fighter pilot in Okinawa in World War II, he returned to Maryland, where he married Katharine Warfield, granddaughter of former governor Edwin Warfield.
The couple purchased the Orebanks near Sparks, Maryland, where they raised six children alongside cattle and Thoroughbreds. There, the Merrymans kept a small broodmare band, including Eveleen, a mare John purchased at the Timonium sale for $2,000. 
A daughter of Quarter Deck, bred by Delaware's Christiana Stable, Eveleen had not been a star on the racetrack, but her pedigree, which featured names like Bull Dog and Double Jay, made her a good broodmare prospect. Merryman sent her to nearby Sagamore Farm to be covered by Restless Native, a son of Native Dancer standing for a $1,000 stud fee.
From this pairing came a dark bay filly the Merrymans named Twixt, foaled the year after her full sister by Restless Native.
"Her older full sister was named Twist," daughter Katy Voss remembers. "With her, that would have been a joint family thing, kicking names around. We always really liked short names."
For her preparations for the racetrack, the breeders kept it all in the family: John essentially trained the filly but tasked Voss with the job of saddling Twixt on race days, making her the trainer of record with her younger brother Edwin the assistant trainer. During preparations for her two-year-old season, the filly turned up lame, the culprit gravel embedded in her hoof, causing inflammation that left the family wondering if the filly would ever get to the races. Once they had her ready to go, they sold half of Twixt to a cousin, Mrs. John Franklin, in whose colors the filly raced throughout her career.
Good from the Word Go
"Some of my horses get to the races at two, but for me, the average horse gets there January-February of their three-year-old season," Voss recalls of the filly's earliest starts. A three-year-old Twixt made her debut in mid-January, finishing third in a six-furlong maiden race, and then scored her first win in early April.
Twixt's first try at a stakes race was in the Black-Eyed Susan at Pimlico, finishing second to the excellent Summer Guest, a Rokeby Stable filly who would also add the Coaching Club American Oaks and the Alabama Stakes that year.
"She ran a big race and did everything I asked of her," jockey Bill Passmore said after the Black-Eyed Susan. To miss her entire two-year-old season and finish second in a stakes race with only a handful of races under her belt signaled that Twixt had yet unrealized potential.
Twixt broke through with her first stakes victory in the Long Island Handicap at Aqueduct later that year and added a second one in the E. Taylor Chewning Handicap at Laurel on the penultimate day of 1972. In her first season, this Merryman homebred won seven of her twenty starts, and was in the money in eight more, enough to earn the title of best three-year-old of the year from the Maryland Horse Breeders Association.
A week later and a year older according to the calendar for Thoroughbreds, the four-year-old Twixt went to Liberty Bell in Pennsylvania to contest the Tuscarora Handicap. Nearly a year after her debut, the filly added her third stakes victory while carrying top weight of 120 pounds.
"She was just a big strong, tough filly that ran her heart out every time we led her over. She won a stake one Saturday and then go back the next Saturday and run again," Voss recalls of Twixt's time on the racetrack.
Her Tuscarora victory kicked off a season where Twixt won or placed in thirteen stakes over her sixteen starts that year. That record was enough to win Maryland-bred Horse of the Year honors for 1973.
[VIDEO: Latest under the radar horses]
Twixt Ascendant
Over the next two seasons, Twixt's star rose through the handicap ranks, the Merrymans running her outside of the Mid-Atlantic circuit at tracks like Hollywood Park in California, where she carried top weight of 123 pounds and eked out a nose victory over Tallahto in the Grade 2 Milady Handicap. She also stretched out to 1¼ miles in the Delaware Handicap, just missing a win at the longest distance of her career, caught in the race's final strides by Krislin.
Her six wins in stakes like the Milady at Hollywood Park and the Barbara Fritchie at Bowie earned the daughter of Restless Native another Maryland-bred Horse of the Year honor, sending her into her final season on the racetrack as one of the region's most accomplished fillies or mares of the decade.
Twixt added a second Barbara Fritchie to her resume in February 1975 and her second Geisha Handicap at Pimlico in mid-May. She then carried top weight of 125 pounds to a four-length win in the Grade 1 Top Flight Handicap at Aqueduct, showing the turn of foot that had led her to dual Horse of the Year honors in her home state.
This solid-hitting mare said goodbye to the track after her 1975 season, shifting from racehorse to broodmare to the Merrymans' Orebanks Farm. For Voss and her family, Twixt was "the best [they ever had]. When she retired, she was the sixth leading money-winning mare of all time. Just durable with an incredible will to win."
Over her four seasons, Twixt started seventy times, with a record of 26-14-11. Eighteen of her victories were in stakes, with nineteen in-the-money finishes. She overcame the rocky start to her career to become a durable performer, often carrying top weight over distances from seven furlongs to 1⅛ miles. Twixt also brought her trainer opportunities that led her to training and breeding in Maryland over the fifty years since her championship seasons.
"She took me around the country. She got me name recognition, which got me involved politically," Voss says. "If it weren't for her, I probably would not have continued. I probably would have found something else."
Maryland Through and Through
For the Merrymans, Twixt would be their best performer over their decades in Maryland racing, where they produced other good horses like Smart 'N Quick and Due North. For Katy Voss, her time training the family's homebred horses would take her into breeding as well, her Chanceland Farm producing horses like 2021 Breeders' Cup Sprint winner Aloha West.
As patriarch of a family that continues its connection to the sport well into the 21st century, it was John Merryman's horse sense that prompted him to buy an inexpensive mare, pair her with the son of a dual classic winner, and produce Twixt, the champion handicapper who was among the first inducted into Maryland's Thoroughbred Hall of Fame.
Sources
PRINT SOURCES
Abbott, Bion, "Twixt Milady 'Cap by Nose in Western Debut," Los Angeles Times, June 9, 1974.
Austin, Dale, "Favored Twixt Triumphs at Upset-Filled Delaware," Baltimore Sun, July 8, 1972.
Austin, Dale, "Rokeby Filly Breaks Last, Wins Easily," Baltimore Sun, May 20, 1972.
Austin, Dale, "Twixt Scores in the Mud," Baltimore Sun, December 31, 1972.
Austin, Dale, "Twixt Captures Fritchie," Baltimore Sun, February 23, 1975.
"Back Again, Twixt Wins Bowie 'Cap," Spokesman Review, February 23, 1975.
Boniface, William, "Broodmare Duty Next for Twixt," Evening Sun, January 22, 1976.
Harris, Russ, "New Twixt Returns to Bell as Tuscarora Favorite," Philadelphia Inquirer, January 6, 1973.
Harris, Russ, "Twixt Outlasts Knightly Belle in Tuscarora 'Cap," Philadelphia Inquirer, January 7, 1973.
Klessel, Steve, "Tuscarora Long Shot? Miss Bee Honey," Philadelphia Daily News, January 6, 1973.
"Krislin Outlasts Twixt; Rubles Brothers Recovers to Win at Finger Lakes," Louisville Courier-Journal, August 12, 1974.
McCulley, Jim. "Pair of Fillies Upset Form at Aqueduct." Daily News (New York, NY), November 16, 1972.
Peddicord, Ross, "John B. Merryman, horse breeder," Baltimore Sun, January 25, 1993.
"Royal and Regal Takes Dade Classic by Ten," Daily News (New York, NY), January 7, 1973.
"Twixt 1st in Big A's Top Flight," Daily Press (Newport News, VA), April 27, 1975.
"Twixt Easy Winner at Aqueduct," Newsday (Suffolk Edition), April 27, 1975.
"Twixt Outduels Far Fetched to Capture Chewning Handicap; Sweet Puss Victor," Daily Press (Newport News, VA), December 31, 1972.
Ward, Gene, "Top Flight to Twixt by 4," Daily News (New York, NY), April 24, 1975.
LATEST NEWS