Great Spirit hoping to follow in big bro's footsteps
Ted Black

August 7, 2022
Dr. Feelgood was a dominant force in one-turn sprints at Charles Town during his career for trainer Crystal Pickett before suffering a fatal injury two years ago. Now his half-sister by Great Notion is set to make her presence known. 
Great Spirit followed in big brother's footsteps when she captured a 4 1/2-furlong maiden special weight event in her career debut on July 22.
Much like her late, half-brother, Great Spirit had displayed plenty of promise in her morning workouts for Pickett and owner-breeder Jill Daniel in the weeks leading up to her career debut. Among those were a bullet half-mile move from the gate July 5, when she zipped the distance in 47 ⅖ seconds.
She had had prior moves June 4, June 15, and June 25.
"We've been very high on her since day one," Pickett said. "She's been training great and she's a barn favorite. She really is a lot like Dr. Feelgood. She's got a nice stride and she gets over the ground very quickly. When she trains in the morning she does everything easy."
Well backed as the 2-1 second choice in the field of eight state-bred juvenile fillies, Great Spirit darted to command soon after the break under Jose Montano and was never threatened en route to a 4 1/4-length score while stopping the timer in 53.47. That was slightly faster than the 53.53 seconds Livin Large, a Maryland-bred two-year-old colt, took to win that night's opener for open two-year-old maidens.
"She's really quick like Dr. Feelgood was, but she also knows how to take care of herself," Pickett remembered. "Once she broke on top… I knew they would not be able to catch her."
Dr. Feelgood won the first four starts of his career, including the Robert Leavitt Memorial at seven furlongs, and later ended his career on a six-race win streak, capped by a second straight tally in the West Virginia Dash For Cash Breeders Classic. Great Spirit is expected to take her first small steps toward duplicating some of those feats in the $75,000 Rachel's Turn Stakes for state-bred juvenile fillies on September 17.
"I'm going to point her for the Rachel's Turn," Pickett said. "I don't know if I will be able to get her a race before then. She's then got the [Triple Crown Nutrition] Breeders' Classics and she's also eligible to the Maryland Million. I'll have to play it by ear and see how she comes out of the Rachel's Turn."
The West Virginia Breeders' Classics take place October 8. The Maryland Million will be held two weeks later. While the Triple Crown Nutrition is a two-turn, 6 ½-furlong race, the Maryland Million Lassie is a one-turn race at Laurel contested at six furlongs.
"She will definitely make one of those stakes in October," Pickett said of her charge. "I really think she'll be able to stretch out her speed with no problem. A lot of people forget that Dr. Feelgood won a couple of two-turn races up here."
Although regarded as the best one-turn, West Virginia-bred sprinter of the 2000s, Dr. Feelgood actually recorded his first stakes victory in the seven-furlong Robert Leavitt Memorial for three-year-olds. He would later notch four more stakes triumphs, all in one-turn events over the strip.
Dr. Feelgood concluded his career with a spotless 5-for-5 record in stakes company and was 11-for-11 in 4 1/2-furlong events. Racing from 2018-2020, he finished up with 13 wins and nearly $300,000 banked from 15 career tries.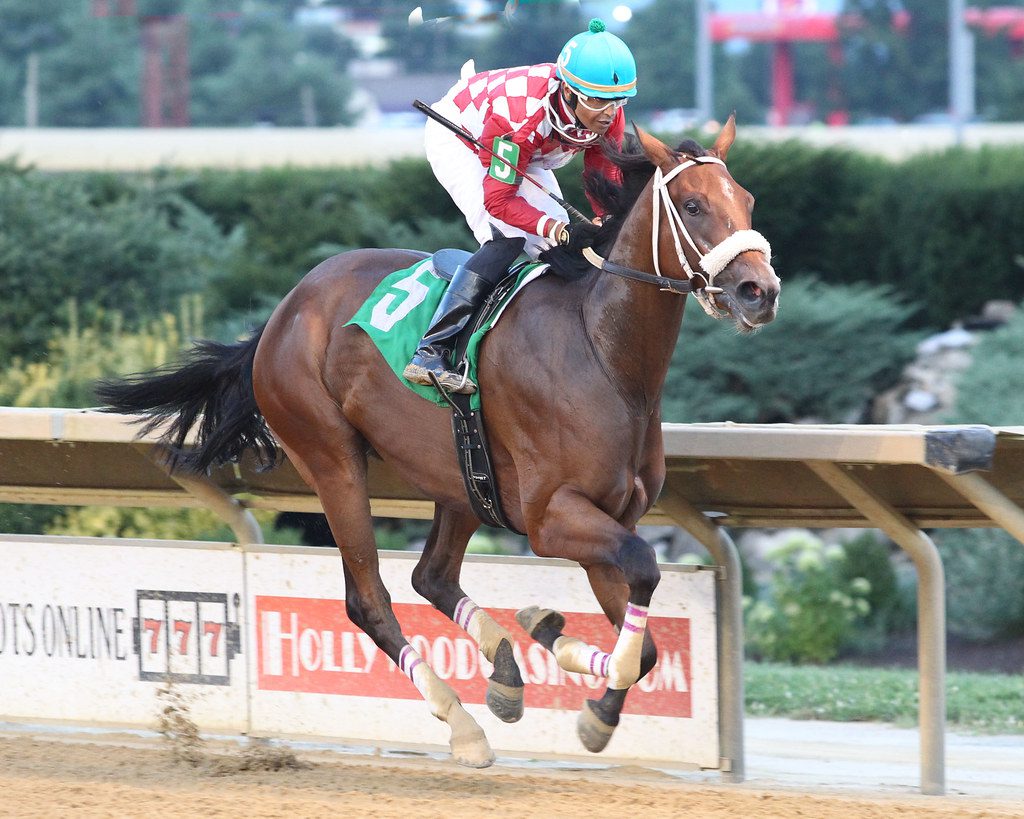 LATEST NEWS