BackTracks: Rosemont, giant killer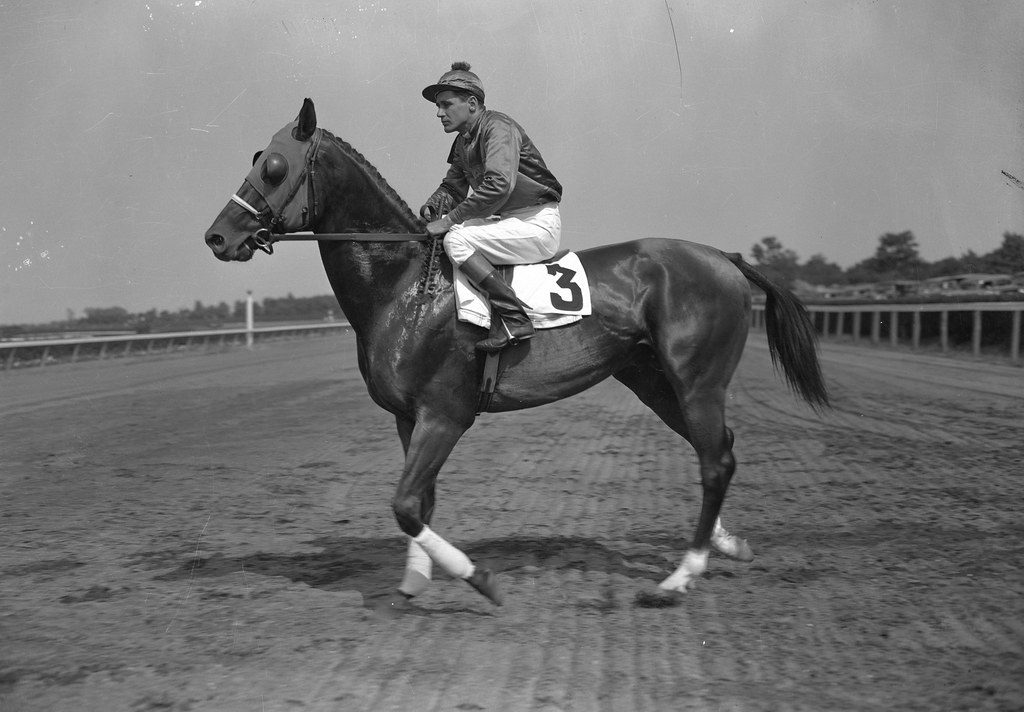 The heir to his family's newspaper fortune, Edward Beale McLean lived a unique life. His grandfather Washington and his father John held interests in both The Cincinnati Enquirer and The Washington Post, enabling Edward to indulge in his love of horses, to make friends with future presidents, and even to buy the infamous Hope Diamond. In 1915, McLean and his family purchased the Belmont Plantation near Leesburg, Virginia, where they raised show horses and then started a racing stable in 1917. Early the next year, he bought The Porter, a son of Belmont Stakes winner Sweep.
A Thoroughbred on the smaller side, standing only fifteen hands, The Porter was a consistent handicapper who beat horses like Sir Barton and Exterminator and set or equaled records at distances from seven furlongs to 1 3/16 miles. McLean brought The Porter to Belmont to stand stud following his racing career, and The Porter sired stakes winners like Toro and Two Bob, 1936 Kentucky Oaks victor. With the specter of illness and divorce hanging over him in 1931, McLean dispersed his bloodstock, selling The Porter and forty-four broodmares, including one named Garden Rose.
Sired by the undefeated immortal Colin, Garden Rose showed little of what her sire possessed on the racetrack, winning only once in sixteen starts. As a broodmare, though, she passed along some of her sire's excellence, producing stakes winners like Garden Message and Roseretter and, when covered by The Porter, colt named Rosemont.
As part of the Delaware branch of the du Pont family, William Du Pont and his sister Marion were raised at Montpelier in Virginia. Both were devoted to horses, with Marion going on to own a stable as well, campaigning champions like Mongo and Battleship, the only American horse to win both the English and American Grand Nationals. In addition to working for his family's Delaware Trust Company, William also designed racetracks, twenty-three in all, including Delaware Park. William, who raced under the nom de course Foxcatcher Farms, also had breeding and racing operations in Maryland and Virginia, including Walnut Hall Farm near Boyce, Virginia. There, the newly purchased Garden Rose foaled Rosemont.
Named for Rosemont, Pennsylvania, where du Pont and his first wife Jean were married, Garden Rose's colt proved to be a winner from the start. He won his first race, the Belair Purse at Saratoga, and defeated a field that included Nellie Flag, the daughter of 1924 Preakness Stakes winner Nellie Morse, in the Eastern Shore Handicap later that year.
His performances at two, including two second-place finishes in the Grand Union Hotel Stakes and the Hopeful Stakes, led du Pont to nominate him for the Preakness and the Belmont Stakes, bypassing the Kentucky Derby. However, after future Hall of Famer Omaha won the Derby with ease, du Pont and trainer Richard Handlen opted to skip the Preakness in favor of the Withers Stakes at Belmont Park.
In the one-mile Withers, run on May 25, 1935, two weeks after the Preakness and two weeks ahead of the Belmont Stakes, Rosemont got the better of Omaha. Both tracked the pace set by Nautch over the first six furlongs, and, when Willie Saunders and Omaha made their move, Rosemont and jockey Wayne Wright went with them. Rosemont took the lead in the stretch, hitting the wire 1½ lengths in front, while Omaha tired late, finishing only a half-length ahead of third-place Plat Eye.
Rosemont and Omaha met again in the Belmont Stakes, but Omaha was better that rainy June day, completing the third Triple Crown as Rosemont finished third.
Thin, shelly hooves made racing difficult for this son of The Porter, leaving him with inconsistent seasons at three and four, disappointment alternating with bright spots. He won only one other time in 1935 and started 1936 placings in the San Vincente Handicap and the Santa Anita Handicap.
A bright spot came later that year, when he took an inside path to victory in the Narragansett Special, holding on to beat future Hall of Famer Discovery by a nose.
Go West, Young Man
Handlen and du Pont sent Rosemont out west to Santa Anita again in late February 1937 for a second try in the Santa Anita Handicap, the country's richest race. There he would meet Seabiscuit, who had joined the barn of Tom Smith and Charles Howard just months earlier.
The Biscuit was on the cusp of the fame that would bring him worldwide acclaim, his storied career revived decades later by Laura Hillenbrand's book and subsequent 2003 movie. In a big field of eighteen, Rosemont broke from post seventeen while Seabiscuit started from post three.
Rosemont lingered in eleventh early in the 1¼ mile race, with Seabiscuit stalking the front runners in fourth. By the six-furlong mark, jockey Harry Richards had woven his horse through traffic into sixth and then moved Rosemont into fourth as they entered the stretch. Seabiscuit, meanwhile, had passed front runner Special Agent to take the lead in the straightaway, striding out to a three-length advantage as Richards was moving Rosemont through traffic.
Then, in those final yards to the wire, Pollard and Seabiscuit hesitated. The crowd noise meant that neither horse nor rider could hear Richards and Rosemont bearing down on them. Richards feared that the traffic of the large field had cost them valuable ground and time.
[VIDEO: Midlantic racing minute]
But as Seabiscuit seemed to hang, Rosemont continued to charge. With the wire looming, Red Pollard, on Seabiscuit, could not see the du Pont horse moving up on their outside because he was blind in his right eye. They came together in those final strides and then, somehow, Rosemont put a nose in front of the California colt. The photo showed that Richards had been successful in pushing Rosemont to catch Seabiscuit and then eke out those short inches to victory.
After defeating Omaha in 1935 and Discovery in 1936, Rosemont had followed those wins with one over Seabiscuit in 1937. The du Pont horse retired in March 1938, those shelly hooves ending his career. In his twenty-three starts, Rosemont had won seven times, with six second-place and three third-place finishes. He returned to Walnut Hall, his birthplace, for stud duty, du Pont eager to see this son of The Porter produce winners of his own.
Forever on Film
At stud in Virginia, Rosemont produced 110 foals before his death in 1955. Among those 110 were thirteen stakes winners, including Thinking Cap, winner of the 1955 Travers Stakes and Lawrence Realization, and the filly Bed o' Roses. In her four seasons on the racetrack, Bed o' Roses would win the Lawrence Realization, the Santa Margarita Handicap, and the Selima Stakes among her eighteen wins. Her career was enough to merit her induction into the National Museum of Racing and Hall of Fame in 1976. 
Modern fans can see the film interpretation of Rosemont in the film Seabiscuit, recreating that moment when the du Pont horse snuck up on Tobey Maguire as Red Pollard and the titular hero. Despite the dramatic license taken here and there in the movie, that scene recreates an exciting moment in the history of the Santa Anita Handicap and racing in the 1930s, when William du Pont's giant killer took down another superstar. Like Onion and Prove Out, Rosemont's conquests of champions are preserved in print and on film, close finishes that continue to pass this Virginia-bred's name down through the story of Mid-Atlantic racing.
Sources
http://www.americanclassicpedigrees.com/rosemont.html
http://www.americanclassicpedigrees.com/the-porter.html
http://www.americanclassicpedigrees.com/bed-o-roses.html
http://www.americanclassicpedigrees.com/colin.html
http://www.americanclassicpedigrees.com/seabiscuit.html
https://en.wikipedia.org/wiki/Thinking_Cap
https://en.wikipedia.org/wiki/Berlo
https://en.wikipedia.org/wiki/Bed_O%27_Roses
https://en.wikipedia.org/wiki/Rosemont_(horse)
https://en.wikipedia.org/wiki/Richard_E._Handlen
https://en.wikipedia.org/wiki/William_du_Pont_Jr.
https://en.wikipedia.org/wiki/Rosemont,_Pennsylvania
https://en.wikipedia.org/wiki/The_Porter_(horse)
https://en.wikipedia.org/wiki/Belmont_Manor_House
https://en.wikipedia.org/wiki/Edward_Beale_McLean
https://en.wikipedia.org/wiki/Preston_M._Burch
https://en.wikipedia.org/wiki/Marion_duPont_Scott
https://en.wikipedia.org/wiki/Seabiscuit
https://www.equibase.com/profiles/Results.cfm?type=Horse&refno=424096&registry=T&rbt=TB
https://www.bloodhorse.com/horse-racing/articles/226722/backtrack-omaha-surges-in-belmont-to-complete-triple
https://paulickreport.com/news/people/trainer-handlen-inducted-delaware-park-walk-fame/
https://www.pedigreequery.com/garden+rose
https://www.hagley.org/research/digital-exhibits/biography
https://www.hagley.org/research/digital-exhibits/william-du-pont-jr
http://www.detennisfoundation.org/william–willie–du-pont–jr.html
http://www.camdentrainingcenter.net/camden-training-center-history/
https://www.montpelierraces.org/about/history-of-montpelier-races/
PRINT SOURCES
Bastajian, Lee. "Rosemont to Try Again Next Year?" Daily News (Los Angeles, CA). March 1, 1937.
"Dupont Horse Outruns Omaha." Spokesman Review. May 26, 1935.
Lewy, John. "Rosemont, Withers Winners, Thoughtlessly Condemned for One Race." Brooklyn Times Union. May 27, 1935.
"McLean Horses to Be Auctioned." Lexington Leader. May 20, 1931.
Reed, Don. "Rosemont Wins Eastern Shore." Baltimore Sun. September 23, 1934.
"Rosemont Noses Out Discovery in Narragansett Special." Baltimore Sun. September 17, 1936.
"Rosemont Wins Over Discovery." Boston Globe. September 17, 1936.
"Rosemont's Trainer Denies Santa Anita Winner Will Retire." Sacramento Bee. March 1, 1937.
Sande, Earl. "Inside on Sports." Evening News. March 19, 1937.
"Top Row Captures $135,700 Purse as 50,000 Watch Race." Windsor Star. February 24, 1936.
Vreeland, W.C. "Omaha Will Go to the Post Top Heavy Favorite in $30,000 Belmont." Brooklyn Daily Eagle. June 5, 1935.
LATEST NEWS