BackTracks: Lil E. Tee, PA's first Derby winner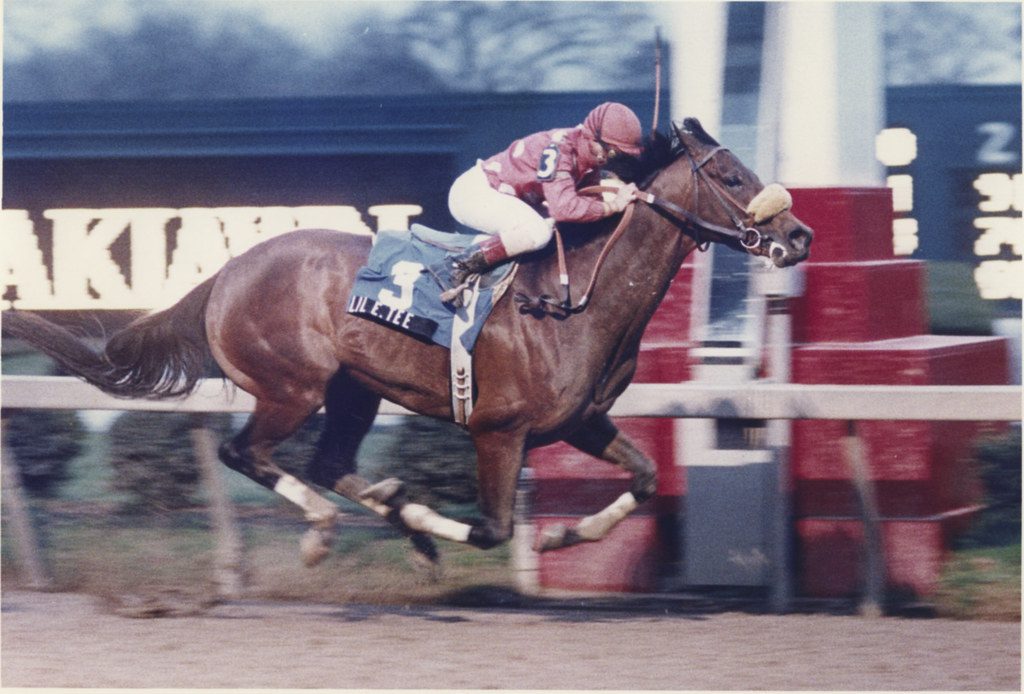 Modest Foundations
Lawrence Littman needed a hobby. The Korean War vet had turned businessman when his invention, a disposable thermocoupler for molten metals, gave rise to his Electro-Nite company. He later sold the company for a seven-digit sum and promptly retired at age 53.
Prodded by his wife, Littman looked for a hobby that would satisfy his need to stay busy. A longtime casual better and racing fan, Littman decided to build a stable and breed Thoroughbreds.
One of his early purchases was a filly named Eileen's Moment. She was a terrible racehorse, failing to hit the board in six career outings. But she was inexpensive, and her sire was For the Moment, a multiple graded stakes winner. Littman retired his erstwhile racehorse to broodmare duties, matching her with the Florida-based sire At the Threshold, winner of the Arlington Classic among his four graded stakes victories. He then sent the mare to Pennsylvania to take advantage of the state's breeding program, hoping that the foal could at least be competitive enough to win some races that came with bonuses for state-bred horses.
On March 29, 1989, Eileen's Moment foaled a plain bay colt with a ring of white on a hind ankle at Dr. William Solomon's Pin Oak Lane Farm in southern Pennsylvania. From the moment he arrived, the colt was in trouble: he did not nurse well in his first hours, requiring an infusion of plasma to help build his immune system. Later, the colt would need surgery to repair intestinal issues that had caused multiple bouts of colic. The odds against Eileen's Moment's colt were stacking up daily, especially given his haggard and awkward appearance.
As he grew, the colt was called AT&T (for sire At the Threshold), but his gawky conformation and habit of braying for his mother when out in the field inspired the nickname E.T., after the character from the Steven Spielberg film. When the colt was registered with the Jockey Club, his name included LIL, Littman's initials, and the E.T. nickname, to create the name Lil E. Tee.
Unexpected excellence
By this point, Littman had backed off from racing and focused on breeding, selling Lil E. Tee to pinhooker Chuck Weineke. Rejected from a yearling sale because of his rangy appearance, Weineke saved him for the 1991 Ocala Breeders' Sales Two-Year-Olds in Training Sale, where the colt was purchased by Al Jevremovic for $25,000. At Calder, Lil E. Tee made his first two starts for Jevremovic, finishing second in his first start and then winning his second by 11½ lengths.
That maiden win was so impressive that it caught the attention of multiple parties who expressed interest in buying the colt, including trainer Lynn Whiting, who was buying on behalf of Arkansas-based owner Cal Partee. Partee and Whiting had campaigned Lil E. Tee's sire At the Threshold. The trainer thought this colt was even better than his sire.
Partee signed on the dotted line, getting Lil E. Tee for $200,000. Whiting brought him to his base at Churchill Downs, where the colt raced two more times at age two, winning one and finishing second in the other. Sore shins necessitated an end to his 1991 season, with Whiting taking care to solve that issue so Lil E. Tee would be primed for his three-year-old season.
A Race to Remember
The hype for the 1992 Kentucky Derby was whittled down to one word: Arazi. The French colt had dominated the 1991 Breeders' Cup Juvenile, a dazzling performance that had people talking as the calendar flipped to the new year. Sharing the Derby buzz was A.P. Indy, winner of the Santa Anita Derby, who was second favorite going into the Run for the Roses. Farther down the list was Lil E. Tee.
After two wins and two second-place finishes at age two, Lil E. Tee had started his 1992 season on a high note, winning an allowance race at Partee's home track, Oaklawn Park in Hot Springs, Arkansas. He followed that with a third-place finish in the Southwest Stakes, his first try in stakes company. Lil E. Tee then won the Jim Beam Stakes at Turfway Park in Kentucky, before retuning to Oaklawn to try the Arkansas Derby, another major Derby prep. He finished second to the favorite Pine Bluff, but it was enough to merit a trip to Louisville for the big show.
With a bruised hoof sending A.P. Indy to the sidelines on Derby Day, Arazi entered the gate as the 9-10 favorite. Lil E. Tee was 16-1, not the longest of shots, but certainly not a name on anyone's radar. But Lynn Whiting and Cal Partee had been here before, with At the Threshold finishing third behind Swale in the 1984 Kentucky Derby. They knew their horse had a shot: Lil E. Tee had won four of his eight starts and finished in the money in the rest.
But doubt soon crept in.
"That's probably enough to get us beat," Whiting sighed when he saw Lil E. Tee toward the back of the pack around the first turn of the Derby.
But jockey Pat Day was not deterred. Day had by then won the Preakness twice, the Belmont once, and a half-dozen Breeders' Cup races; but he was still seeking his first Derby victory. Settling his horse away from the rail, Day had Lil E. Tee on cruise control, waiting their chance to bid for the lead.
[Click for video of Lil E. Tee's Kentucky Derby win]
On the far turn, Arazi made a bold move from the rear of the field to challenge for the lead, but frontrunner Dance Floor was able to hold on to his advantage, and by upper stretch, Arazi's hopes were dashed.
Soon, Casual Lies took command in the long Derby stretch, but to his outside came a plain bay flyer: Lil E. Tee. Day had set down his colt down for the drive, gaining steadily inside the last furlong.
"Do you believe this?" Whiting shouted to the crowd in Partee's box. "Do you believe this S-O-B is going to win?"
"We're gonna win it!" Partee, an 82-year-old oilman, screamed. "We're gonna win it!"
When Lil E. Tee hit the wire a length in front of Casual Lies, the Churchill Downs crowd was virtually hushed. They had expected Arazi's coronation and instead had gotten an obscure Pennsylvania-bred colt with a blue-collar pedigree instead.
Partee's $200,000 gamble had paid off: he had been racing horses since 1954 and nearly forty years in, the Arkansas oilman had his Derby. Whiting, the son of a rider-turned-trainer who plied his trade on the hardscrabble circuits of Midwestern racing, had reached the zenith of American racing.
For Pat Day, Lil E. Tee was a godsend. He had finished second in three consecutive Derbies between 1988 and 1990, just missing the winner's circle with horses like Easy Goer and Forty Niner. Finally, the son of At the Threshold and Eileen's Moment brought him what he had sought for so long: a Kentucky Derby. It would be his only victory in America's most storied race.
"Hallelujah," the Hall of Fame jockey and devout man of faith exclaimed. "Thank you, Jesus!"
For Partee, Whiting, and Day, Lil E. Tee had made Derby dreams come true. For Pennsylvania's breeding program, the colt's win put the state on the map. Sure, more than 75% of the 147 Kentucky Derby winners have been foaled in Kentucky, but, since Lil E. Tee became the Keystone State's first, the state had celebrated a second win with Smarty Jones in 2004. Suddenly, breeding a Kentucky Derby winner in a state better known for steel and coal was not such a far-fetched idea after all.
Lil E. Tee tried the Preakness Stakes two weeks later, but finished fifth, his first out-of-the-money finish. After discovering bone chips in both of his front ankles, Whiting and Partee opted for surgery to repair the issue, ending the colt's three-year-old season. Lil E. Tee would come back at four, winning an allowance race and then the Razorback Handicap before finishing second in the Oaklawn Handicap. A lung infection and later a fractured ankle meant the end of his career. Lil E. Tee entered stud duty at Old Frankfort Stud in Kentucky.
Lil E. Tee was not as successful in the breeding shed as he had been on the racetrack. He sired Mula Gula, a graded stakes winner in California, among his twenty stakes winners from 323 foals.
At age twenty, the 1992 Derby winner had surgery for an obstructed bowel, a procedure reminiscent of his earlier colic surgery, but struggled with complications from the surgery afterward. He was euthanized at Old Frankfort Stud in March 2009, nearly two decades after his unexpected victory on the sport's biggest stage.
Lil E. Tee wasn't a great horse; the Kentucky Derby win proved to be the only Grade 1 triumph of his career. But on that day, he proved to be the best of his generation — and he proved that a state with a modest racing history like Pennsylvania, better known for coal and steel than Thoroughbreds, could produce a star.
Sources
PRINT SOURCES
Eisenberg, John. The Longest Shot: Lil E. Tee and the Kentucky Derby. Lexington, KY: the University Press of Kentucky, 1996. The Staff of Blood-Horse Publications. Greatest Kentucky Derby Upsets. Lexington, KY: Eclipse Press, 2007. 161-173
LATEST NEWS