Finally, My Pretty eyes turning into a real looker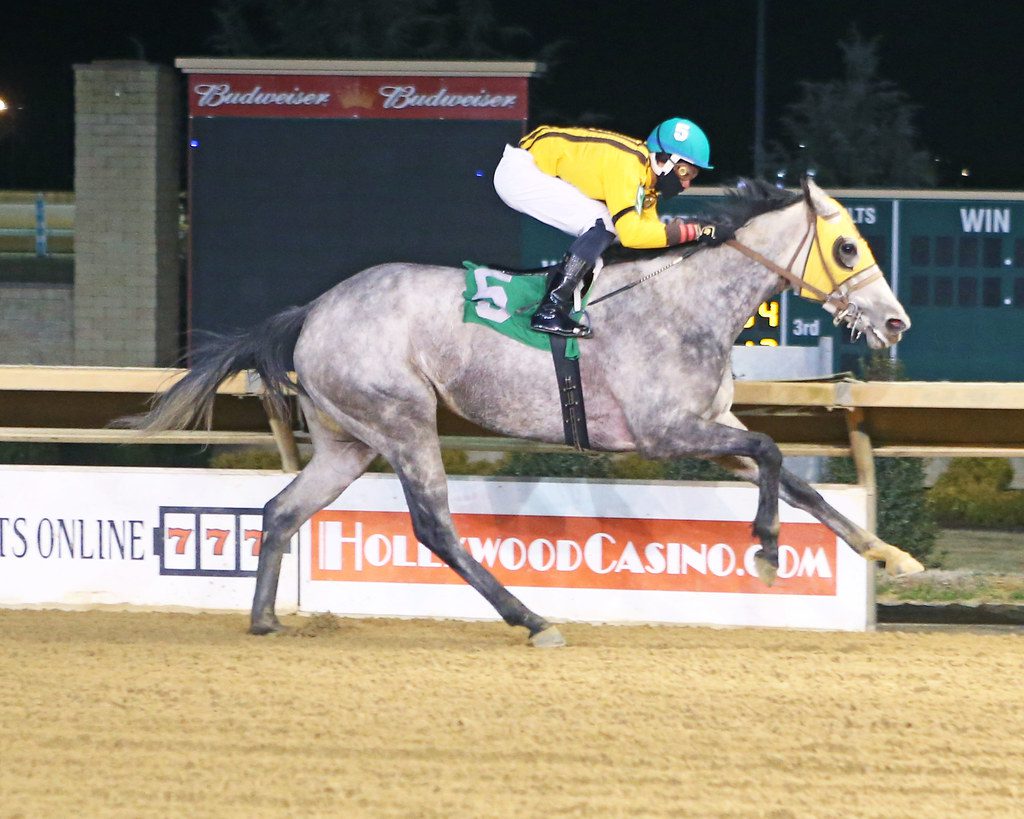 Two years ago McKee unveiled a stellar group of juveniles that included My Pretty Eyes, No Change, Shutupnkissme and Youthinkthatsfunny among a bevy of other homebreds. Shutupn'kissme won a stake that year and placed in two others, while Youthinkthatsfunny won a pair of stakes.
But it was My Pretty Eyes who was turning McKee's head.
"Early on, I thought she was the best of that bunch," McKee said. "But, for some reason she just did not live up to my expectations. She never got sick and really didn't have any soundness issues. But early in her career she just wasn't the race horse that I thought she would be."
The daughter of Fiber Sonde, out of the Action This Day mare Kriseyes, had impressed McKee with her morning workouts. The longtime conditioner, whose work with Rachel's Turn and Bridging The Gap proved exemplary, was baffled by the results.
McKee tried My Pretty Eyes against maiden weight company four times at age two, and she finished third in each of her last three attempts at the level. At three, she added two seconds and two more thirds to her ledger without besting special weight foes. Finally, after a sixth-place effort on May 28 of her sophomore season, McKee had seen enough.
That win, delivered as the 3-10 favorite, woke the filly up. In six subsequent starts, she has three wins and two runner-up efforts, her lone clunker having come when eighth in the West Virginia Tourism Office Breeders' Classic.
"She has really started to come around in the last six months. She's matured quite a bit, mentally and physically," McKee said. "Now she's really good. It took a while for her to come around, but she's doing now what I thought she could do initially."
About a month after the WVBC race, My Pretty Eyes recorded the second victory of her career when she defeated allowance foes by four lengths while stopping the timer in 52.71 for the 4 ½ furlongs. That proved to be the final start of her busy sophomore campaign.
My Pretty Eyes has already picked up where she left off last fall.
In her four-year-old debut on January 26, My Pretty Eyes just lived up to her role as the tepid 3-1 favorite in another one-turn allowance dash for state-bred fillies and mares when she prevailed by a neck in 52.98. She came right back a month after that to garner her third straight tally by taking another one-turn allowance dash by three lengths in 53.23, although this time as a modestly overlooked 4-1 shot.
All of the wins have come with regular pilot Reshawn Latchman in the irons. He'll be aboard once again Saturday. My Pretty Eyes is the 4-1 third choice in a nine-horse field, with shipper Mamba Queen the 8-5 morning line favorite.
"I thought she would be tough to beat in there and she really ran well," McKee said. "She came out of it good, and I think she's finally put everything together."
The runner who couldn't break her maiden now is riding a three-race win streak and boasts a 4-4-5 slate and over $106,000 banked from 18 lifetime starts. The travails of her first 11 starts feel pretty far away these days.
"I liked her right from the beginning. I don't know why she wasn't as good early on," McKee said. "But she's finally developing into the type of race horse that I thought she would be. Sometimes it just takes them a little longer to figure it out, I guess."
LATEST NEWS