Shake Em Loose strikes again in Private Terms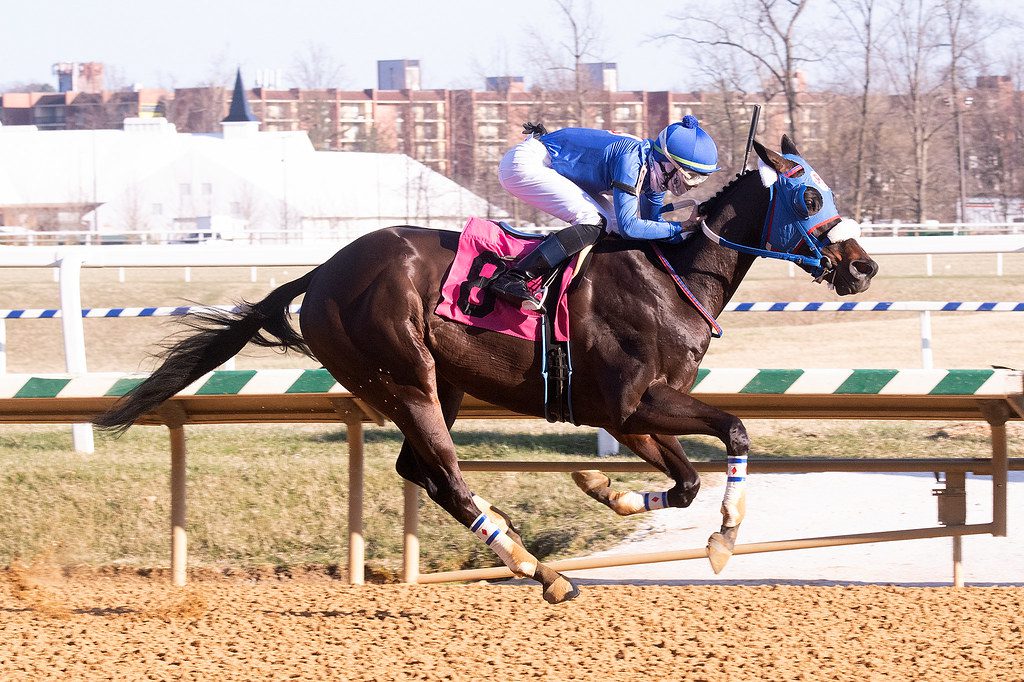 Frank Vespe

March 19, 2022
Back in ancient times, when dinosaurs roamed the earth – say, this past November – now-three-year-old Shake Em Loose was just another cheap maiden.
As young horses sometimes do, though, he started to figure it out: a win, then another, a third, a fourth. And now, after a triumph in the $100,000 Private Terms Stakes, he's on a path no one would have foreseen: if all goes according to plan, he's owner-trainer Rodolfo Sanchez-Salomon's Preakness horse.
"That's a dream of everybody's, right? That's one of my dreams," he said.
He's not nominated to the Triple Crown, it's pointed out. It'll cost $6,000 to supplement him.
"We need to do whatever we need to do," Sanchez-Salomon said.
Sanchez-Salomon claimed Shake Em Loose for $16,000 last November 19 when the Shakin It Up gelding – a $1,000 yearling purchase – broke his maiden easily at that one-step-from-the-bottom level.
"You never really expect much of a horse until you've got them in your hands," the trainer said. "And then you've got to go day by day and look at the horses day by day."
What he saw in those day-by-days impressed him plenty: Sanchez-Salomon turned around a month and a week after claiming the youngster and put him in the Heft Stakes. There, at odds of 59-1, he rallied from last to a narrow victory.
A spot in the Spectacular Bid didn't work out; Shake Em Loose finished seventh after breaking in a tangle. But he rebounded with an encouraging allowance victory and went off at 5-1 in the Private Terms.
Under jockey Charlie Marquez, Shake Em Loose was fifth of seven early and about a half-dozen lengths off the 47.59-second half-mile pace of Conclusive, who broke away to a five-length lead in the opening portion of the race.
Shake Em Loose made a three-wide bid rounding the far turn, took over at the top of the lane, and had plenty in reserve to hold his lone challenger – even-money favorite Joe, who ran somewhat greenly – safe by nearly two lengths. Running time for the 1 1/16 miles was 1:46.80 over a fast main track.
"[My instructions to Marquez were] Ride your race. Ride him like you've ridden him before," Sanchez-Salomon said.
Joe held second. It was a long way back to Local Motive in third. New York shipper Eagle in Love, off at 5-1, was last at every call and eased but did cross the wire.
Shake Em Loose paid $12.40 to win. The $1 exacta, with the favorite underneath, paid $16.30.
The win was Shake Em Loose's fourth in 10 career starts. He now has earnings of nearly $185,000.
If all goes to plan, the trainer said, Shake Em Loose will make his next start in the 9-furlong Federico Tesio Stakes April 16 at Laurel. That race provides the winner a spot in the Preakness starting gate, as long as he's Triple Crown-nominated.
The next deadline for Triple Crown noms is March 28, when $6,000 will make a horse eligible.
In the meantime, Sanchez-Salomon had a bit of celebrating to do, some champagne to drink. Some dreams to dream.
"Honestly, it's fun to have a horse like this," he said. "Especially when you own and train them."
LATEST NEWS