Muad'dib, Star of Night share top WV-bred honor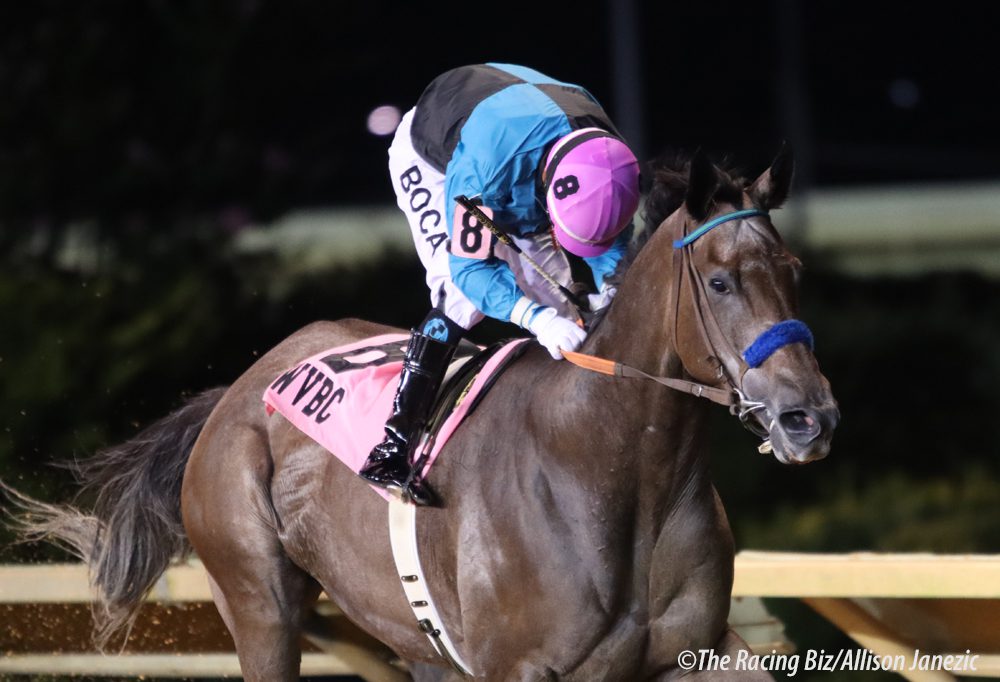 Ted Black

March 7, 2022
While the Maryland-bred division champions were announced virtually over the course of a week, the West Virginia Thoroughbred Breeders Association unveiled its 2021 division champions and horse of the year March 6 during the annual awards dinner on the third floor of the clubhouse dining room at Charles Town.
Although many of the division champions were fairly clear-cut for the voters, the chase for West Virginia-bred horse of the year would come down to a pair of horses trained by Jeff Runco: Muad'dib, the champion older male, and Star of Night, the champion older female and reigning horse of the year. Both enjoyed undefeated campaigns, and when the votes were tallied, it was a dead heat. The two were honored as co-West Virginia-bred Horses of the Year.
Muad'dib won all six of his 2021 starts to run his career record to a spotless 9-for-9. During 2021, he won the Frank Gall Memorial, West Virginia Breeders' Classic, and A Huevo Stakes – renamed the Randy Funkhouser Memorial for 2022 – to cap his perfect season. Bred by John McKee, the Fiber Sonde gelding is owned by David Raim.
Star of Night, a homebred for Heinz Steinmann and Huntertown Farm, also enjoyed an unblemished 2021. A four-year-old filly in '21, the daughter of Creative Cause capped her season with wins in the Sadie Hawkins, WVBC Cavada, and My Sister Pearl Stakes. She earned over $200,000 during the season and is 11-for-13 in her career.
Both runners were ridden during the season by top local pilot Arnaldo Bocachica.
"I definitely think it was the right call," Runco said of honoring both as co-winners of the Horse of the Year designation. "They both had undefeated seasons, they both did everything that I asked all year, and they both are really deserving of it. I don't think it would have been fair to split them up and pick one over the other. Star of Night is actually back in training and I'll look for a race for her in a few months, Muad'dib will get started a little later, like last year, but he'll be back soon enough."
Star of Night posted the first recorded work of her campaign March 2.
"They were both great horses to ride," said Bocachica, who won eight of the nine stakes in WVBC night, seven of them for Runco. "Muad'dib has never done anything wrong and he's never been beaten. He just loves what he does. Star of Night is really nice, too. She's always ready to run. She can win going seven or stretch out and win at one mile-and-an-eighth. They were both deserving of the award. I'm glad they didn't split them."
Many of the other division champions also had a Runco-Bocachica theme as their success on WVBC night certainly weighed heavily with the voters.
WVBC Triple Crown Nutrition winner The Sky Is Falling took home the title of champion two-year-old filly for Runco, Raim and Bocachica, while WVBC Moscarelli Memorial champ Run to Daylight was named champion two-year-old colt & gelding for the same connections.
[
Runco, Raim, Boca sweep WVBC 2yo races
]
Social Chic, who won the WV Lottery Breeders' Classic, was named champion three-year-old male for Runco and owner Smart Angle, LLP.
Champion three-year-old filly honors went to Door Buster for trainer Ollie Figgins, III and owner Jay Reese. Door Buster won the Sylvia Bishop Memorial and WV Tourism Office Breeders' Classic during the season.
[
WVBC: Big night for broodmare Miss Henny Penny
]
Trainer Crystal Pickett conditioned the champion sprinter for a second straight year. This time it was Hypothesis, owned by Jill Daniel and bred by Francis Daniel, the same connections of previous sprint champion Dr. Feelgood. Last Sunday night the WVTBA also unveiled the inaugural winner of the female sprinter champion which went to Our Diamond Girl, owned, bred and trained by Tim Grams. Our Diamond Girl won the Fancy Buckles Stakes last May, coincidentally a race named for another former Grams trainee.
"He's been in Florida for the last three months, but he's going to come back once it looks like the weather is going to stay warm for a while," PIckett said of Hypothesis. "After his last win in December, there were just no more races for him. I'm pleased that he got the award. He's really just like family, same connections of Dr. Feelgood and he's out of a mare that I trained."
"I'm glad they decided to honor a filly-mare sprint champion this year," Grams said. "She's been good almost every start. She doesn't have a lot of early speed, but she knows when it's time to run."
Holy Pow Wow, the dam of Muad'dib and Late Night Pow Wow, was named broodmare of the year and Fiber Sonde, who stands for only $1,000 at Beau Ridge Farm, was easily tabbed as top sire, both of them for John McKee. Not surprisingly, McKee was also selected as the breeder of the year.
"It's always nice to be recognized," McKee said. "I've had a lot of good years up here and many of them lately have been due to Fiber Sonde. He's really been a blessing for us at the farm."
In the three months leading up to the WVTBA awards dinner, West Virginia racing and the breeding industry lost two of its giants, Sam Huff on November 13 at the age of 87 and Randy Funkhouser on February 4, less than one month before he was set to turn 71. Both Huff and Funkhouser will be formally honored later this year. The West Virginia Breeders' Classic, the signature event on the WVBC card, will be named in honor of Huff, while the A Huevo Stakes has been renamed for Funkhouser, who was always prominent on WVBC night and could boast victories in the Classic with Confucius Say and the Cavada with Julie B.
WEST VIRGINIA-BRED CHAMPIONS
Older male and co-Horse of the Year: Muad'dib, trained by Jeff Runco for David M. Raim, bred in WV by John McKee
Older female and co-Horse of the Year: Star of Night, trained by Jeff Runco for Huntertown Farm LLC, bred in WV by Huntertown Farm LLC
Three-year-old male: Social Chic, trained by Jeff Runco for Smart Angle, LLP, bred in WV by James Franklin Miller
Three-year-old filly: Door Buster, trained by Ollie Figgins III for Jay A. Reese, bred in WV by Catherine K. Jennings and Scott Mallory
Two-year-old male: Run to Daylight, trained by Jeff Runco for David M. Raim, bred in WV by James Franklin Miller
Two-year-old filly: The Sky Is Falling, trained by Jeff Runco for David M. Raim, bred in WV by Catherine K. Jennings and Scott Mallory
Champion sprinter: Hypothesis, trained by Crystal Pickett for Jill Daniel, bred in WV by Francis Daniel, III
Champion distaff sprinter: Our Diamond Girl, trained by Tim Grams for Grams Racing Stable LLC, bred in WV by Tim Grams and Judy Grams
Top broodmare: Holy Pow Wow, owned by John McKee
Top sire: Fiber Sonde, owned by John McKee
Breeder of the Year: John McKee
LATEST NEWS