Wondrwherecraigis sharp in Fire Plug score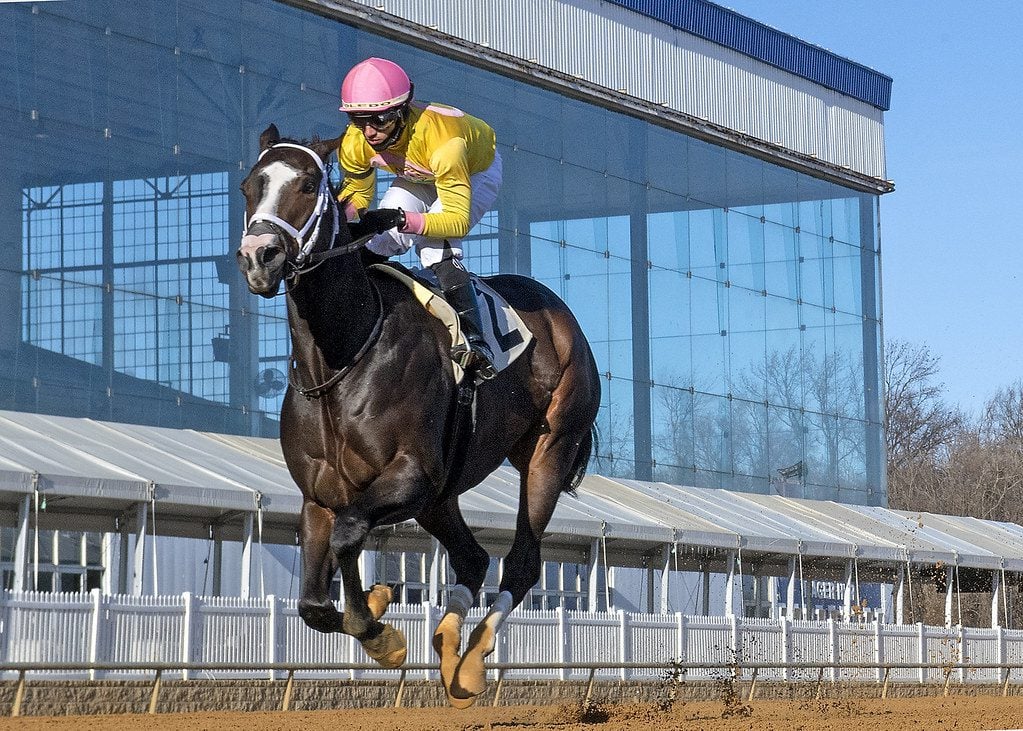 Ted Black

January 29, 2022
Owners, trainers and jockeys who braved the biting cold temperatures and brisk winds on Saturday afternoon at Laurel Park for day's six stakes were perhaps doubly rewarded for their efforts, as a pair of events on the latter portion of the program could provide steppingstones to more important stakes here next month.
When the dust had settled, Kentucky shipper Time Limit and Laurel-based Wondrwherecraigis had stakes victories that may put them on the road to bigger things.
Heading into $100,000 What A Summer Stakes for fillies and mares, the public had a difficult time finding a solid choice. Princess Kokachin (Xavier Perez) was the tepid 3.10-1 favorite in the field of 12 distaffers while stablemate Fille d'Espirit (Angel Cruz) was the 3.30-1 second choice, with Regal Retort (Jorge Ruiz) the 4-1 third choice.
Defending Grade 3 Barbara Fritchie heroine Hibiscus Punch (Horacio Karamanos) was 9-2 in her first outing since last May.
When the gates opened in the latest edition of the What a Summer Stakes, favored Princess Kokachin displayed the best early speed as expected. The well-traveled Time Limit (Victor Carrasco) – Laurel was her sixth different venue in her last six starts – was away alertly to sit just off the pace.
Longshot Bunting stayed close through the early stages, but had little to offer when the serious running began and neither did the other distaffers expected to be a factor in the lane.
Princess Kokachin still owned a short lead turning for home, but Time Limit loomed up alongside her and surged past the favorite to take command a sixteenth of a mile from the wire before holding safe the late surge of Kaylasaurus (Julio Hernandez) for a length score in 1:11.39 for the six furlongs.
A five-year-old Bustin Stones mare trained by Michael Maker for owner Three Diamonds Farm, Time Limit recorded her first win in two outings this year and now owns a 5-5-5 slate and nearly $520,000 banked from 17 career outings.
"First of all, I want to thank the trainer and the owners for giving me the chance to ride this mare," said jockey Victor Carrasco, who had recorded stakes victories earlier on the card with Cordmaker in the $75,000 Jennings Stakes for trainer Rodney Jenkins and Kiss The Girl in the $75,000 Geisha Stakes for trainer Michael Trombetta.
"In a big field, I wanted to be close to the lead, and I knew the one [Princess Kokachin] was the speed. My filly broke good and I was able to sit just off the one, and turning for home she really found another gear. She finished up nice in the lane and I was happy to get another win today. Three mounts, three wins."
The three stakes wins continued a torrid January for the veteran Carrasco. He's leading the Laurel Park in wins and earnings while winning at a 40% clip.
While bettors may have found the What a Summer Stakes to be a puzzler, one race later in the $100,000 Fire Plug Stakes for older runners, there was little doubt about which horse would go postward as the choice. Wondrwherecraigis (Jevian Toledo), hero of the Grade 3 Bold Ruler Stakes at Belmont Park in his most recent outing for trainer Brittany Russell, opened as the 1-9 favorite on the first flash of the toteboard and eventually floated up to 3-5 at post time.
When the gates opened in the Fire Plug Stakes, Wondrwherecriagis broke best of all to gain command with only token pressure initially from Charles Town invader Penguin Power in an opening quarter-mile in 22.52 seconds. Youngest of Five, tucked in along the rail, was just behind the top pair.
Positions remained largely unchanged through the far turn and Wondrwherecraigis shook off all challengers with little difficulty, edging clear late to a 3 3/4-length score in 1:10.71 for the six panels.
A five-year-old Munnings gelding trained by Brittany Russell for owners Madaket Stables LLC, Michael Dubb, The Elkstone Group, LLC, and Bethlehem Stables, Wondrwherecraigis now owns seven wins and just over $400,000 banked from 11 career outings.
He nearly won last year's Grade 3, $200,000 Frank J. DeFrancis Memorial Dash but was disqualified after being first past the post. He followed that up with a good-looking score in the Grade 3 Bold Ruler at Belmont Park but had not raced since that October 31 score.
"Coming into the race, speed was not really holding up today," Russell said. "But then Sheldon [her husband and also a jockey] turned to me and said there hasn't been a really good horse on the lead yet today, either. He's such a class act and such a warrior. He came into this race great. I want to savor this win for a couple of days. I don't know [about the Grade 3 General George] just yet. I'd like to see how he comes out of this the next couple of days and then make a decision as it gets closer to the race. But he's a class act."
"You know, I was a little concerned that speed was holding up today," Toledo said. "But this horse is such a warrior. He's a pleasure to ride. He's got so much natural early speed and he tries so hard. I hope he stays here for his next start, and I get another chance to ride him."
LATEST NEWS