LAUREL PARK PICKS AND PONDERINGS: JAN. 16, 2022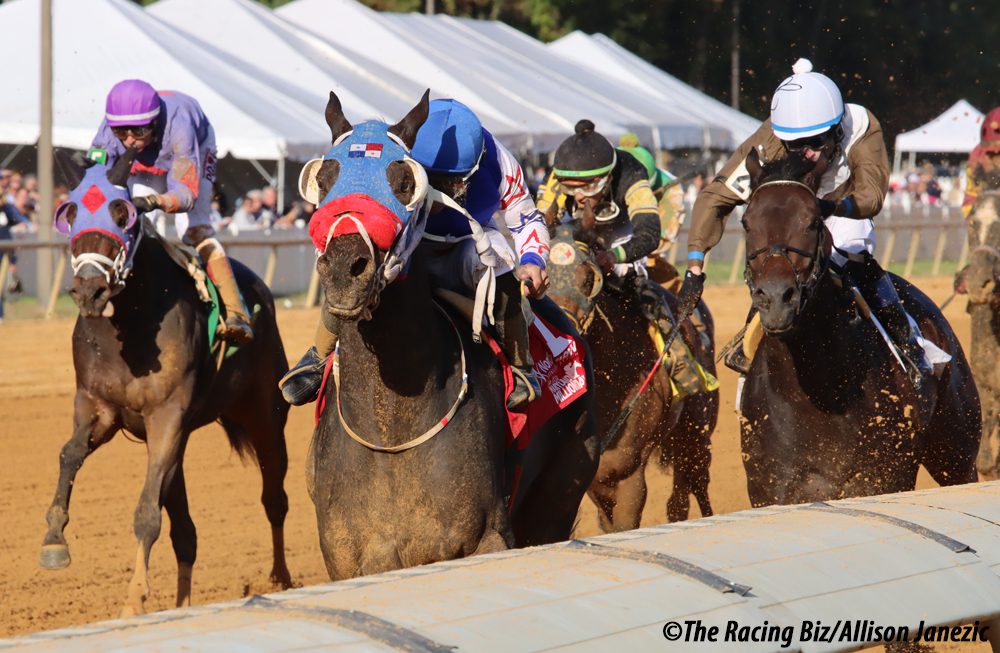 RACE 1: MAIDEN CLAIMING $25,000, 4 AND 5-YEAR-OLDS, 1 1/16 MILES
5-2-4-6
We now return to our regularly scheduled programming. #5 Solomon's Choice (5/2) has made decent ground late going against better, albeit in sprints. Still, his closing speed suggests that he shouldn't have much trouble with the extra ground here. #2 Image Maker (2/1), like Solomon's Choice, has raced just twice in his career so far. He rushed up to the lead last out and hung around late in a much-improved effort from his debut. He also showed more touchdown in that race. #4 Uncommon Valor (3/1) has finished second in three of his last four starts, with consistent brisnet figures in the low 70s. He's had his chances against similar, however.
RACE 2: CLAIMING $10,000 (N/W3L), 4-YEAR-OLDS AND UP, FILLIES AND MARES, 5 1/2 FURLONGS
3-4-6-5
It's no fun to pick chalk, but #3 Awesome View (3/5) looms as much the best in this race. She's run at least an 80 in each of her last five starts, while everyone else in the field struggles to get within five points of that mark. This'll be her first start for Kieron Magee, after racing in Florida for a variety of barns. Even if she declines a few points in her first local start, she should have these at her mercy. #4 Thea's Theme (8/1) drops in class and gets Jaime Rodriguez back in the saddle. The last time he rode her, she was a solid second against better with a figure of 72. #6 Minnetonka (4/1) doesn't have a great post, but has plenty of early speed and will likely try to press Awesome View.
RACE 3: MAIDEN CLAIMING $25,000, 3-YEAR-OLDS, 1 MILE
4-6-5-9
#4 Make The Way Clear (7/2) dramatically improved to a career-best mark of 76 last out in his first start for a tag. He's now dropping even further in class. The last time he raced at this distance, he backed up after showing speed, but if he's not used too aggressively early on he should be fine. Charlie Marquez is named to ride, the day after it was announced he's one of the finalists in the Eclipse voting for outstanding apprentice. #6 Mercury Ten (2/1) has never run worse than a 72 in three dirt starts, and made good ground to get second in his first route try last out. This'll be his first start since mid-October. #5 Baltimore Bullet (5/1) has been steadily improving lately and adds lasix for the first time.
RACE 4: CLAIMING $16,000 (N/W3L), 4-YEAR-OLDS AND UP, FILLIES AND MARES, 7 FURLONGS
1-2-5-6
Reminder that with the longer card, there'll be three pick 4s on the card. This race begins the middle one. #1 Torch Carrier (5/1) has won two of three lifetime and has improved drastically with every start. She ran an impressive 78 last out after getting a great stalking trip. #2 Owen's Pleasure (9/5) goes second off a brief layoff for Jamie Ness and closed stoutly last out to lose by less than three lengths. That race was a drastic improvement over her first start for that barn. #5 Frosted Angel (9/2) was well-backed at this level last out, but showed speed and backed up. She had showed better late speed in the past, so we'll see what happens here.
RACE 5: CLAIMING $5,000, 4-YEAR-OLDS AND UP, 6 FURLONGS
6-1-8-4
#6 Pascal Chant (3/1) has been steadily improving in his last few starts. He won at the conditioned level two back with an 81, then earned an 86 when second behind Nashvegas last out. That rival won his third in a row in that race. #1 Bull Shark (4/1) has better figures than his entrymate, with three consecutive marks in the low 80s. Although he's drawn the 10-hole, there's not much speed in this race, so he could very well get to the lead and the rail. #8 Natty Beau (6/1) makes his second start off the claim for Rodolfo Sanchez-Solomon, who had an excellent fall meet. This one had a terrible trip in his last start, and will try to save more ground here.
RACE 6: MAIDEN CLAIMING $25,000, 3-YEAR-OLDS, 1 MILE
3-2-1-6
#3 Jasontakeslong (5/1) ran a huge race last out, his first start for the Anthony Farrior barn. He dueled for the lead and held on to finish second, while the other two horses who were near the pace were well-beaten. He also ran a career-best figure in that race, of 74. #2 Free Square (2/1) also ran a lifetime-top mark last out and also has plenty of early speed. He'll likely try to protect the rail, at the expense of Jasontakeslong. However, he has trouble lasting on the lead. #1 Summer Ash (5/1) comes back to Laurel from Penn National and drops back in for a tag. He ran far and away a career-best race two back, when he earned a 77 going a two-turn mile.
RACE 7: STARTER OPTIONAL CLAIMING $16,000, 4-YEAR-OLDS AND UP, FILLIES AND MARES, 1 MILE
4-2-6-7
#4 Mi Cleopatra and I (2/1) has won three in a row for the aforementioned dangerous Sanchez-Solomon barn. She'll likely rate off her equally dangerous stablemate, #2 Unrequited Love (5/2), who has the most early speed in the field and went gate-to-wire against a similar field two races back. #6 Nana's Shoes (4/1) ran in the upper 70s and low 80s steadily last year, but was in declining form before going on the shelf late last October. She'll take full advantage of the long stretch with her long closing style.
RACE 8: ALLOWANCE (N/W1X), 4-YEAR-OLDS AND UP, 6 FURLONGS
7-4-8-9
Lots of ways to go in a very fun race. #7 Hard to Be Humble (9/2) went gate-to-wire against starter optional claiming types last out despite dealing with steady pace pressure. #4 Tenax (10/1) rated just off the pace last out and got up to break his maiden with a ifgure of 93. That's the same mark Hard to Be Humble earned in his last start, but Tenax will almost certainly be a much higher price. This'll be his class test; he broke his maiden in a $40,000 maiden claimer. #8 American Unity (4/1) ran two great races in a row for Ness and Rodriguez at Parx, lasting on the pace and battling on in the stretch. We'll see if his form can translate here.
RACE 9: ALLOWANCE (N/W1X), 4-YEAR-OLDS AND UP, FILLIES AND MARES, MD-BRED, 1 MILE
2-3-6-1
#2 Mit Mazel (2/1) beat an open n/w1x field last out in impressive gate-to-wire fashion, and was a determined second at this level two races back. Should go out to the lead and not look back. #3 Ghost Maiden (4/1) was well-backed in her first start against winners, and ran a respectable figure of 81 although it was not a visually impressive race. She consistently runs in that range; doing so here would make her a contender for the underneath spots. #6 Lady Fox (4/1) was a bit closer to the pace than usual last out, and it paid off, as she drew off and won with a decent mark of 82. We'll see if Marquez employs that strategy here.
RACE 10: MAIDEN CLAIMING $25,000, 4 AND 5-YEAR-OLDS, 6 FURLONGS
2-4-5-6
Much like Awesome View earlier in the day, #2 Treasure Tradition (2/5) is an imposing heavy favorite. He's run in the 80s in his last two starts, and almost defeated a straight maiden field last out. This a big drop in class for him. #4 Rahmer (9/2) matched his career-top of 77 last out and now races third off the layoff. Has a chance to upset if he keeps improving. #6 Let Me Finish (15/1) drops for a tag for the first time and made mild ground after acting up before his debut last out.
LATEST NEWS