LAUREL PARK PICKS AND PONDERINGS: JAN. 17, 2022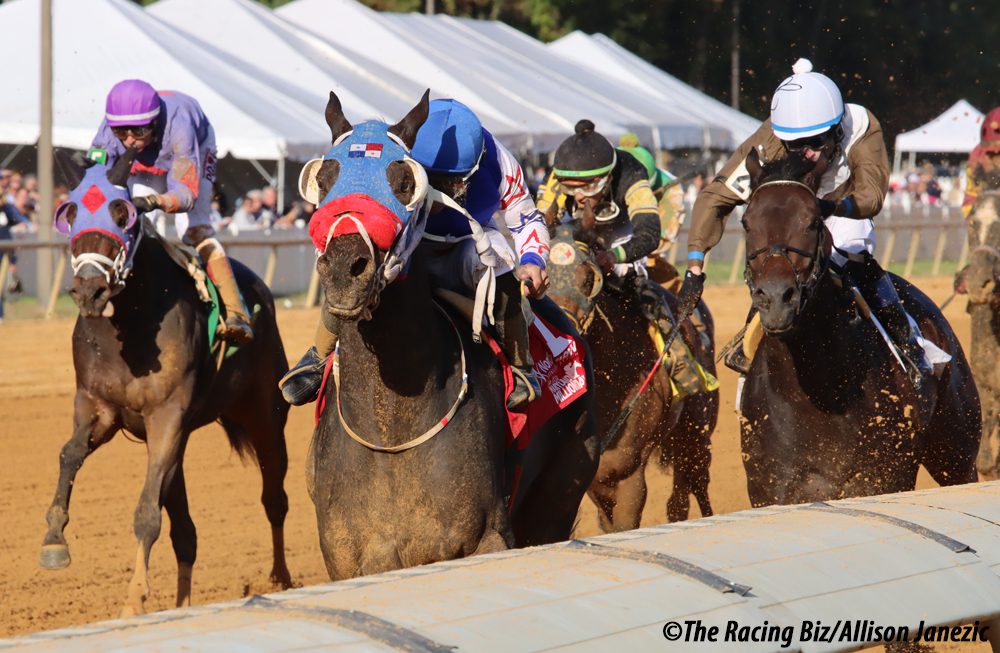 RACE 1: CLAIMING $16,000 (N/W3L), 4-YEAR-OLDS AND UP, 6 FURLONGS
4-3-6-5
There's ten races on the holiday Monday card. The early post time still applies. #4 Rising Perry (5/2) has been very sharp lately, with brisnet figures between 80 and 85 in his last four races. He's had some near-misses at this level during that streak, but he's finally found a field where he's clearly much the best. #3 Top Boss (10/1) has been improving in his last few starts and is one of the main speed threats in the field. He pressed the pace and backed up last time, so he may be used a bit more conservatively by Bryson Butterfly here. #6 Stay In (3/1) has also run in the low 80s in each of his last four starts and ran an improved race last out, where he made a bold move to the lead only to flatten out.
RACE 2: CLAIMING $16,000, 3-YEAR-OLDS, FILLIES, 1 1/16 MILES
5-1-2-3
#5 Middle Island (2/1) flew from way out of it to break her maiden going away last out. That was over a sloppy track, which she'll almost certainly get again here. She was a solid third going a mile two stats back; this is an extra sixteenth of a mile but it shouldn't be that big of an impediment. #1 Chica Rabiosa (8/5) ran a gutsy race on the lead last out but got nailed on a wire. She'll almost certainly set the early pace, but will she have enough for the end? #2 Skylar's Lady (6/1) matched her lifetime top mark with a 65 last out in her first try against winners, but it was a much less visually impressive race. Look for her to rate off the pace and take advantage if anyone falls apart on the lead.
RACE 3: CLAIMING $5,000 (N/W3L), 4-YEAR-OLDS AND UP, FILLIES AND MARES, 1 MILE
1-3-8-7
#1 Mikey's Jewel (8/1) ran a much-improved race on the off track last out, closing strongly down the one-turn mile stretch to get third. She should be right at home at this level. #3 Miss Moreno (8/5) drops in claiming price for Claudio Gonzalez and has shown good tactical speed in recent races. She's in with a chance but might get overbet. #8 Dial Emma Reilly (12/1) just cleared her n/w2L condition with an impressive closing rally at Charles Town and will be rolling late here.
RACE 4: STARTER OPTIONAL CLAIMING $25,000, 4-YEAR-OLDS AND UP, 1 1/16 MILES
4-6-5-2
#4 Tate (1/1) ran a career-top mark of 89 last out, battling gamely in the stretch of a n/w1x allowance, but ultimately settling for second. He has a giant figure edge over this field and should have little trouble with his rivals. #6 Narmer (7/2) broke his maiden in his dirt debut two back, then closed strongly next out to get third at Penn National behind My Man Pots N Pans, a solid allowance/starter optional runner around here. Could upset if he takes another step forward. #5 Bakeneko (8/1) won going away last out despite not changing leads in the stretch, in a race that looked like a matter of who didn't want to win the least. He's in career-best form and has never lost against winners, but might find this field a bit tougher than the one he beat last time.
RACE 5: CLAIMING $12,500, 4-YEAR-OLDS AND UP, 1 MILE
4-1A-7-6
#4 Bellarmine Hall (3/1) has won his last two starts, including a win at Finger Lakes last out in dramatic closing fashion. He has somewhat up-and-down form, but he's a serious contender at his best. #1A Solomonic (4/1) looks like the stronger half of the Kieron Magee entry, coming off an impressive win against open $5,000 claimers with a figure of 84. Magee hits at 23% first off the claim. #7 Clubman (6/1) drops in class from the starter optional claiming level. He's run very competitive figures, but has been visually unimpressive in all of his recent starts. We'll see if the class drop wakes him up.
RACE 6: STARTER OPTIONAL CLAIMING $16,000, 4-YEAR-OLDS AND UP, FILLIES AND MARES, 6 FURLONGS
4-3-8-7
Anthony Farrior has a pair of entrants in this race. I lean towards #4 Tequila Fog (6/1), who got up to win a $12,500 claiming race last out with a strong, wide rally. That was a breakthrough performance for her, as she had been knocking hard on the door against similar types as these without much success. #3 Devilish Affair (12/1) sat the trip and drew off to win against weaker in her first start off the layoff. She's been very consistent lately and has a chance to at least get a piece of the exotics at a decent number. #8 Miner's Gem (4/1) has won four in a row, including an impressive win last out where she dueled and drew off. Breaking from post eight, she might get hung wide on the lead and lose ground, but will be a serious threat if she gets the trip.
RACE 7: ALLOWANCE (N/W1X), 4-YEAR-OLDS AND UP, 1 MILE
4-9-1-8
#4 Friendly Fella (3/1) ships back to Laurel and cuts back around one turn. In his last try at this level around a one-turn mile, he battled all the way and missed by just a head. He's in consistently good form, with a steady string of figures in the low 80s, and will likely be close to the pace. #9 Tiz Mandate's (4/1) downfall is his lack of early speed, but he's closed strongly late and narrowly missed at this level several times recently. He's a strong candidate to round out exactas and trifectas. #1 Ratify (6/1) showed speed and backed up in his first start off a six-month layoff last out. He ran a 93 in victory at Delaware Park before going on the bench; we'll see if he can get closer to that form second off the layoff.
RACE 8: ALLOWANCE OPTIONAL CLAIMING (N/W2X), 4-YEAR-OLDS AND UP, 1 MILE
7-8-3-1
#7 Treasure Trove (9/2) recovered from a bad start to make good ground at this level last out. He didn't win in nine starts last year, but he was facing much tougher fields, including a few graded stakes groups. This is a fairly soft n/w2x field, so he should be in good shape here. #8 Bumperdoo (3/1) has run at least an 87 in each of his two starts since getting claimed by Jamie Ness. He closed to win his first start for Ness, and might've won last out if he didn't have traffic. #3 Boss Logic (5/2) set the pace and repelled all challenges to win a n/w1x race last out. He's the main speed threat in this race.
RACE 9: ALLOWANCE OPTIONAL CLAIMING (N/W1X), 3-YEAR-OLDS, FILLIES, 6 FURLONGS
7-3-8-1
#7 Money's Worth (3/1) improved sharply to break her maiden last out after a good stalking trip. #3 She is Wisky (5/1) has similar form, having run an 85 in her maiden-breaking win in early November. I prefer Money's Worth a bit, as she's raced just twice and is more recently raced. However, both of them are serious contenders. #8 Mama G's Wish (4/1) had a nine-race losing streak to start her career, including two stakes placings. The lightbulb has come on in her last two starts, with back-to-back victories. She's getting another class test here, stepping up into allowance company after winning against claimers. She'll have to show a bit more of a late punch to have a serious chance.
RACE 10: CLAIMING $16,000 (N/W2L), 4-YEAR-OLDS AND UP, FILLIES AND MARES, 6 FURLONGS
5-6-1-2
#5 Fortes (9/2) drops to a n/w2L claiming race for the first time. She stopped badly going a mile last out, but ran a career-best mark of 72 when going seven furlongs two races back. #6 Rapidamente (5/1) closed well in each of her two recent starts at the level. She's had a brief freshening since her last start on November 21. #1 Special Freedom (7/2) broke her maiden impressively with a figure of 76 two races back, and drops to a n/w2L race for the first time.
LATEST NEWS