Laurel Park picks and ponderings December 27, 2021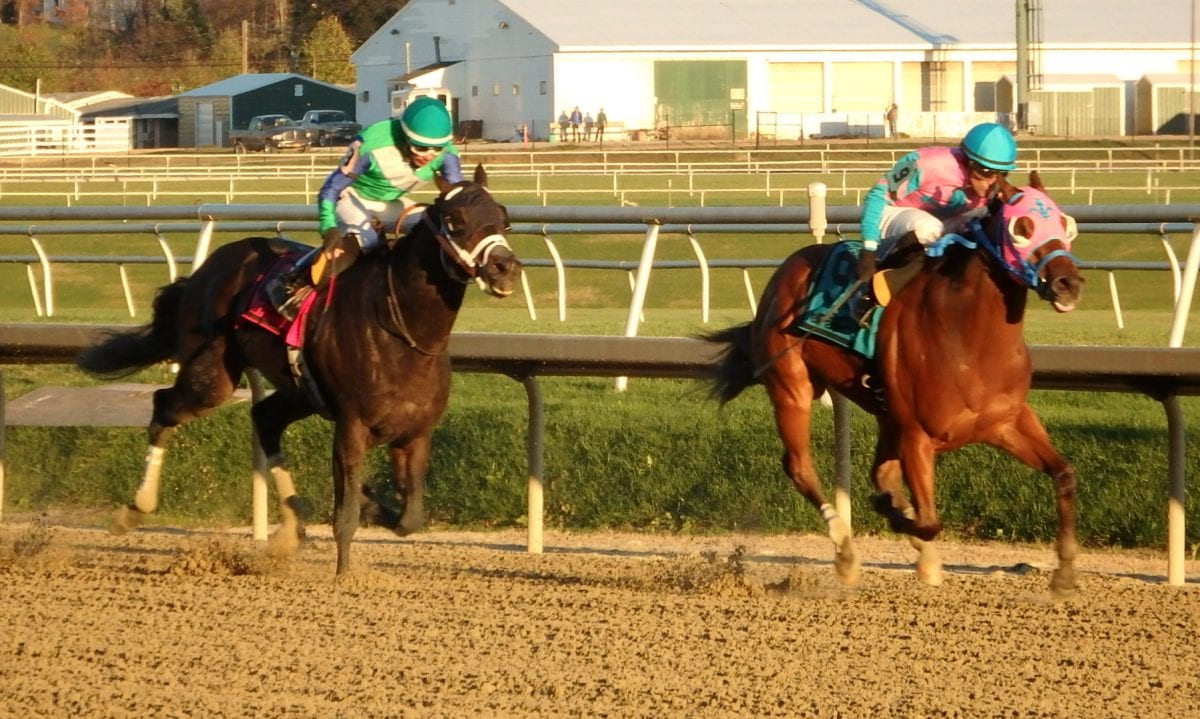 Horses race down the stretch at Laurel Park. Photo: The Racing Biz.
In which we pick the races from Laurel Park each day…
Post time: 12:25 p.m.
Carryovers: Rainbow Jackpot Pick 6 — $10,645 Super High 5 — $2,170 Late Pick 5 — $0
ANALYSIS
RACE 1: CLAIMING $16,000 (N/W2L), 3-YEAR-OLDS AND UP, 1 1/16 MILES
8-9-3-4

Lots of full fields on the special holiday Monday program. #8 Striking a Pose (5/2) has had many tries against winners, but most of those races were against better horses than he'll see here. He closes well in two-turn races, but doesn't have any early speed. Will try to pick up the pieces in the stretch after his rivals tire out, in his third start for the Jamie Ness contingent. #9 Assembly Point (6/1) was freshened up after a disastrous start in his first try against winners at Saratoga, and battled well after getting constant pace pressure. The other horse involved in the duel lost by almost twenty lengths. #3 Goldie's Boy (12/1) has improved in his last three dirt starts and has never lost against winners on this surface. He was in the midst of a move last out when he was interfered with and unseated the jockey.
RACE 2: STARTER OPTIONAL CLAIMING $25,000, 3-YEAR-OLDS AND UP, FILLIES AND MARES, 6 FURLONGS
8-4-3-10
#8 Mending (4/1) crushed the field at this level last out, and earned a career-top figure of 83. She rated off the pace after breaking from the outside post in that win, so the draw shouldn't be a big impediment for this speedster. #4 Awfully Foxy (8/1) has closed strongly and just missed in each of her last three races. Might not have enough early speed to win but can hit the board at a decent number. #3 Behind the Couch (5/1) is another close-but-no-cigar type who has spent time between here and New York. She soundly beat a similar field with a great trip in July, but is generally a better contender for an underneath spot. 
RACE 3: CLAIMING $5,000 (CONDITIONED), 3-YEAR-OLDS AND UP, 6 FURLONGS
6-5-1-4
#6 Big Hambone (3/1) had some traffic trouble last out, but ran on well and finished fourth. He couldn't get to the lead thanks to his poor break; he tends to race much better when he's on the lead. #5 Championship Alley (5/2) was inexplicably dull last out, but consistently ran in the upper-70s prior to that race. It's a bit of a gamble betting him at low odds off that kind of race. However, if he bounces back, he'll be tough to beat. #1 Won Dozen Banks (8/1) ships from West Virginia and has speed from the inside. 
ANALYSIS
RACE 4: ALLOWANCE (N/W1X), 3-YEAR-OLDS AND UP, MD-BRED, 1 MILE
8-5-2-6
#8 Can't Pass It Up (8/1) cuts back around one turn, after a disappointing try at this level going two turns last out. He had been competitive against better two races ago, narrowly missing in a n/w2x race at 19/1. His closing style should play well around one turn. #5 Stone Courageous (6/1) made a decent bid in his first start off the layoff last out, and should improve with the race under his belt. The longer distance is a bit of a question mark, but he did run a 90 going 1 1/16 miles last year. You can draw a line through his most recent start at a mile, as he lost all chance at the start. #2 Maximus Midani (5/2) was a fast-closing second at this level last out. He outkicked Can't Pass It Up in that race. He's also won two of his last three starts at a one-turn mile. 
RACE 5- CLAIMING $10,000 (CONDITIONED), 3-YEAR-OLDS AND UP, 1 MILE
4-2-10-6
#4 Coulda Had It (8/1) tried to chase down a loose leader last out, and while he couldn't quite catch him, he ended up a solid third, beaten 1 1/2 lengths by that leader. He's been close at this level several times lately and hasn't run a bad figure within his last few. #2 Imtheprince (6/1) was claimed out of his last start at Churchill Downs by Anthony Farrior. He's run between a 75 and a 78 every time within his last three starts. #10 Al Brown (6/1) drops from the starter optional claiming level, where he had been visually unimpressive, but consistently ran figures in the upper-70s. Will be tough if he can get his usual stalking trip. 
RACE 6- STARTER ALLOWANCE $5,000, 3-YEAR-OLDS AND UP, 6 FURLONGS
7-5-9-10
#7 Super Garner (3/1) won nine races in a row this year, including one here in gate-to-wire style. His streak was snapped at Finger Lakes last out, when he couldn't get to the early lead. He's one of the fastest horses early on in this race, so if he can hustled to the front in time, he's got a big chance. Should he win, he'd become the seventh horse in North America to win ten races this year. #5 Getoffmyback (4/1) struggled in his first two starts for the Claudio Gonzalez barn, but has rebounded with game efforts in his last two starts against slightly weaker. He has good tactical speed and will take advantage if Super Garner tires. The same is true of #9 Kingston Pike (5/2), who has won two in a row, including a victory at this level last out. He's had some very good workouts since that November 19 win. 
ANALYSIS
RACE 7– MAIDEN CLAIMING $16,000, 2-YEAR-OLDS, FILLIES, 7 FURLONGS
1-3-7-2
#1 Shemademelucky (3/1) was terrible going two turns last out, but had shown aptitude at shorter distances in her prior races. Should flourish around one turn. #3 Summer Music (5/1) has been rapidly improving lately and made solid ground to just miss third at 33/1 last out. #7 She'srunninghappy (6/1) chased Summer Music last out and finished about two lengths behind her. It was a contrast from her debut, where she showed speed and faded. The fact that she ran on late is encouraging. 
RACE 8 — ALLOWANCE OPTIONAL CLAIMING (N/W2X), 3-YEAR-OLDS AND UP, 5 1/2 FURLONGS
1-6-5-2
#1 Hunter Joe (9/2) has really come into his own in his last two starts, rapidly moving through his conditions with back-to-back open-length wins. He went gate-to-wire to break his maiden, then came from behind to win a first-level race last out. This will be his class test. #6 Alpha Chi Ro (4/1) has won four of his last six races, and will likely get a good trip pressing the pace on the outside. He was claimed out of his last start by Rodolfo Sanchez-Solomon, who is 23% with that angle. #5 Ziggy Mon (2/1) has won twice in a row at this level with figures in the 90s, and has been a clear leader at the first point of call in his last four starts. Could be tough on the lead, but won't offer much value. 
RACE 9 — MAIDEN CLAIMING $25,000, 2-YEAR-OLDS, 1 MILE
5-4-3-6
#5 Papa Charles (7/2) closed strongly in his first try at a mile, getting third with a five-wide bid. The winner of that race, Run on the Trail, went gate-to-wire at 1 1/8 miles next out. #4 Jasontakeslong (4/1) has shown promise in his three starts, including a figure of 72 on debut, but he's had trouble breaking from the gate in his last two races. He's making his first start for the Anthony Farrior barn here; maybe Farrior's got his gate issues straightened out. #3 Full of Mischief (6/1) showed speed and faded, with a much-improved figure, in his first dirt start last out. Drops for a tag for the first time for Mike Trombetta.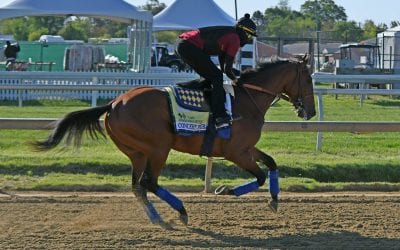 The fourth Kentucky Derby future wagering pool will kick off Friday, and 2yo champ Forte is the top individual choice on the morning line.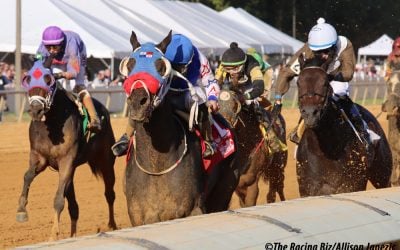 We provide full-card picks and analysis for this afternoon's races at Laurel Park.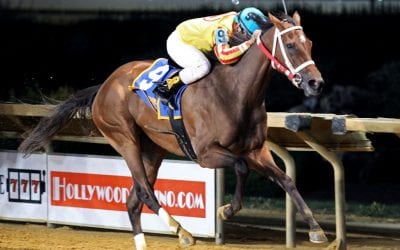 We provide picks and analysis for this evening's card at Charles Town Races.