CORDMAKER ROMPS TO MATCH SERIES TITLE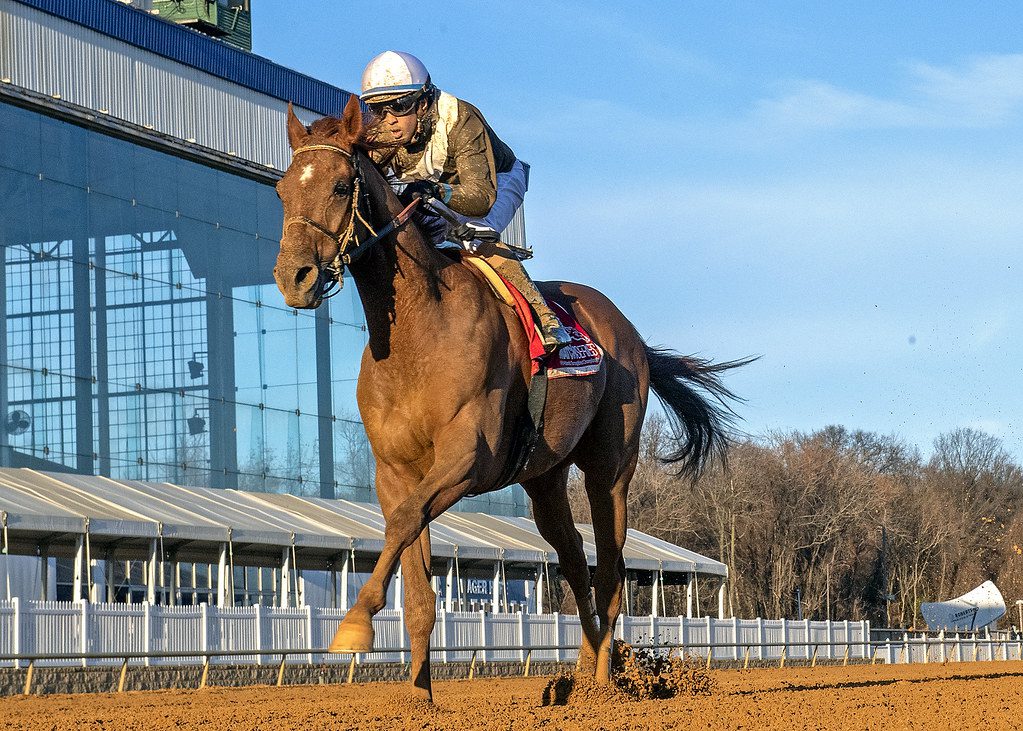 Press Release

December 28, 2021
Hillwood Stable's Cordmaker had sealed the overall title in the 2021 Mid-Atlantic Thoroughbred Championships (MATCH Series) earlier on the Dec. 26 card at Laurel Park, and he ended the series emphatically with a strong victory in the $100,000 Robert T. Manfuso Stakes in the final race of the series.
Ridden by Victor Carrasco for trainer Rodney Jenkins, favored Cordmaker was rated inside for most of the 1 1/16-mile Manfuso. He was guided outside entering the stretch and reeled in the leaders—Workin On a Dream and Shackqueenking, who finished second and third, respectively—to capture his third stakes win in this year's MATCH Series.
Cordmaker, a 6-year-old Curlin gelding bred in Maryland by the late Robert Manfuso and Katy Voss, who operates a stable at Laurel, is the only horse to have had competed in all six races in his division (3-Year-Olds and Up Long—Dirt) this year.
"It's all so special," said Ellen Charles, who owns Hillwood Stable, a prominent Maryland racing and breeding operation. "Bob (Manfuso) was always my friend. I think Cordmaker is my best horse, an amazing horse who is a great character in the barn. He knows he's special, and he has given us wonderful, wonderful wins. It's just great to be a part of this."
It was the 12th victory in 34 starts for graded stakes-placed Cordmaker, who is approaching $800,000 in earnings. His MATCH Series scores came in the Manfuso, the Richard Small Stakes at Laurel, and the Victory Gallop Stakes at Colonial Downs. He also won the Harrison Johnson Memorial at Laurel, where his is stabled, earlier in 2021.
"Cordmaker is very special," said Carrasco, who has ridden Cordmaker in all of his starts this year and some before that. "We had a good trip right off the speed, and once we turned for home and he got some daylight, he was gone. It's awesome. He's a good horse and I think it's even better when you have a home-track horse winning the series. I'm just happy for Mrs. Charles, Mr. Jenkins, assistant trainer Eveline (Kjelstrup) and the whole crew in the barn."
One race earlier on the post-Christmas card, Miss Leslie cruised home nearly four lengths clear to win the $100,000 Carousel Stakes. Ridden by Angel Cruz for trainer Claudio Gonzalez, Miss Leslie was towards the rear of the field before rallying to take a short lead over Artful Splatter in upper stretch before drawing away.
Miss Leslie, owned by BB Horses, now has seven wins from 16 career starts and earnings of $385,650. The win wasn't enough to give her a MATCH Series title; the distaff-long-on-the-dirt division went instead to Artful Splatter, She finished with 25 points, just ahead of Miss Leslie's 23.
MATCH Series division winners:
Male sprinters: Laki (21 points)
Female sprinters: Hello Beautiful (34)
Male routers: Cordmaker (49)
Female routers: Artful Splatter (25)
LATEST NEWS