Laurel Park picks and ponderings December 17, 2021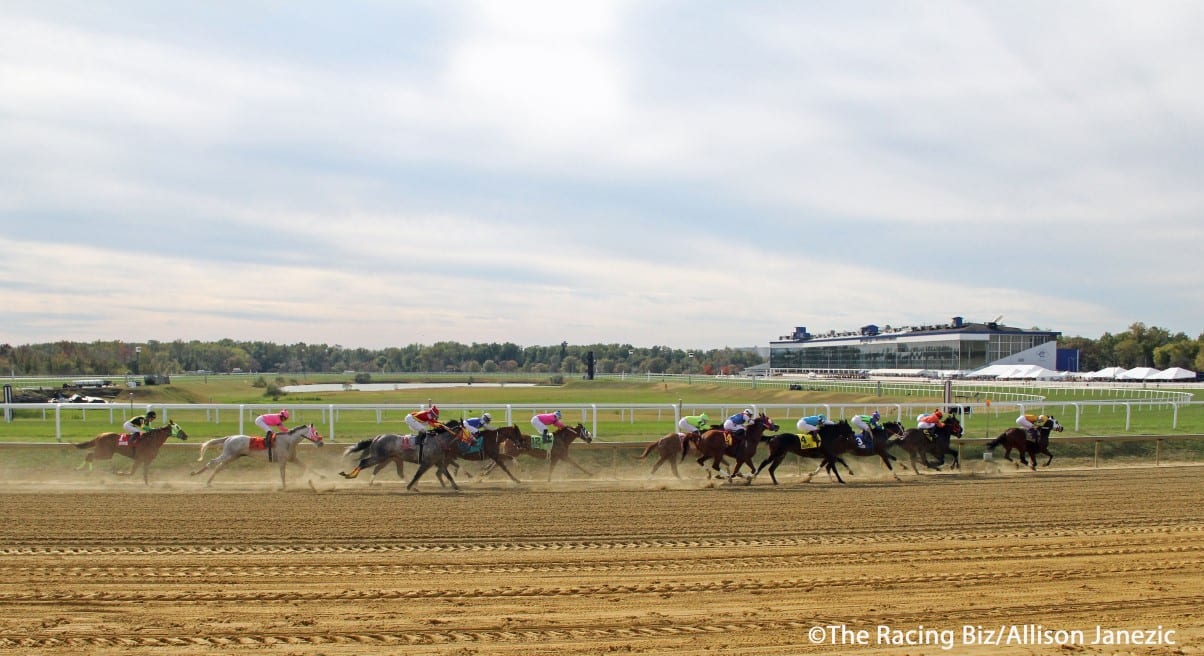 Horses round the turn at Laurel Park. Photo: Allison Janezic.
In which we pick the races from Laurel Park each day…
Post time: 12:25 p.m.
Carryovers: Rainbow Jackpot Pick 6 — $4,530 Super High 5 — $0 Late Pick 5 — $5,815
ANALYSIS
RACE 1: STARTER OPTIONAL CLAIMING $25,000, 3-YEAR-OLDS AND UP, FILLIES AND MARES, 1 MILE
6-2-8-4
More big fields all over the place on today's 9-race card. #6 Ghost Maiden (7/5) finally broke through with a very impressive maiden win last out, stalking the pace and drawing off to win with a brisnet figure of 87. She was inching dangerously close to "sucker horse" territory before that race, but if she runs her usual race here, she'll be very tough regardless. #2 Chicago River (12/1) also comes in off a maiden-breaking win, when she was pressed on the pace and drew away easily. This will be just her third start. Look for her to be put into play early. #8 Factor In (7/2) makes her first start for Brittany Russell after about a ten-week break. She rallied and just missed last out at Delaware Park, but was put up as the winner thanks to a disqualification. Recent workouts have been very strong. Looking for more improvement as she switches back to dirt. 
RACE 2: MAIDEN CLAIMING $10,000, 2-YEAR-OLDS, FILLIES, 6 FURLONGS
2-7-3-8
Jamie Ness has entered a pair of runners here. Leaning towards #2 Holy Pink (9/5) as the stronger half of the coupled entry. She was well-bet at this level last out, and closed ground well and missed by just a neck while improving her figure by five points. Hoping she continues to progress. #7 Heliacal Rising (6/1) has improved in her last two races and made good ground in the stretch last out to finish just a half-length behind Holy Pink. Could be sitting on a career-best race. #3 Irish Chaos (8/1) made mild ground against slightly better on debut, and could rally for an exotics spot at a price. 
RACE 3: STARTER OPTIONAL CLAIMING $16,000, 3-YEAR-OLDS AND UP, 7 FURLONGS
8-4-3-2
#8 Rough Sea (7/2) made a game rally from behind to get up for third against a very similar field last out. He earned a figure of 93 in that race, representing the second race in which he's improved sharply. He's got some of the best late pace figures in the race, and the distance should suit him well. #4 No More Talk (8/1) rallied from behind to win the Maryland Million Starter Handicap over a track that favored speed and the rail two races back. He ran an improved race on the figures last out, but was visually unimpressive and was well-beaten by Rough Sea, among others in here. The price will almost certainly be right. #3 Hard Fought (9/2) goes first off the claim for Kieron Magee and has the most early speed in the field. 
ANALYSIS
RACE 4: CLAIMING $10,000 (N/W2L), 3-YEAR-OLDS AND UP, 7 FURLONGS
3-5-8-4
#3 Panna Mine (7/2) broke his maiden impressively second time out at Mountaineer last out, after getting in a speed duel, easily dismissing his dueling partner, and drawing away. He improved his figure ten points from his debut, up to an 80. Gets a class test here, having won a $4,000 maiden claimer last out. Still, he'll be tough if he runs back to that race. #5 Crack the Safe (5/1) went back to dirt last out and made what looked like a promising move in the stretch, only to flatten out late. His figures remain consistently strong, having run in the 70s in his last four starts between dirt and grass. #8 Crying for More (9/2) goes first off the claim for Dale Capuano, after a near miss against $5,000 n/w2L types last out. He battled on the lead throughout and lost to his dueling partner by a nose. Stays around one turn, which should help.
RACE 5 – STARTER ALLOWANCE $5,000, 3-YEAR-OLDS AND UP, FILLIES AND MARES, 7 FURLONGS
11-7-2-4
#11 Joyful Noise (8/1) disappointed in her last try at this condition, but just missed in her last two starts against starter optional claiming types. Jumps back up in class and has very competitive speed figures along with top late pace marks. Worth a look in a race without a standout. Nik Juarez doesn't ride here too much, but he's got the call on #7 Princess Georgia (9/2) for his dad, Calixto. She drew off to an easy win in her last start on dirt, a two-turn contest against Jersey-breds at Monmouth Park. She's raced well at six furlongs, s seven furlongs shouldn't be much of an issue for her, with her sweeping closing style. #2 Sammie Sunshine (6/1) looks for a rebound after two consecutive disappointing races. She ran in the 80s steadily earlier in the year and will be a threat on the early lead. 
RACE 6: MAIDEN CLAIMING $25,000, 3, 4, AND 5-YEAR-OLDS, FILLIES AND MARES, 6 FURLONGS
9-11-4-7
#9 Birthday Wish (4/1) was favored at this level last out, and made decent ground in the stretch after a wide trip. Outside of a disappointing race at a mile, she hasn't run a bad race on dirt. #11 Spanikopita (3/1) opened up a big lead in her debut, on grass in July, but flattened out. She's had some time off since that race, and while she doesn't have an ideal post for a horse with her style, she still could get to the front in a race without much speed. Gets a rider upgrade to Horacio Karamanos. #4 Bellswillberinging (6/1) mercifully cuts back around one turn. She ran a career-best race when she finally dropped in for a tag in a sprint two races back. 
ANALYSIS
RACE 7: MAIDEN CLAIMING $40,000, 2-YEAR-OLDS, FILLIES, 7 FURLONGS
4-7-8-5
#4 Isabella's Glory (4/1) made a solid move to the lead and just missed going a mile last out. She'll likely be rolling towards the end of this one. #7 Miss Foxann (9/5) made her career debut at this level, and was a clear-cut second after rating just off the pace. Will try to move forward off that effort. #8 Always Mia (9/2) makes her debut for Claudio Gonzalez and has a strong, albeit brief, worktab. 
RACE 8: ALLOWANCE (N/W1X), 3-YEAR-OLDS AND UP, FILLIES AND MARES, 1 1/16 MILES
7-2-1-5
The top two finishers in the 7th race on November 14, #2 Award Wanted (8/5) and #7 Mit Mazel (5/2), both reappear here. I'll give the edge to Mit Mazel, who has the most early speed in the race, although Award Wanted got up over that rival last out and will likely sit the trip. However, Mit Mazel will probably go off at a better price and will almost certainly be unopposed on the lead. If she is, she could set fractions that will make her very tough to catch. #1 Sweet Home Dixie (4/1) has chased and just missed at this level several times this year, including a nose defeat last out. Her figures have steadily gotten better, with marks of at least 82 in each of her last three races. 
RACE 9: CLAIMING $10,000 (N/W2L), 3-YEAR-OLDS AND UP, FILLIES AND MARES, 7 FURLONGS
2-10-1-6
#2 Torch Carrier (3/1) made her dirt debut last out, and held on for second in a three-horse photo. The winner of that race, Long Distance Love, is riding a three-race win streak. This one improved eight points from her career debut second time out. #10 Windrush Kitten (8/1) takes a career-low drop in class and ran a solid 68 last out despite some traffic trouble. #1 Tuff But Fair (7/2) cuts back around one turn and is also taking a career-low drop in class. She'll be on or near the pace on the inside.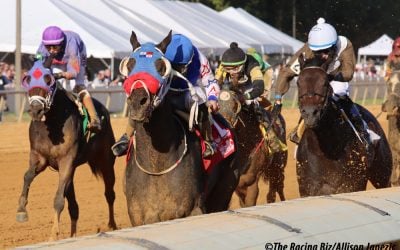 We provide full-card picks and analysis for this afternoon's races at Laurel Park.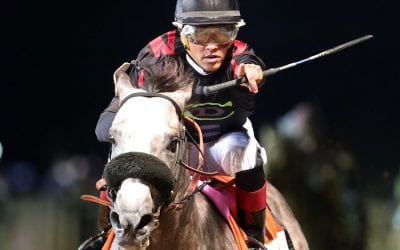 We've got Charles Town picks and preview today as the track presents its Friday card!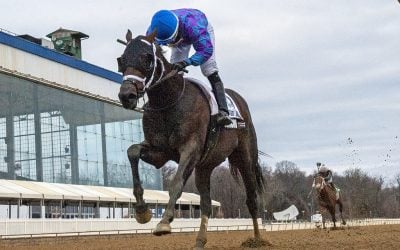 Which Laurel Park jockeys are off to hot starts? Asking for a friend; no, wait, actually asking for the betting public. Answers within…