PEGASUS TO BE LAST CALL FOR KNICKS GO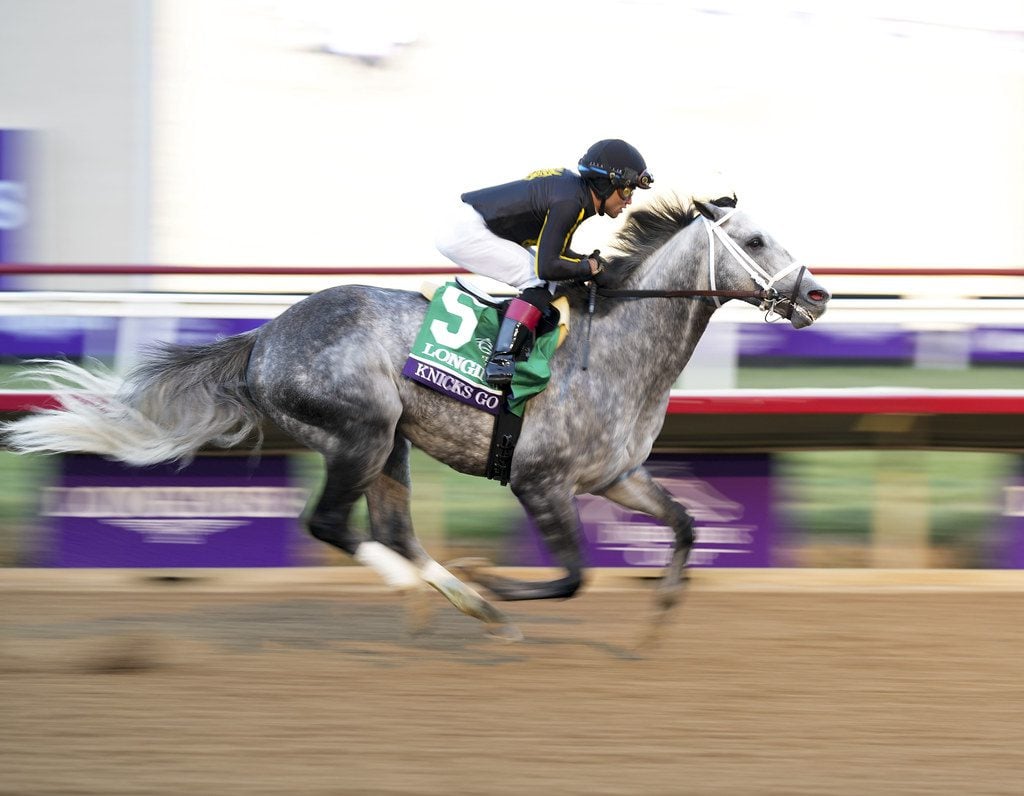 Press Release

December 14, 2021
Having built one of the largest stables in America, trainer Brad Cox doesn't have much time to reflect on his escalating accomplishments. But he acknowledges thinking a lot about Breeders' Cup Classic (G1) winner Knicks Go's final career start coming in Gulfstream Park's $3 million Pegasus World Cup Invitational (G1) on Jan. 29.
In his first start since taking the 2020 Breeders' Cup Dirt Mile (G1), Knicks Go won the 2021 Pegasus to kick off a season that saw him go 5-for-7. The only defeats came in one-turn races: New York's Metropolitan Mile (G1) and the Saudi Cup.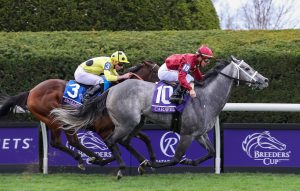 Caravel, the Pennsylvania-bred mare who pulled a 42-1 shocker in the Breeders' Cup Turf Sprint, earns the nod as the Top Midlantic-bred of 2022.
"It's kind of weird, knowing this is going to be his last run," Cox said. "We're enjoying still having him in the barn. Hopefully we're going to have prepared to the best of our ability when we lead him over there Pegasus Day. It's going to be very exciting. It's going to be bittersweet, but excited to give him one more run. Obviously, we hope he goes out a winner and we'll definitely be sorry to see him go."
Until the $6 million Breeders' Cup Classic at Del Mar, the 2021 Pegasus was the most lucrative stakes that Cox had ever won. Knicks Go won't be his first champion, but he almost assuredly will be the trainer's first Horse of the Year.
Cox said that in the 1 1/8-mile Pegasus he just wants "to see more of the same from him that we've seen the last two years."
Knicks Go had his second workout since the Breeders' Cup on Sunday at the Fair Grounds, working a half-mile in 49 4/5 seconds.
"It's icing on the cake for sure," Cox said of the Pegasus, "because he's delivered in a big way over the last few years – actually his whole career, what he accomplished at 2 as well. It will be neat to get one more run in him at the age of 6. He certainly doesn't look like a horse needing any time off or anything. He was let down a little bit for around five days at Taylor Made just for inspection for breeders to come over and look at him. But he was ready to get back and go to work, and hopefully it is icing the cake with the Pegasus."
The "Go" part of the horse's name has proven fortuitous. Knicks Go indeed is a horse who stays on the engine.
"He's on the go, no doubt about it," said Cox, who assumed training Knicks Go for his 4-year-old season. "He's just a really cool horse, he really is."
While Knicks Go — a son of Haskell (G1) winner and Belmont Stakes (G1) runner-up Paynter bred in Maryland by Angie Moore and currently ranked the Top Midlantic-bred — might not have the most fashionable pedigree, Cox believes that is countered by being a "throw-back" horse. He notes that Knicks Go won Grade 1 races at 2, 4 and 5, while winning two Breeders' Cup races and finishing second in the Juvenile — and could add another Grade 1 at age 6.
"And he's got really what was everybody is looking for: speed," he said. "I hope he gets an opportunity to get some top mares. Because he's got heart, determination, and speed, and hopefully he's set up for a big stallion career."
"I thought [Gulfstream] going a mile and an eighth, would benefit his style," Cox said of the Pegasus. "He runs the turns really well; we've seen that over the last year-plus. He does like that (two-turn) configuration of the mile and an eighth there at Gulfstream. Hopefully he'll get a good set up and be effective like he was last year. We know him a little better now than we did last year, and he's been super consistent.
"He kind of puts them away through the far turn, is where he gets his separation. People have to go all in. They go into chase mode, and they can't get to him while he's still cruising. Speed, that's his weapon. Horses are going into chase mode probably three-quarters of a way through the race, and he's still on cruise control."
LATEST NEWS