MD-BREDS STEAL BREEDERS' CUP SPOTLIGHT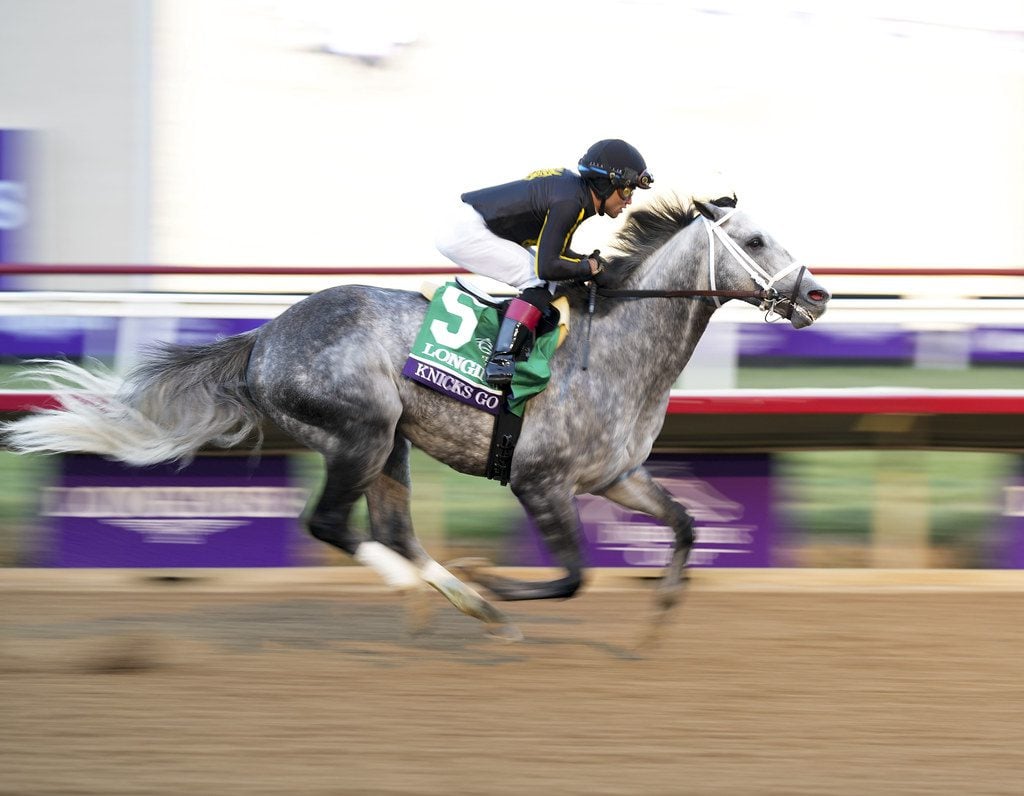 The win in the $6 million, 1 1/4-mile Breeders' Cup Classic capped off a year that was a bit up-and-down for Knicks Go but now almost certainly will garner him Horse of the Year honors. After starting the year with a dominant win in the Grade 1 Pegasus World Cup, he'd followed that with two disappointing fourth-place finishes, in the Group 1 Saudi Cup and then again in the Grade 1 Metropolitan Handicap at Belmont Park.
But he'll finish the year, and his career, on a four-race win streak, including another Grade 1 win, in the Whitney. Knicks Go won Grade 1 events at two, four, and five years old.
"It had been a rough time when he was three years old, but we overcame the hard year and then turned the corner and then he became a special horse," said Jin Woo Lee of the Korea Racing Authority, owners of Knicks Go. "And actually winning the Breeders' Cup was the ultimate goal at the beginning of the year and we achieved that win, so he can go off feeling good and we want to say thank you to everybody."
Under regular pilot Joel Rosario, Knicks Go brushed with a rival leaving the gate before quickly moving to his accustomed spot at the front of the pack. Though he set fast fractions – 45.77 seconds for the opening half-mile, 1:10.04 for three quarters – he was never challenged and had plenty in reserve in the lane.
Knicks Go won by nearly three lengths in 1:59.57 for the 1 ¼ miles – two-fifths off of Candy Ride's 2003 track record of 1:59.11.
"[H]e was very comfortable," Rosario said. "He looked like he was really enjoying what he was doing up there. I can see the gleam in his eye. He was just so relaxed, so calm, and he just, he's an unbelievable horse."
Knicks Go, a 10-time winner in his career who earned nearly $8.7 million, was bred in Maryland by Angie Moore. He's a son of Paynter out of another Maryland-bred, the multiple stakes-winning Outflanker mare Kosmo's Buddy, who beat the boys to win the 2008 Maryland Million Turf Sprint.
Trainer Brad Cox, for one, thinks Knicks Go will have what it takes in the breeding shed.
"I think the speed he has, I mean, it's, he's built for American racing on the dirt," Cox said. "That's what he's done and I'm hopeful that he'll pass that on to his offspring… I think he's got everything it takes to be a stallion… He's traveled around the world and he's a very tough, durable horse. He's extremely sound. And I think we're in a day and age where horses go to stud so early and he's a little bit of a throwback horse in that he's raced at 4 and 5 and raced as much as he has. So very proud of what he has accomplished this year and ending last year and hopefully he'll pass it on as a stallion."
While no one could really profess to be surprised at Knicks Go's Classic victory, Aloha West's score in the Sprint was a bit of a different matter: he went off in the 11.30-1 fourth choice in a race widely expected to be a coronation for 1-2 favorite Jackie's Warrior.
But Jackie's Warrior got pressed into defeat by Special Reserve, that duo throwing down an opening quarter-mile of 21.91 seconds and a half in 44.11.
"He broke really well and was running easy early on," said Rosario, who rode Jackie's Warrior. "Sometimes it is just hard to win all the time."
While those two were duking it out up front, Aloha West was content to bide his time in sixth and seventh early.
"I knew there was a lot of speed in the race and I had none, so I knew I was going to come from the back," said winning rider Jose Ortiz.
With a furlong to go, Aloha West was still sixth, and still four lengths behind the leader, Dr. Schivel. But he was about to unleash a late rally along the outside.
"My horse, he gave me a great kick," Ortiz said. "And when we hit the wire, honestly, I don't ride here on a daily basis, so I just ride hard, three or four jumps to the wire and honestly I didn't — I thought I had it, I wasn't sure."
The chart margin was a nose, with Aloha West edging Dr. Schivel. It was another length-and-a-half back to Following Sea in third. Jackie's Warrior faded to sixth. Running time was 1:08.49.
Aloha West was bred in Maryland by Katy Voss and the late Bobby Manfuso. He's by Hard Spun out of the Speightstown mare Island Bound. Voss and Manfuso sold him for $160,000 at the Keeneland fall yearling sale in 2018, but he didn't reach the races until this past February, as a four-year-old.
Since that tardy debut, he's changed ownership – Aron Wellman's Eclipse Thoroughbred Partners purchased him privately from Gary and Mary West after his second start – and gradually moved forward, winning three allowance races before running second last out in the Grade 2 Phoenix at Keeneland.
Wellman gives the credit to trainer Wayne Catalano.
"He only ran for the first time I think in February this year as a four-year-old, and 10 months later he's a Breeders' Cup Sprint champion," the owner said. "That takes master horsemanship to be able to accomplish something that monumental."
"The horse is an unbelievable horse. He runs incredibly, as everybody knows. He trains like lights out," Catalano said. "And all the way up to this race I told Aron he's training like you want a horse to train. That's all you can ask. When they come in and train like that, I'm like, we're on."
Aloha West also has a talented younger half-sister. Moquist, a daughter of Nyquist, cost Maury Povich's Mopo Racing $50,000 at the 2019 Fasig-Tipton Midlantic fall yearling sale. Since reaching the races in September, she's run off four consecutive victories and now is pointed to stakes company.
This year marked the third consecutive year in which a Maryland-bred won at the Breeders' Cup, Sharing (2019) and Knicks Go (2020) having done so the prior two years. It also was the first Maryland-bred Classic winner since all-time great Cigar won the big race in 1995.
LATEST NEWS