Laurel Park picks and ponderings November 25, 2021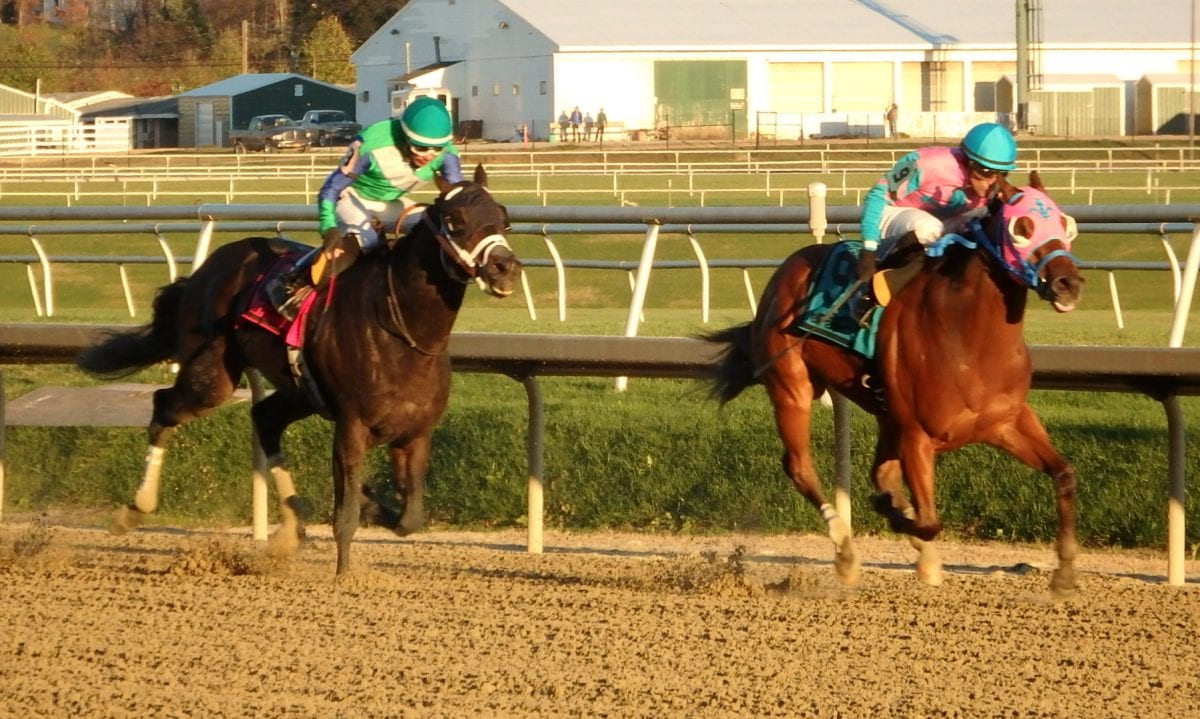 Horses race down the stretch at Laurel Park. Photo: The Racing Biz.
In which we pick the races from Laurel Park each day…
Post time: 11:25 a.m. Happy Thanksgiving!
Carryovers: Rainbow Jackpot Pick 6 — $1,532 Super High 5 — $0 Late Pick 5 — $0
ANALYSIS
RACE 1: CLAIMING $16,000, 3yo and up, 5 1/2 furlongs
10-2-5-3
Plentiful early speed in this contest may compromise the chalk and bring a runner like #10 So Dialed In (6-1) into play. This one has the tactical ability to be close enough and generally is running late. He's coming back on shortish rest in his first try in the Sillaman barn — a nice vote of confidence… Favored #2 Algebraic (2-1) was beaten favorite versus better in last and will have to duke it out with other early types… #5 Spitball (8-1) should be running late and the switch to Karmanos may be a plus; this one's been put in some tough spots and gets class relief today…
RACE 2: CLAIMING $8,000, 3yo and up, 5 1/2 furlongs
1-7-6-3
Speed from the rail has often been deadly this meet, and that should stand #1 Bull Shark (3-1) in good stead as he drops off a credible effort versus better… #7 Baptize the Boy (9-2) makes his way down the class ladder after finishing just behind Bull Shark in last. In his better efforts, he's running at the end… #6 Fort Fortitude (2-1) drops into an appropriate spot here for his first start in two months, but his better recent tries have come on the lawn…
RACE 3: Maiden claiming $10,000, 2yo fillies, 5 1/2 furlongs
9-1-10-5
They'll have to run down controlling speed #9 Treat for the Eyes (3-1), and this tepid group gives this one her best chance yet to graduate. She attracts Toledo in the irons… #1 Holy Pink (5-2) stuck with it OK on debut and can improve second time out… #10 Caribbean Flow (6-1) was a decent second in last, but none of seven to run back has won…
ANALYSIS
RACE 4: Starter allowance $5,000, 3yo and up, 1 1/8 miles
3-2-1-5
The drop into easier company should do #3 Titan's Will (2-1) some good; he's been running, mostly pretty decently, against better and should be forwardly placed from the jump… #2 Unequivocal (5-1) has competed against and even beaten similar but will need a bounceback today for trainer Tony Aguirre… #1 Lost My Vowcher (5-2) has been claimed back a couple of times on the page by trainers — usually a good sign — and new trainer Bailes opts to protect him in this spot, also a good sign…
RACE 5: Maiden special weight, 3yo and up, 7 furlongs
6-10-9-4
Kinda feel like #6 Treasure Tradition (3-1) has some pretty good excuses for his off-color races and a couple of good tries in the bank. Last out he was a good second, and all five to run back have finished in the exacta next out, including two winners…#10 Bakenko (8-1) makes his third start off a six-month layoff and may be poised to move forward. Interesting to see trainer Gonzalez move him up into the special weight ranks… #9 Heaven's Got Fire (7-2) gave a good account of himself last out against Delaware maidens and figures to be a forward factor…
RACE 6: Claiming $5,000 (beaten), 3yo and up, One mile
3-6-8-5
Trainer Jamie Ness has made a lot of money over the years by shaking all the significant pay days out of horses and then dropping them in cheap, and that looks to be what he's doing with the comebacking #3 Late Breaking News (1-1). That record makes us feel reasonably OK about him landing in this spot, but if the combination of a precipitous drop and long layoff give you pause, we can't fight you… #6 My Sacred Place (10-1) will likely look to control this one up front, and if the fave doesn't have it, he might stay on 'til the end… #8 Percher (5-1) was up late to beat our second choice last out but will need help from the pace, which may not materialize this time…
ANALYSIS
RACE 7: Maiden claiming $40,000, 2yo fillies, 7 furlongs
1-11-10-7
Feels to me like that first out, sprinting on the grass, was a bit of a glorified workout for #1 Circle Home (5-1). The Trombetta trainee may turn out to love the grass — half-sibs O Dionysus and Joy both won stakes on the green — but she's almost certain to want more ground. Both those sibs won going two turns, so the bump up to seven-eighths here should definitely be a step in the right direction, and this one had a pretty useful debut after getting away slowly… #11 Sea Pines (4-1) didn't show much in last but gets blinkers on today for her first in the Gonzalez barn and has every right to improve. Curious stat: of 18 horses claimed away from Jeremiah Englehart to run back at Laurel, seven won in their first start for new connex… Thinking an improved try for the O'Dwyer-trained #10 Stormin' Cougar (12-1) may be the offing in her second start…
RACE 8: Md-bred allowance, 3yo and up, 1 1/16 miles
7-4-1-5
Trainer Brittany Russell liked #7 Reassured (5-1) enough to put him in a two-turn stake immediately after he graduated last December, and he ran a perfectly credible race that day. This'll be just his third start since, and second off a five-month layoff, and we're thinking a big step forward may be in the offing, for a runner who's probably run his best races going two turns… Morning line favorite #4 He's a Shooter (9-5) had a three-race win streak snapped last out and could easily get back to winning ways here; we just kinda want to see him beat winners going two turns before we take short odds… #1 Maximus Midani (6-1) finished behind He's a Shooter in last and makes his third start off a layoff here…
RACE 9: Claiming $16,000 (beaten), 3yo and up, 5 1/2 furlongs (dirt – originally scheduled for turf)
3-5-4-6
In this off-the-turf contest, we're thinking #3 Big Tall Dawg (5-1) lands in a nice spot for his first try in the Testerman barn. Lasix on for a runner who won smartly last out… #5 Rising Perry (10-1) probably wll run out of real estate but should be coming at the end… #4 Count the Shells (20-1) moves up in class first off the claim…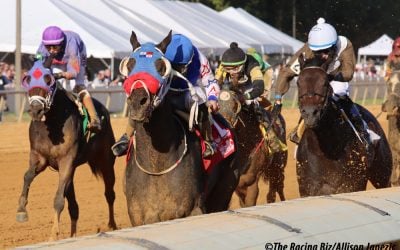 We provide full-card picks and analysis for this afternoon's races at Laurel Park.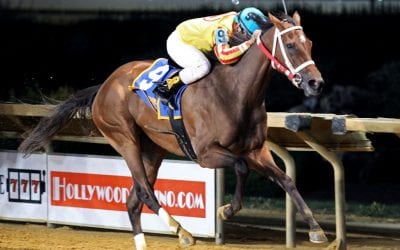 We provide picks and analysis for this evening's card at Charles Town Races.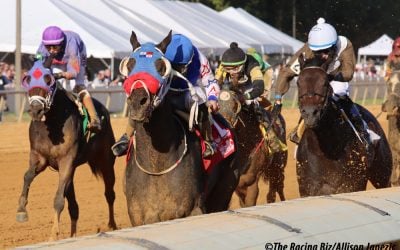 We provide full-card picks and analysis for this afternoon's races at Laurel Park.