Laurel Park picks and ponderings November 5, 2021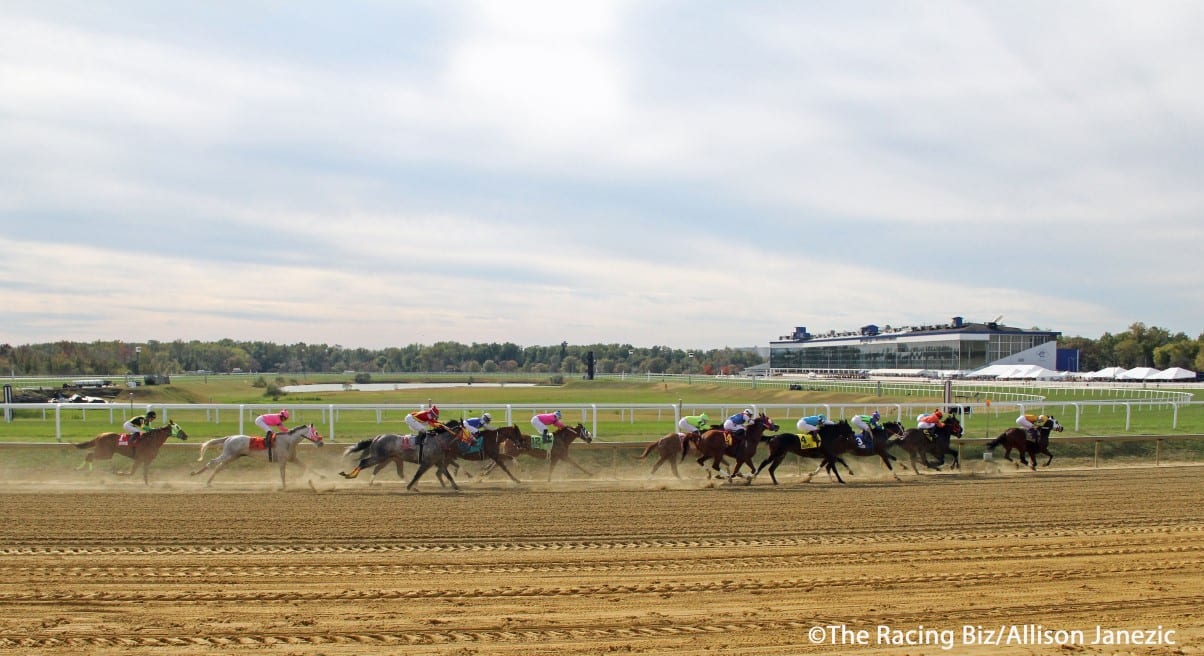 Horses round the turn at Laurel Park. Photo: Allison Janezic.
In which we pick the races from Laurel Park each day…
Post time: 12:25 p.m.
Carryovers: Rainbow Jackpot Pick 6 — $3,941 Super High 5 — $1,051 Late Pick 5 — $0
ANALYSIS
RACE 1: STARTER OPTIONAL CLAIMING $25,000, 3-YEAR-OLDS AND UP, 1 MILE
6-5-2-4
#6 Plamen (1/1) has won four in a row at three different tracks for Jamie Ness. He showed heart last out, battling in the stretch to win a n/w1x allowance around two turns. He's run brisnet figures no worse than 87 during his winning streak. The only one who could compete with him is #5 Inspector Frost (3/1), who lost to Plamen by a head earlier this year, and just missed his career-top mark last out with a dominant n/w2L win last out. He earned a figure of 90 in that race, rating off the pace and pulling away emphatically in the stretch. Kieron Magee claimed him out of his last start. #2 Ink (7/2) consistently runs in the mid-80s, just a touch below the figures of the top contenders, and has made the exacta in his last three starts.
RACE 2: MAIDEN CLAIMING $25,000, 3, 4, AND 5-YEAR-OLDS, 1 1/8 MILES (GRASS)
5-1-4-8 (DIRT: 15-2-10-12)
 #5 Osa (9/2), the only filly in the race, dropped to this level against the girls last out and was a strong-closing fourth. She makes her fifth career start here, and goes third off a brief layoff. Should have plenty left in the tank late. #1 Rush Delivery (8/1) takes a career-low drop in class and has run in the 70s three times in his last four starts. In this kind of race, those figures make you a winner. #4 Narmer (7/2) was the favorite in a maiden special weight last out, in his first race in more than a year. He chased the pace and showed little, with a figure of 73. Should improve second off the layoff and faces a friendly field. Wouldn't be surprised if he went off at a much lower price than his morning line. 
RACE 3: CLAIMING $5,000 (CONDITIONED), 3-YEAR-OLDS AND UP, FILLIES AND MARES, 7 FURLONGS
4-5-7-2
#4 Mi Cleopatra and I (6/5) won three in a row at Monmouth Park over the summer, sitting on the pace each time and battling on for the win. She's run in the 70s in each of her last three starts; no one else has done that even once in their last three races. She takes a slight drop in class from the $10,000 level and goes second off the claim for Magee. Should get an ideal trip. #5 Supreme Blessing (9/2) cleared her n/w2L condition two races back, then was an even third in her first try against these types. She'll sit on or near the pace. #7 Coral Summer (6/1) sat the perfect trip to win a n/w2L race last out, making her one of two in the race who hasn't lost at this level. 
CHECK OUT OUR BREEDERS' CUP CHATTER!
ANALYSIS
RACE 4: CLAIMING $10,000 (N/W2L), 3-YEAR-OLDS AND UP, 5 1/2 FURLONGS
1-4-2-3
#1 Big Dawg Tour (9/5) has been pounding on the door against better n/w2L types in recent races. He's facing a friendlier field than he's seen in a while, and has consistently dominant figures. He's in a "now or never" spot. #4 Pepe and Haywood (7/2) raced wide throughout last out and stopped badly, but sat on the pace and just got caught two races ago against slightly weaker. #2 Stay In (6/1) was flat first off the layoff in his first try against winners, but has the race under hsi belt and ran figures as high as 80 over the winter before hitting the sidelines.  
RACE 5 – MAIDEN CLAIMING $25,000, 2-YEAR-OLDS, 1 MILE
2-7-5-3
#2 One Ten (5/1) takes a career-low drop in class and has improved in each of his three starts. This'll be his first start beyond six furlongs. He closed well at that distance last out to lose by 5 1/2 lengths; we'll see if that translates. #7 Night Boss (10/1) ran a career-high mark on dirt of 68 last out, the first time he stretched out to a mile. He's another one dropping in for this tag for the first time. #5 Axxerator (7/2) improved to a 76 around two turns last out, although he faded late after hitting the front. The one-turn mile could be an ideal combination. 
RACE 6: CLAIMING $12,500, 3-YEAR-OLDS AND UP, FILLIES AND MARES, 5 1/2 FURLONGS (GRASS)
7-6-8-1 (DIRT: 2-8-4-5)
#7 Unaquoi (5/2) stepped up to starter optional claiming company last out and was a flat fifth. She raced better against horses like these earlier in the year and should enjoy some class relief. #6 Bath and Tennis (10/1) made her third start off the layoff in a route, which isn't quite the right fit for her. Her best races lately have been around one turn. #8 Lady Magica (5/1) gets back to grass and goes first off the claim for Robert Bailes, who took her for $5,000 last out. She's likely to set the early pace. 
ANALYSIS
RACE 7: MAIDEN CLAIMING $40,000, 2-YEAR-OLDS, FILLIES, 5 1/2 FURLONGS
2-8-1-10
#2 Unresolved Issues (8/1) got bet on debut, but had a rough start and got knocked out of contention. With a better start, she should improve second time out. MIke Trombetta got his 2,000th win yesterday. #8 She is Wisky (9/2) drops in for a tag for the first time. She improved to a 69 second time out, after making mild ground on the inside. #1 Gamestonks (3/1) goes first out for Brittany Russell and Jevian Toledo. Would've been nicer to see her not in a maiden claiming race first out (although she is not in for the tag), but she should still be tough if she runs like the average Russell firster. 
RACE 8: ALLOWANCE OPTIONAL CLAIMING (N/W3X), 3-YEAR-OLDS AND UP, FILLIES AND MARES, 6 FURLONGS (GRASS)
10-8-3-2 (DIRT: 7-9-10-4)
#10 Quiet Company (3/1) cut back around one turn last out against similar, and earned a lifetime-top figure of 87 in a second-place performance behind odds-on Robin Sparkles. There's no one in here nearly as tough as that rival, making her job a lot easier. #8 Miss Majorette (4/1) has rapidly run through her conditions, with wins in three of her last four races. She tends to rate from behind and zoom home. She might have to improve a few points to beat Quiet Company, however. #3 Can the Queen (5/1) tends to race much better when she rates just off the pace, as opposed to when she tries to engage the leaders. She rated and got up to beat a n/w2x field last out.
RACE 9: MAIDEN CLAIMING $10,000, 2-YEAR-OLDS, FILLIES, 6 FURLONGS
6-5-3-2
Although none of her races have been visually impressive, #6 Miz the Best (5/2) has improved sharply in each of her races, peaking at a 67 last out. She'll drop in class and stay at a sprint. #5 Hit a Homer Honey (2/1) adds blinkers for Ness and Rodriguez and will try to sustain a rally after flattening out in her last few. #3 Beach Daze (10/1) broke awkwardly on debut at the Meadowlands and never got involved. Switches to dirt and has a decent workout since the last start.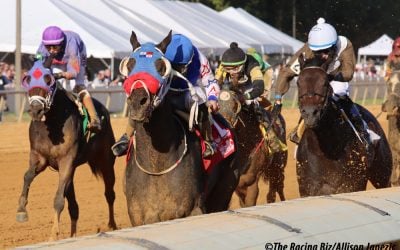 We provide full-card picks and analysis for this afternoon's races at Laurel Park.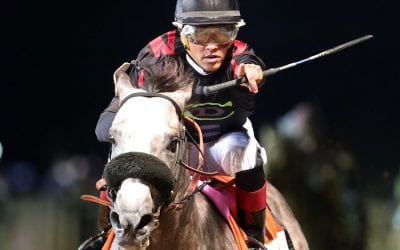 We've got Charles Town picks and preview today as the track presents its Friday card!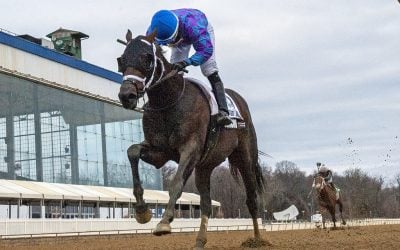 Which Laurel Park jockeys are off to hot starts? Asking for a friend; no, wait, actually asking for the betting public. Answers within…