CT: MUAD'DIB LOOKS TOUGH IN A HUEVO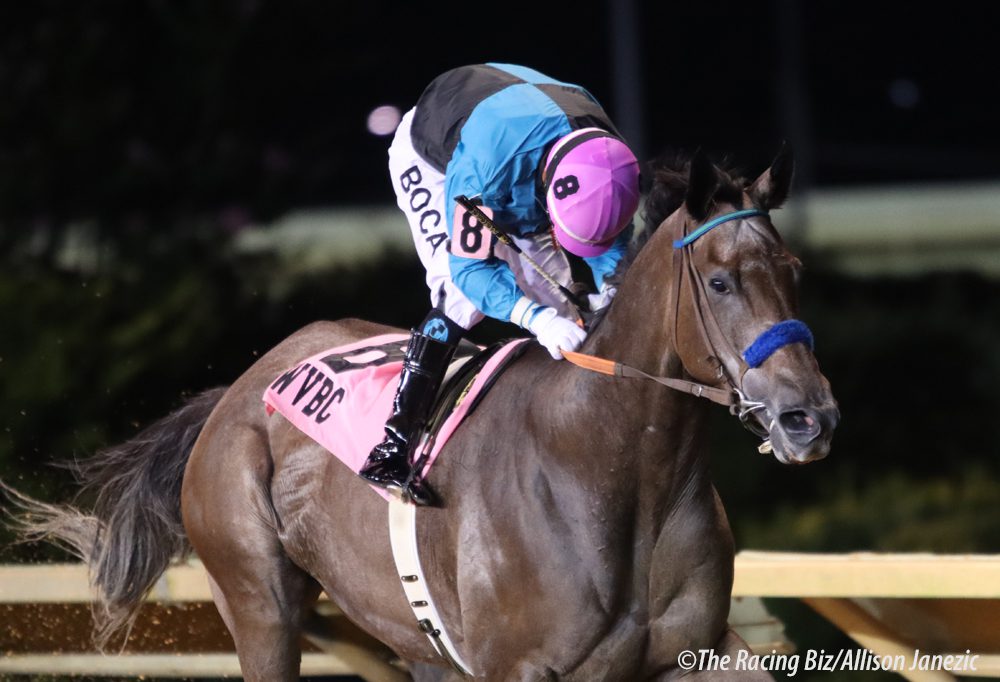 Frank Vespe

November 5, 2021
Four weeks back, Muad'dib faced nine rivals when he powered to victory in the nine-furlong, $300,000 West Virginia Breeders' Classic.
Saturday he'll put his perfect record on the line – he's 8-for-8 in his career – when he again faces nine rivals in the $75,000, nine-furlong A Huevo Stakes at Charles Town Races. Remarkably enough, however, the nine he'll face Nov. 6 are an almost entirely different crew from those he saw on WVBC night.
WVBC runner-up Hero's Man and fifth-place finisher Martin Man are both back to take another swing, but that's it; the other seven runners are all different.
Muad'dib, a four-year-old Fiber Sonde gelding, is a full-brother to multiple graded winner Late Night Pow Wow and was bred in West Virginia by John McKee. Owned by David Raim, he's been patiently handled by trainer Jeff Runco, making a half-dozen winning starts before trying stakes company for the first time.
That came in a loaded edition of the Frank Gall Memorial August 27, in which he was up late to win by a neck over stablemate North Atlantic. Sent off at 4-5 in the Classic, Muad'dib stalked the sluggish pace set by Hero's Man and overpowered that rival in the lane to win by 2 ¼ lengths over Hero's Man, while the since-retired North Atlantic, third at every call, finished third.
Regular pilot Arnaldo Bocachica will ride Muad'dib – named for a character from Dune – who is 3-5 on the morning line.
Hero's Man is back to try his luck against Muad'dib, and he is, at 8-1, co-third choice on the morning line. The James W. Casey trainee has won 10 of 24 career starts while piling up $287,225 in career earnings, but he's managed all that without scoring a stakes victory. In the Classic, he got away with easy fractions – the 1:16.33 he put down for the first six furlongs was more than two seconds slower than the Distaff went one race later – but could not seal the deal.
Hero's Man, a five-year-old Charitable Man gelding, will have Reshawn Latchman in the irons.
Two more Runco trainees are the only two other runners in single digits on the morning line. Penguin Power (6-1) enters off his first win of the season, in the seven-furlong WVBC Onion Juice. Another son of Fiber Sonde also owned by David Raim, that marked Penguin Power's third consecutive Onion Juice win.
Penguin Power has plenty of early speed and might be here to keep Hero's Man honest, but he's not limited to sprint distances. Two years ago he posted a front-running score in this event, one of his 14 career wins. Denis Araujo will ride.
Boaster, a five-year-old horse by Creative Cause, is 8-1 on the morning line. He finished third in the Onion Juice, 3 ½ lengths in arrears of his stablemate. He's won nine of 27 career starts while logging more than $215,000 in earnings.
Runco trains Boaster for Huntertown Farm LLC. Carlos Marrero will ride.
The A Huevo is carded as the seventh race. Post time for the A Huevo is estimated to be 10:02 p.m. EDT.
LATEST NEWS