DELAWARE PARK: THAT'S A WRAP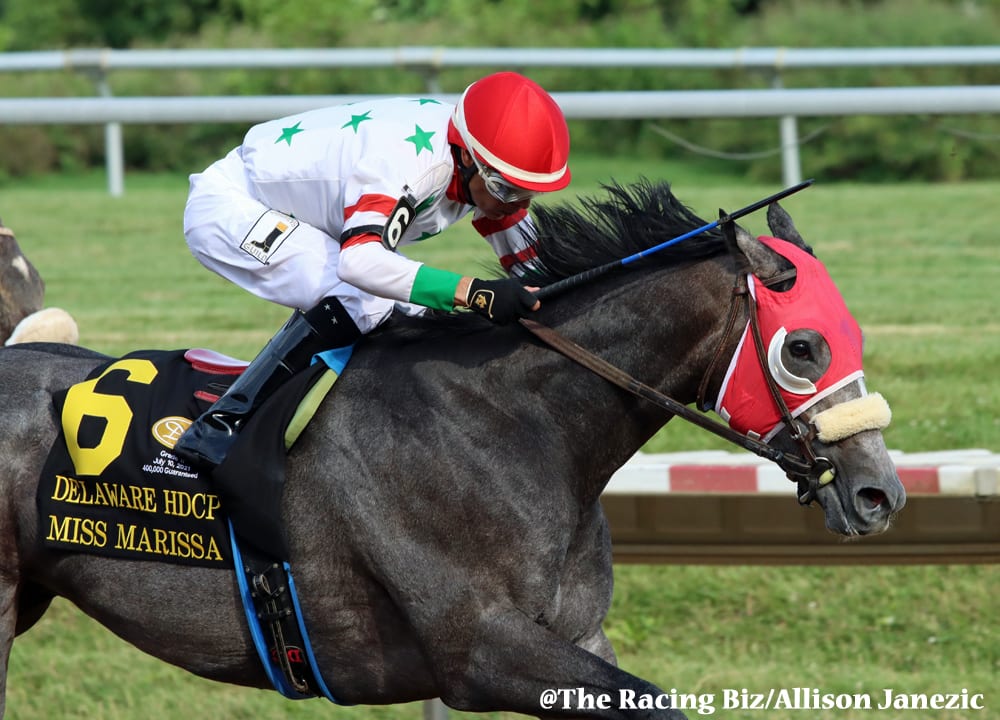 VINCE HALLIDAY
Journeyman jockey Vince Halliday was seriously injured in a fall during a race on July 15. The 41-year-old suffered two brain bleeds and fractures to his neck, back, shoulder and elbow and spent a significant time in the ICU unit before moving to rehab. Remarkably, by late August he was able to walk with assistance and begin rehab. Bettors sometimes get frustrated with jockeys, but we should be mindful that they are some of the most courageous athletes in the world and are literally one bad break away from serious injury or death. 
END OF AN ERA
The 2021 season saw the end (most likely permanently) of Arabian racing at Delaware. This breed came to Delaware Park in 1984 and quickly gained the support of fans and owners as a viable betting event. In fact, during some very lean years, the track was certainly helped by being able to card an Arabian race or two most every day. The Arabian racing at Delaware ultimately grew to be the best in quality of all the venues in the United States. Its demise should serve as a cautionary tale for the thoroughbred industry. The decrease in foal crops led to an inability to fill races. Rather than coalesce around one location at a time, the major owners split among Delaware, Texas, Colorado and California. There were fewer than 20 Arabian horses on the grounds this year and only one race was run before an announcement was made to cease carding races.
WHEN ONE DOOR CLOSES…
Trainer Lynn Ashby, long known for her success with Arabians, was able to transition fully over to the thoroughbred side of the business. She had a respectable ITM figure of 38% at Delaware Park and posted stake wins there and at Colonial Downs.
NEW FACES
Josh Brown began his role as track announcer following the retirement of race caller John Curran, who handled the duties for 37 years. Brown was joined by J. J. Graci, who took over Rich Glazier's paddock host duties.
NEW OLD FACES
Trainer Gary Contessa came out of retirement to be the private trainer for Bell Gable Stable. The owners, Nick and Delora Beaver, wanted to upgrade their stock. The results speak for themselves: they ended the year as the meet-leading owners by both wins and purse money earned. They also won the Maryland Million Turf with Somekindofmagician, who campaigned at Delaware, and ran in the Sanford Stakes at Saratoga with Maryland Brando who also ran at Delaware.
OFF THE TURF
"Off the turf" continued to be a common refrain. To say that the turf course is not up to par is a fair criticism. The main flaw seems to be its inability to drain well following even mild rain, let alone storms. Conversely, the sprinkler system is so inadequate in coverage that when dry spells occur the course gets as hard as a rock. Given the large handle that is regularly achieved when a sizable turf field is carded, here is hoping for some improvements that lead to more days on the green.
SHE'S A BEAUTY
Overwhelming favorite Crazy Beautiful (3-10) won the Grade 3 Delaware Oaks July 3 with Mike Smith astride. Trained by Ken McPeek, she won by six lengths over a good, sealed main track against eight rivals. It was the third graded win for the daughter of Liam's Map, who most recently ran second in a Grade 3 event at Keeneland.
DOMINANT
Trainer Jamie Ness won 55 races in 224 starts to capture the trainers title for a record tying seventh straight year. That record for consistency is co-held along with trainers Grover Delp and Scott Lake. Given that Ness now has nine Delaware Park titles overall, it seems like it will be just a matter of time until he catches Delp, who won 11 Delaware Park titles.
NO HANDICAP
Miss Marissa won the Delaware Handicap with Daniel Centeno aboard. Trained by James Ryerson she went straight to the front, set slow fractions, and prevailed in the six-horse field. She paid $11.40 to win, while 1-2 favorite Bonny South finished fifth. For Miss Marissa, who had won the Obeah earlier in the meet, it was her second graded win, as she had also scored in the Grade 2 Black-Eyed Susan the previous October.
RIDER UP
Jockey Jaime Rodriguez won 114 races in 421 starts to capture the jockey title. He defeated Carol Cedeno by 47 wins: no small feat given that she had been the leading jockey in six of the previous seven years. Although being first call for trainer Ness certainly helps, this up-and-coming jock seemed to improve throughout the meet. He made few tactical errors and is very tough to defeat in stretch battles.
LATEST NEWS