MISS MARISSA TRIUMPHS IN DELAWARE HANDICAP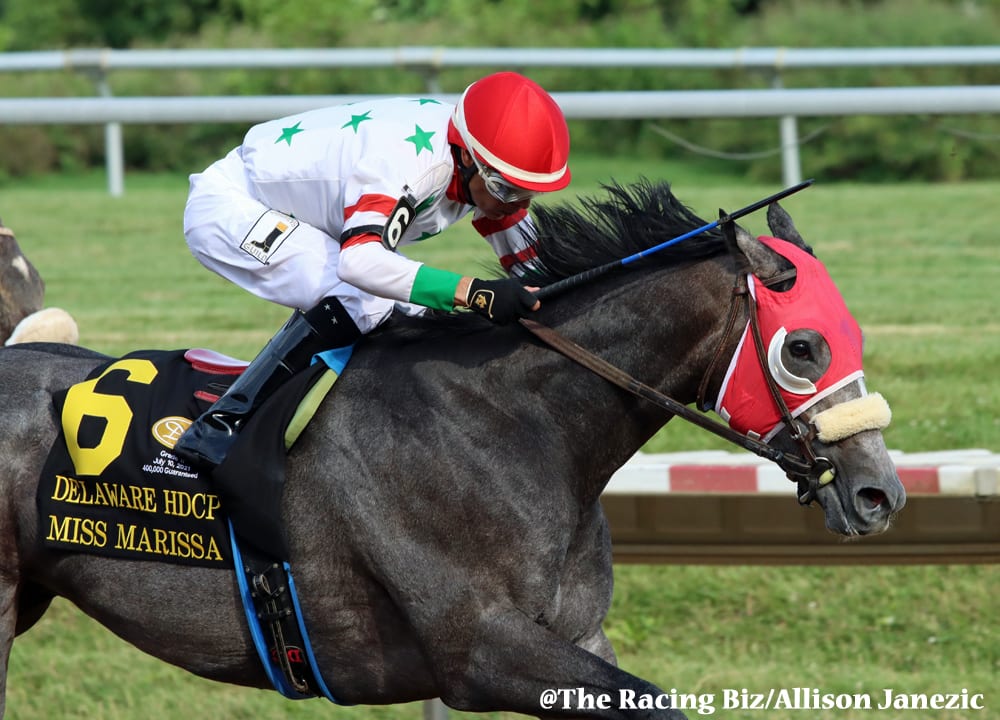 "I thought we'd go faster than that. Normally, that's her: faster than that," said winning trainer Jim Ryerson afterwards. "But it's a mile-and-a-quarter, and everybody's concerned about the mile-and-a-quarter."
Under jockey Daniel Centeno, Miss Marissa broke alertly and ran side-by-side with Gibberish the first time past the stands. But it was apparent even then that the pace was sluggish. The quarter took 25.15 seconds to complete, and the field traveled a half-mile in 50.10 seconds.
By that point, while Miss Marissa held a one-length advantage over Gibberish, Bonny South was more than three lengths in arrears, running between horses. As the field turned up the backside, Daniel Centeno and Miss Marissa let it out a notch and moved to the rail, while Trevor McCarthy tipped Gibberish outside that rival.
"I talked to Jimmy (Ryerson) before the race and the plan is like we always do, which is to try and break well and stay close to the lead," said winning rider Daniel Centeno. "I knew there was not much speed today, but she broke really really sharp today. After we went to the lead, she started galloping right away. She did it herself, she fired and she just put them away."
By the time the field hit the far turn and the real running began, Bonny South was all in. Obeah Stakes winner Dream Marie made a swooping move on the outside but flattened out. Queen Nekia, who saved ground throughout, made a run up the rail but flattened out.
"She did not like the deep track today," said jockey Florent Geroux, who was aboard Bonny Stouh. "Going down the backstretch she was not travelling great, and that is when I knew we were in trouble."
In the end, it was Miss Marissa and Gibberish, one-two the first time by, who were one-two again at the finish. Running time for the 1 ¼ miles was 2:04.50 over a fast main track. Queen Nekia finished third, a half-length behind Gibberish.
"We knew she could relax, and she has speed, and that's a tough combination, to have speed and be able to relax," Ryerson said.
Owned by Cammarota Racing, Miss Marissa now has five wins from 16 career starts. The winner's share pushed her earnings to $604.690.
It was also the second graded stakes victory of her career. Last October, she had posted a 10-1 upset in the Grade 2 Black-Eyed Susan Stakes, parlaying a good trip on a speed-favoring strip into a neck victory over the fast-closing Bonny South.
"Brad's filly is a real nice filly," Ryerson said of Bonny South. "Half-a-jump at Pimlico and she beats us."
Centeno has now ridden Miss Marissa three times and owns two wins — both in graded company — and a runner-up effort last out in the Obeah Stakes, the local prep for the DelCap.
"When she came open in the Black-Eyed Susan, Danny was, we figured, a great choice," said Ryerson, who said he and Centeno have had "a great relationship" from years back. "We've tried to keep him on when we could, and he's done a great job for us."
After her Black-Eyed Susan victory, Miss Marissa had finished a disappointing sixth in the Grade 3 Comely before finishing a decent second in the Ladies Handicap in January at Aqueduct.
"We were gonna stop on her, win, lose or draw," Ryerson said. "But she ran over a beach that day and it was not to her liking at all. She ran second, and she ran really hard."
She was off a few months, then returned June 9 to be second in the Obeah. It was a useful return to action, and a good tightener for what was to come next.
Ryerson said his filly's next start would likely be in the "big race at Saratoga," the Grade 1 Personal Ensign August 28.
As the winner's circle crowd began to dissipate and attention began to drift to the next race, Ryerson was asked how he would celebrate today's big win.
"I celebrate," he mused with a laugh. "At my age, they're not as strong as they used to be."
LATEST NEWS