SOMEKINDOFMAGICIAN CASTS WINNING SPELL IN FIND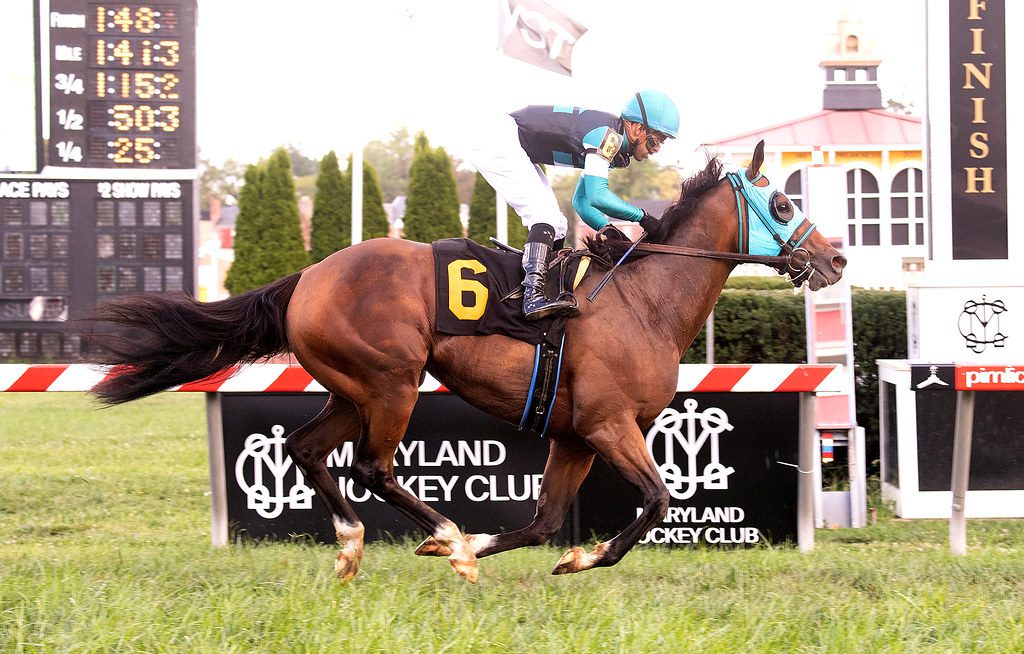 It was also the first stakes win for owners Nick and Delora Beaver, who race as Bell Gable Stable.
"We had a race at Delaware Park at 3:15," said Delora Beaver. "We got in our car and drove over here. We just made it, we're like, 'We gotta make it.'"
Their horse at Delaware — Mobeatyabad — finished third, and that merely whet their appetites for what Somekindofmagician had to offer.
It marked the third consecutive victory for Somekindofmagician, who may be, at seven, better than he's ever been. Promising as a youngster, Somekindofmagician won an allowance on the turf at Belmont Park as a sophomore in 2017 and then was a near-miss second in that year's Maryland Million Turf.
But he went winless in 2018 and 2019, and while he did manage to lodge a victory in August 2020, he concluded that year, and began this one, on a downward trend. Dropped in for $20,000 two back, he posted a 10-1 upset and then repeated at the same level.
"He's in a rhythm," Nick Beaver said. "He only ran six times last year; we scratched, I think, eight times because of the weather. He just never got into a rhythm; he's in a rhythm right now."
"I think he knows it," Delora Beaver added with a laugh. "I mean, he was strutting around here after. He was like, he knows he's bad."
The Beavers, who began in the business in 2017, switched gears earlier this year and hired Gary Contessa as a private trainer. That move has been paying dividends thus far, with Bell Gable horses having posted a meet-topping 11 wins while winning at a 20% clip at their home track of Delaware Park.
"We've had a lot of horses improving," Nick Beaver said. "We're trying to, you know, increase our stock a little bit. We're in kind of a flux mode right now: we have a lot of babies coming in, but we've had a lot of horses claimed."
It's always exciting, of course, anticipating the new crop of babies. But before they can make much noise, Somekindofmagician figures to carry the Bell Gable banner for the time being.
There are just about two months between now and Maryland Million, and Contessa indicated it was likely — but not certain — that Somekindofmagician would make another start between now and then.
"He's that kind of horse," Contessa said. "He's very much an 'A' personality. He has a very short recovery time. He's really on the muscle.
"But only if it's right for him," Contessa added. "We don't have to run him again before the Million, so he's going to kind of guide me on that."
Somekindofmagician, who was bred in Maryland by Earl Barnhart, returned $21.60 for the win. With 13-1 Nick Papagiorgio in second, the exacta returned $85.60 for a dollar. Alwaysmining finished third; Cannon's Road, the 3-2 post time favorite, was never much involved and finished fifth.
The Find was the fourth and final stake of the day at Pimlico for Maryland-breds.
In the day's other turf stake, Kiss the Girl rallied late to run down 16-1 outsider Awesome Jazz to win the All Brandy by a neck. Kiss the Girl won her second career stake, the other having come on the dirt in the Conniver at Laurel Park in March. She's trained by Mike Trombetta and was ridden by Victor Carrasco.
After scratches, the day's two dirt stakes went with very short fields — three in the Star de Naskra for three-year-olds, four in the Miss Disco for sophomore fillies — and jockey Sheldon Russell took full advantage, winning both. Russell struck in the Miss Disco aboard the Gary Capuano-trained Malibu Beauty, off at 2-5 after the scratch of morning line favorite Street Lute.
And he won the Star de Naskra aboard Jaxon Traveler, who shipped in for trainer Steve Asmussen. Jaxon Traveler had previously won the Maryland Juvenile Futurity last December.
LATEST NEWS