CRAZY BEAUTIFUL ROLLS TO FLASHY DELAWARE OAKS WIN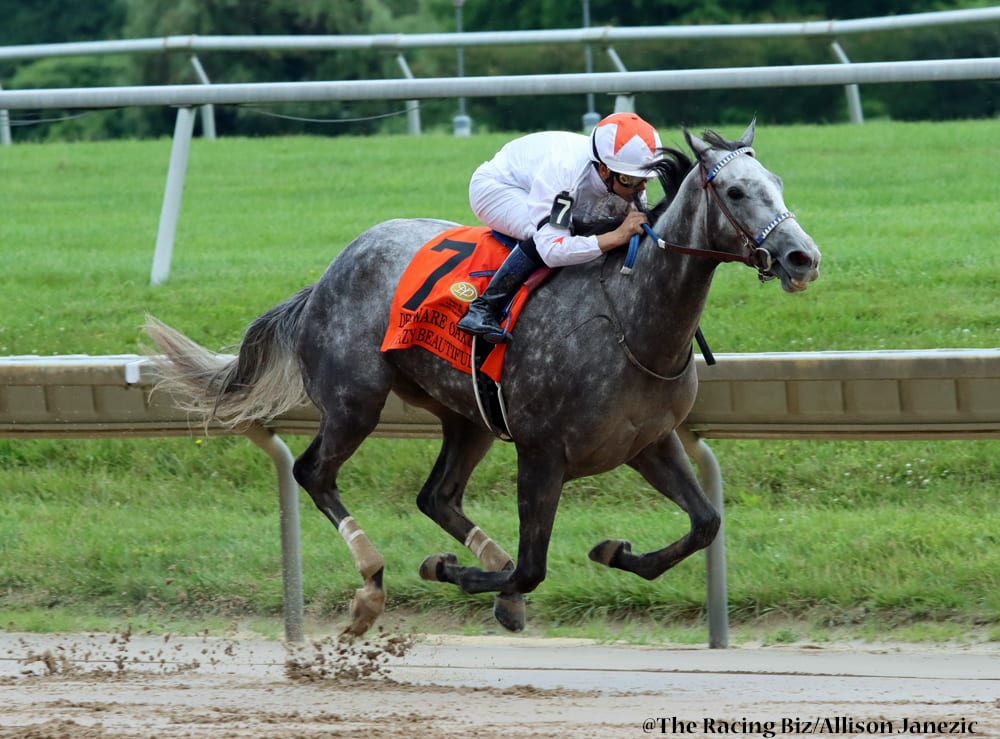 Crazy Beautiful and her decorated passenger put on a show in the Oaks, rolling to a six-length victory with nary a nervous moment.
Well, maybe one nervous moment.
"We had one tiny anxious moment just past the 3/8ths pole when they picked it up and she kind of lost focus briefly," Smith said afterwards. "I barely touched her and she threw me into the rumble seat. That is when I knew we would be fine."
"It was a bit of a public workout today," winning trainer McPeek allowed.
Crazy Beautiful was away alertly to attain a good stalking spot, a couple of lengths behind early leader Orbs Baby Girl and outside, away from the kickback of the good, sealed main track.
"She jumped better than she ever has leaving the gate," Smith said. "It has always been a little bit of a problem with her. I was really happy with that just because of the track being good and because there was not a lot of speed in the race, I wanted to be somewhat closer."
Orbs Baby Girl put down early markers of 23.75 seconds for the opening quarter-mile and 48.22 for the half, with Smith and his charge biding their time three lengths back.
On the far turn, longshot Hybrid Eclipse ratcheted up the pressure on the leader, putting her head in front, but as the field turned for home, Crazy Beautiful inhaled that runner and spurted clear. From there, it was an easy cruise home for the winner who proved much the best.
The two John Servis trainees, Midnight Obsession and Leader of the Band, finished second and third, respectively, while Hybrid Eclipse hung in for fourth. Running time for the 1 1/16 miles over a good, sealed main track was 1:46.33.
Smith had ridden Crazy Beautiful once before, in her most recent start in the Grade 2 Summertime Oaks at Santa Anita Park. What he experienced there was enough to prompt him to ask for the return engagement, even if it did involve a hectic travel day.
McPeek did not make the trip, but said that when Smith called him for pre-race instructions, he had nothing to offer.
"He called me earlier and asked for instructions, and I said, 'Are you kidding me?'" McPeek said with a laugh. "Just do what you do well."
That is, win, which Smith has done more than 5,600 times.
Crazy Beautiful paid the princely (princessly?) sum of $2.60 to win. With second favorite Midnight Obsession (5.90-1) in the runner-up slot, the exacta returned $4.20 for a one-dollar wager.
Crazy Beautiful now has five wins from 10 career starts, the winner's share of the purse pushing her earnings to $700,865. It was her second consecutive victory and the third graded stakes win of her career.
Crazy Beautiful, a Liam's Map filly, was a $250,000 auction purchase as a yearling by McPeek, acting as agent. She's owned by Phoenix Thoroughbreds III.
Crazy Beautiful had a solid juvenile season, winning twice and placing in a couple of graded stakes. She also ran sixth in last fall's Breeders' Cup Juvenile Fillies.
But it's as a three-year-old that she's really blossomed, and her improvement has reminded McPeek of another filly who made big strides at three.
"It's almost mirroring some of the stuff that Swiss Skydiver went and did last year," McPeek said, recalling his Preakness-winning filly. "She's got to knock out a Grade 1, but we've got a couple shots at that."
To that end, McPeek will send his charge to join his Saratoga string next. Up next if all goes to plan will be the Grade 1 Coaching Club American Oaks July 24 at the Spa, with the Grade 1 Alabama four weeks after that.
So, a productive visit to the First State for the jet-setting Crazy Beautiful, who has started at four different racetracks in four different states on both coasts and up and down the Eastern Seaboard in her last four starts.
And a bit of a star turn for Smith.
"I took a peek at the big screen and I felt like I was watching Sunday night football," the rider said.
NOTES Trainer Brittany Russell and jockey Sheldon Russell, the Maryland-based wife-and-husband team, took both undercard stakes on the day, scoring with Out of Sorts ($7.00) in the $75,000 Christiana for the horse's first-ever stakes win and then winning the $50,000 Alapocas Run with the veteran Whereshetoldmetogo, who won his 11th race and topped $600,000 in career earnings.
LATEST NEWS