MD MILLION: FOR KENNY COX, THREE SHOTS TO BREAK THROUGH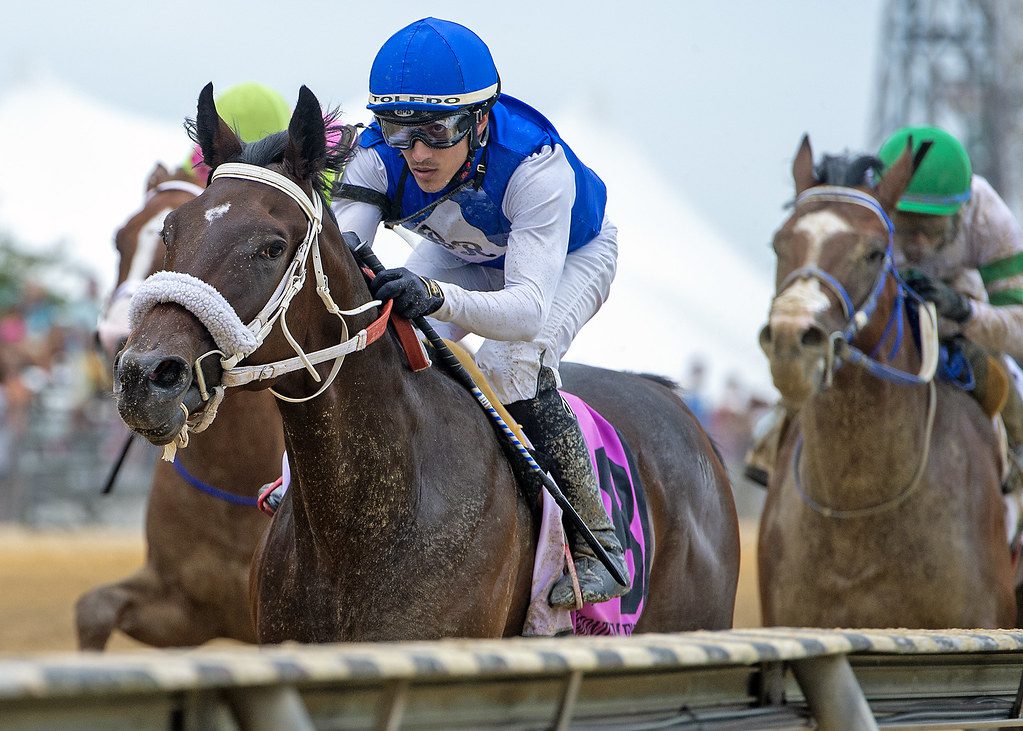 "The guy that bred him was on the Maryland Million council but forgot to nominate him," Cox remembered. "He would have won the Classic more than one time. He beat every horse that ever won the Classic… He was the first nice horse I ever had and never got the opportunity to run in the Maryland Million because he was knocked out because the guy forgot to nominate him."
That's no longer a problem. Maryland Million races are geared to the offspring of stallions standing in Maryland, and these days, unlike back in Flaming Emperor's day, the nomination of the stallion automatically confers nomination to all of his offspring.
Cox, who to this day never has won a Million race, will arrive Saturday with three chances to earn his first win in Maryland's Day at the Races. He'll send out Cynergy's Star in the Nursery, for two-year-olds, Breviary in the Ladies on the turf, and Ain't Da Beer Cold in the Classic. Of the trio, Cynergy's Star has perhaps the best chance to provide Cox a winner.
A two-year-old son of Great Notion, Cynergy's Star, bred by Dr. and Mrs. Tom Bowman and Skeedattle Associates, cost owner Bonucelli Racing $25,000 at the Fasig-Tipton Midlantic fall yearling sale last year. With two wins in three starts, including a last-out score in the Timonium Juvenile August 29, he's already earned four times his purchase price.
"We breezed on Saturday (four furlongs in 50 seconds flat), came back good, and trained good [afterwards]," Cox said.
Cynergy's Star, out of the Dixie Union mare Smooth Talking, made his unsuccessful debut on the turf at Colonial Downs. Switched to the main track, he's won both starts, a maiden score at Pimlico and then the win in the Timonium Juvenile. He hasn't raced since, but he was plenty busy in August, with three starts in four weeks.
"There was a race that came up, but I didn't want to run back that quick," Cox said. "So I stuck with training him right on the schedule up to where I wanted him."
Cox said his charge is coming into the race as well as he's seen him. Jevian Toledo will ride, as he did in the Timonium race.
"He's always been a nice work horse, and I thought that the last couple of works were very impressive," the trainer said. "The last work was a 50 [second half-mile], but I told Jevian [Toledo] to just go 50. He's tight, we did everything we wanted, and I just want to keep him sharp."
The Nursery has attracted a full field of 14, among them Local Motive, the John Salzman, Jr. trainee who was the beaten favorite in the Timonium Juvenile after getting dirt in his eye and being pulled up. He came back fine and has raced once since, finishing fifth in the Smoke Glacken at Monmouth Park.
Cox's other two runners figure to be long-odds types, with Ain't Da Beer Cold listed at 20-1 on the morning line and Breviary at 30-1.
For all that, Ain't Da Beer Cold makes an intriguing longshot in the Classic field. The nine-furlong, $150,000 contest has drawn 13 runners, but five of those are Maryland-bred – not Maryland-sired – who will only draw in if Maryland-sired runners scratch. With the exception of the 6-5 morning line favorite Tappin Cat and to a lesser extent 2019 Classic runner-up Prendimi, it's a lightly accomplished bunch.
Ain't Da Beer Cold, just a three-year-old, has done his best work, including an allowance win and a runner-up effort in last year's Howard County Stakes, around two turns. He'll also get Lasix on for the first time in Saturday's contest.
The son of Freedom Child, a homebred for Matt Spencer and Kenny Cox's wife Kelly, who've also partnered with Bonucelli Racing on him, didn't return to action until mid-August, and he's made two unimpressive starts this year.
"The whole plan coming back this year was with [the Classic] in mind," Cox said.
Sure, he showed as a two-year-old he could run with stakes animals. But his two starts this year – admittedly, both one-turn sprints – suggest that may be a stretch. But Cox is upbeat as the day approaches.
"He doesn't like dirt in his face, honestly, and when he got that he sucked himself out of it," Cox said of Ain't Da Beer Cold's most recent effort.
That left him, he said, "second-guessing myself" as to whether to move forward in the Classic. But the horse's most recent work, a four-furlong move Oct. 16 with jockey Angel Cruz up, strengthened his resolve.
"He hasn't ever breezed as good as he did coming into this race," Cox said. "He worked 47 and went out even better. It's the first time he worked good this year, as good as when he was a two-year-old, so now I've got a lot of confidence."
Cruz will ride in the Classic.
Breviary also figures to be a longshot in the nine-furlong Ladies on the Turf. Cox claimed her for $25,000 for Bonucelli out of her most recent start; she's winless in four grass tries.
"Since we claimed her, she's been training great," Cox said. "We're going to take a shot, and if it doesn't work out, they'll be able to run her back where we took her."
As for the Maryland Million, Cox is philosophical about how things have played out.
"It's always been a little bit of a dig in my side that we've never gotten to have something that's really live in there," he said. "But it is what it is, and we take what we get."
Perhaps this year, that'll be a Maryland Million win.
LATEST NEWS